Saturn in Sagittarius
Jan. 26, 2017 – January 23, 2020
On January 26th, 2017, Saturn transited from sidereal Scorpio into Sagittarius, beginning a three-year journey here. His influence here will compel us to work hard for our highest beliefs, and commit to standing behind them through inspired actions. He will put the pressure on for us to take responsibility for what we believe in, and act on it. We'll feel the pressure to step up and work hard very specifically in the area of life that Sagittarius indicates in our personal Vedic birth chart.
Wherever Saturn, or Lord Shani, visits, his weighty influence forces us to re-evaluate our long-term goals and the path we are walking to get there. We feel the need to reforge our commitments and become more mature in the area that he influences. Sagittarius is a sattvic, masculine, fire sign, ruled by Jupiter, the planet who inspires our beliefs, principles, and philosophy. Saturn here will cause us to look at our principles and how we go about putting them into actions and structures of lasting value. The sattvic and firey natures of Sagittarius inspire us to purify ourselves, our work, and our commitments.
By grace, this will be a period where we are really able to sort through our belief systems and commit only to the highest elements within them. It will be a three-year process of re-evaluating our long term goals and values, and how we approach hard work and responsibility in regards to our beliefs, and to the area of life indicated by Sagittarius in our natal chart.
Saturn, or Lord Shani, is the slowest-moving planet in the Vedic system, visiting each sign for almost three years at a time, and taking a full 30 years to move all the way through the zodiac. Because of this he compels us to think about the bigger picture and the long term results of things. His grinding pace impels the need for patience and endurance, some of the greatest lessons he has to teach us. Wherever Saturn influences our chart, we become a bit more serious there, because we're thinking about the long-term affects of our actions and how they relate to our ultimate goals over the course of time.
Saturn's Return
This is why we often hear about people "growing up" or getting more serious about life around the "Saturn's return." This refers to when Saturn returns to the sign he was in at the time of your birth. When this happens, you become acutely aware of the passing of time and its consequences, and begin to think more seriously about the future. This happens for the first time around age 27-30, but people often forget that around age 56-59 we experience a second Saturn's return. You will be experiencing a Saturn's return period over the next three years if you were born between:
•    December 16, 1987 – March 19, 1990
•    June 20, 1990 – December 13, 1990
•    February 7, 1958 – May 31, 1958
•    November 7, 1958 – January 31, 1961
There's even a third Saturn's return happening for those elders born between
•    December 24, 1928 – April 11, 1931
•    May 25, 1931 – December 24, 1931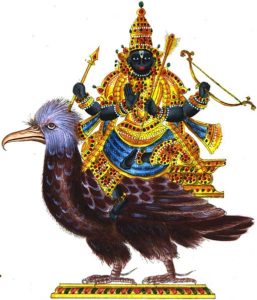 Sade Sati
Saturn's influence can be so heavy that it is said it feels like he sits on your head when he visits your Moon sign (as explained in the well-known tale about Saturn and Hanuman). This story refers to the Sade Sati period, a 7.5-year interval during which Shani transits the sign before your Moon, your Moon sign, and the sign after your Moon. You are now in Sade Sati period if your Vedic Moon sign is Capricorn, Sagittarius, or Scorpio. He will also cast a heavy influence if one of these is your Vedic rising sign. This time can bring a lot of pressures in life, especially mentally and emotionally, but it is not necessarily all bad either. It can help you to mature and become more responsible in your life as well. The way you experience this transit depends on many influences in your Vedic birth chart.
Retrograde Saturn
Saturn goes into retrograde motion fairly often, and he was retrograde this year from April 5th through August 25th. This may have caused things to slow down in the areas of life ruled by Saturn in our birth charts. It also is a time to be very introspective regarding the process of maturation initiated by his transit into Sagittarius.
Shani actually transited back into Scorpio during his retrograde motion. This gave us one final chance to really get clear on how we approach and commit to our personal transformation, AND the area of life indicated by Scorpio in our natal chart. We were doing a lot of work in this area for the last three years, and reflecting on it deeply during Saturn's retrograde motion periods. Saturn was in Scorpio again from June 22nd through October 26th, 2017.
Gandanta Transition
Your work life and the other themes ruled by Saturn in your chart may seem a bit unsteady right now, and over the next couple of weeks while Saturn is on the cusp of two signs and not fully settled into Sagittarius. The cusp of these two signs is considred the gandanta zone (a "knot"), in Vedic astrology, and can be a particularly difficult placement, especially with Saturn there, who can make us feel stuck anyway. As he moves further into Sagittarius we will feel his influence more strongly, and get a bit more energy for making commitments and handling responsibilities. I'll be sending out a Saturn in Sagittarius Forecast for each rising sign, so be sure to join my mailing list to stay up-to-date.
Om Sham Shanayai Namaha
For an in-depth look at how this transit will affect you personally, you can receive a Saturn in Sagittarius Personal Reading.
Save
Save
Save
Save