The Moon is waxing towards a full Moon in Aquarius this Friday night, with peak brightness coming at 9:33 pm PDT. The Moon is opposite a powerful and fiery Sun in sidereal Leo, still joined closely with warrior Mars. While the Moon-mind-heart is illuminated this weekend, we can tune into what it means to be of service when we find ourselves in our own autonomous ring of fire.
Full Moon in Aquarius
The Aquarius full Moon is the integrating reflection point of the Leo Sun cycle. Throughout the Leo cycle, we have felt our own strength growing and shining, as Sun shines strongly from his own sign. This cycle began with Sun in Magha, the throne of the zodiac. We've been noticing our own inherent power and leadership potential, and getting a sense of what it means to wield our power ethically and generously. We may have also gotten caught up in the power, letting it get to our heads, and feeling a bit entitled to some royal treatment.
As the Moon waxes into Aquarius, our vision broadens far beyond our individual sphere and into the world at large. With so much suffering across the globe, what is truly the best way to shine our inherent divine light? It was a gift from the universe, and one given through grace, and ought not to entitle us to some special treatment, but rather, blesses us with the ability to share it with others. Aquarius brings to mind service, and relates with the image of a sadhu offering himself and his practice for the good of all. As you count your blessings this full Moon, contemplate how you can use them for the uplifting of humanity and the progress of the whole.
Purva Bhadrapada
The full Moon aligns with the Vedic nakshatra called Purva Bhadrapada, "the one with lucky feet." This is truly a nakshatra that is helps us to align with a greater purpose than our personal material needs, as it bridges the signs of Aquarius and Pisces. Moving us from Aquarius into Pisces, it highlights the need for surrender to a higher power. Like Aquarius it orients us more towards ideals of improving and helping society, over personal goals. It is fitting as you may be finishing summer indulgences and getting back more into meaningful work with a greater purpose.
Purva Bhadrapada is ruled by Aja Ekapada, the one-footed goat, often associated with Lord Shiva or Nataraj. It is also symbolized by a sword, or the two front legs of a bed or funeral cot. This symbolism shows us that we will need to cut ties with some of the mundane things of life, as we prepare ourselves for the next world or phase of evolution. Though not always literal death, this can symbolize the transition from a worldly to a spiritual orientation.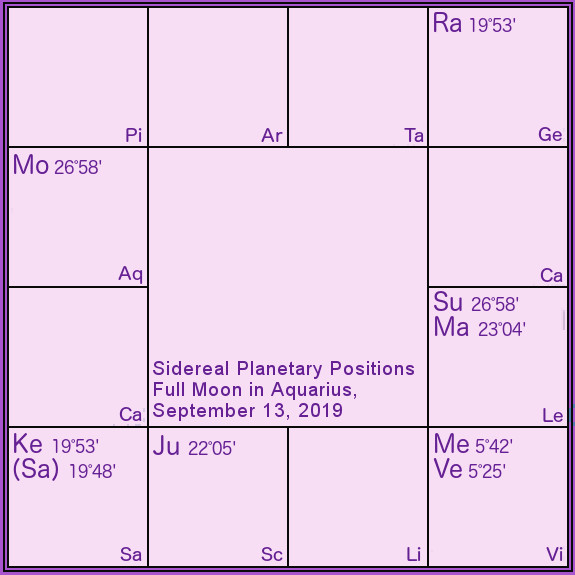 Mercury-Venus War
The Mercury-Venus war could contribute to a sense of seriousness and less inclination towards pleasurable indulgence. The two are at war from September 11th through 15th, while they travel within one degree of each other, competing for our attention (though both are still so close to the Sun that they are not readily visible). Mercury is strong and exalted in his own sign of Virgo, while Venus is debilitated there, so we may feel Mercury is winning out, meaning practicality will take precedence over desire, or even happiness, for a few days.
Saturn-Ketu Exact Conjunction
Saturn has slowed way down as he approaches his stand-still station on September 18th, and Ketu is catching up. The two will have their third and final exact conjunction on the 15th, before they slowly begin to separate as Saturn begins direct motion again after the 18th. In whatever area of life is shown by sidereal Sagittarius in your chart, you may have been struggling between stepping up to the hard work, and renouncing everything for much of this year as these two planets crept together through this sign. If you feel the intense energy again during this conjunction, be sure to go into a mindful practice to help you feel your way through it, and don't make any hasty decisions out of stress.
Kala Sarpa
We've been circling through Kala Sarpa cycles as the Moon circles the zodiac these last few months, passing from one side of the nodes to the other, either joining or leaving the rest of the planets who are clustered on one side of the Rahu-Ketu axis. Kala Sarpa will be on again from September 21st through October 6th. If you have a prominent Rahu-Ketu in your natal chart, or are running a Rahu or Ketu dasha, you may feel more affected by these cycles.
Personal readings are available and will help to explain how all of these alignments affect your chart and life in particular.