Today brings the exact New Moon moment when the Sun and Moon align at 10:33 AM PDT, on Monday July 20th. This begins a new lunar cycle in sidereal Cancer, with Sun and Moon around 4 degrees and in Pushya nakshatra. This nakshatra is all about nourishment while Cancer brings forward the watery energy of the divine mother.
Cancer
Cancer is ruled by the Moon, the planet that governs our minds and hearts. Both the Moon and Cancer are watery so we can expect to get more in touch with our emotions this month while our sensitive and perceptive sides become more prominent. If you already feel like a very watery person, expect those sensitivities to be even more acute during this cycle. This is a good month (especially this Dark Moon night) to tap into your intuition and felt sense perceptions in order to help guide yourself through life and any important decisions at hand.
If you do have a somewhat "overactive" water element within you, be careful not to let yourself become bogged down by emotions. Do something active and connect with the air and fire elements to help get your energy moving. Cancer, ruled by the Moon, brings forward divine mother energy in its highest expression, meaning we can find a compassionate, unconditional loving acceptance here. As limited humans, however, we could find ourselves struggling with boundaries as we attempt to embody this welcoming mood.
Pushya Nakshatra
Pushya is the Vedic star-sign known as "the nourisher" and spans from 3°20′ to 16°40′ Cancer. Symbolized by the udder of a cow, this nakshatra embodies the nourishment that we receive from food as well as caring providers. Its deity is Brihaspati, Jupiter in the form of a divine father. This New Moon therefore brings forward the energy of both divine mother and father. We can look within ourselves on the dark Moon night to find the aspects of ourselves that can be more caring and nourishing, both to ourselves and to those around us, including towards Mother Nature.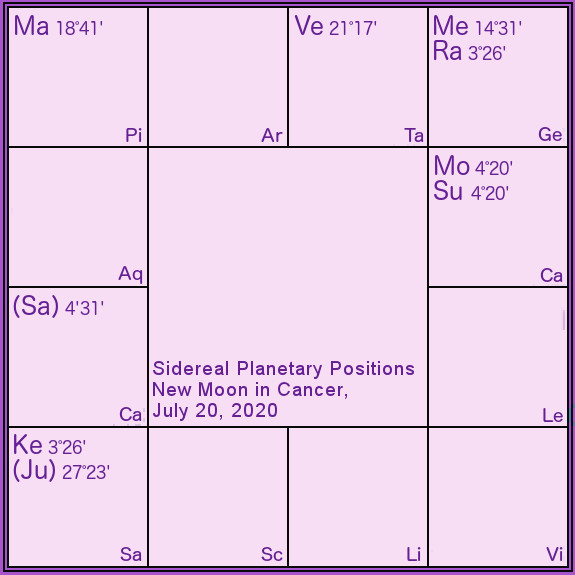 Five Planets in Own Signs
As this new lunar cycle begins we find five planets traveling through their own signs: Moon in Cancer, Jupiter in Sagittarius, Saturn in Capricorn, Venus in Taurus, and Mercury in Gemini. This creates a very auspicious energy that can be supportive in beginning many endeavors. Keep in mind that the rising sign changes throughout the day to create many different charts each day, and muhurta (auspicious moments) will occur at different times in different locations. Also be aware that Mercury still joins Rahu and Jupiter joins Ketu, creating some challenges at times ruled by these two. Jupiter and Saturn are still retrograde, giving them added strength and a more inward, reflective energy.
Saturn and Covid
Much of the restriction seen in the world this year can be associated with Saturn, having returned to his home sign of Capricorn in January. Though many alignments in the sky can be seen to have improved since the beginning of the Covid crisis, Saturn is the slowest moving planet and takes time teaching his lessons. He will remain in Capricorn, bringing some restriction while teaching us about creating more secure and responsible structures, for roughly two more years. He is now retrograde and we can expect to see some things moving forward more when he begins his direct course again in October, but we can definitely anticipate more lessons in endurance and austerity, and some major societal change over the coming four years while he travels through both Capricorn and Aquarius.
Though it feels difficult in many ways, none of the planets are here to hurt us, they are here to teach us lessons in different ways, on a continual process of evolution as we come closer to alignment with source and our true nature. Saturn ultimately wants to help us to mature, both individually and as a collective, and is bringing lessons through the earth-sign Capricorn right now that are very much changing the ways in which we move through the world. Government, commerce, and income are all affected. If we keep in mind the larger goal of supporting our spirits and the divine quality of nature itself, we have the opportunity to make progress during these times. Spiritual practices and meditation are absolutely methods that can support this process, while our material world may feel more restricted.
Personal chart readings are available here to help you understand your birth karma as well as effects of the current times.