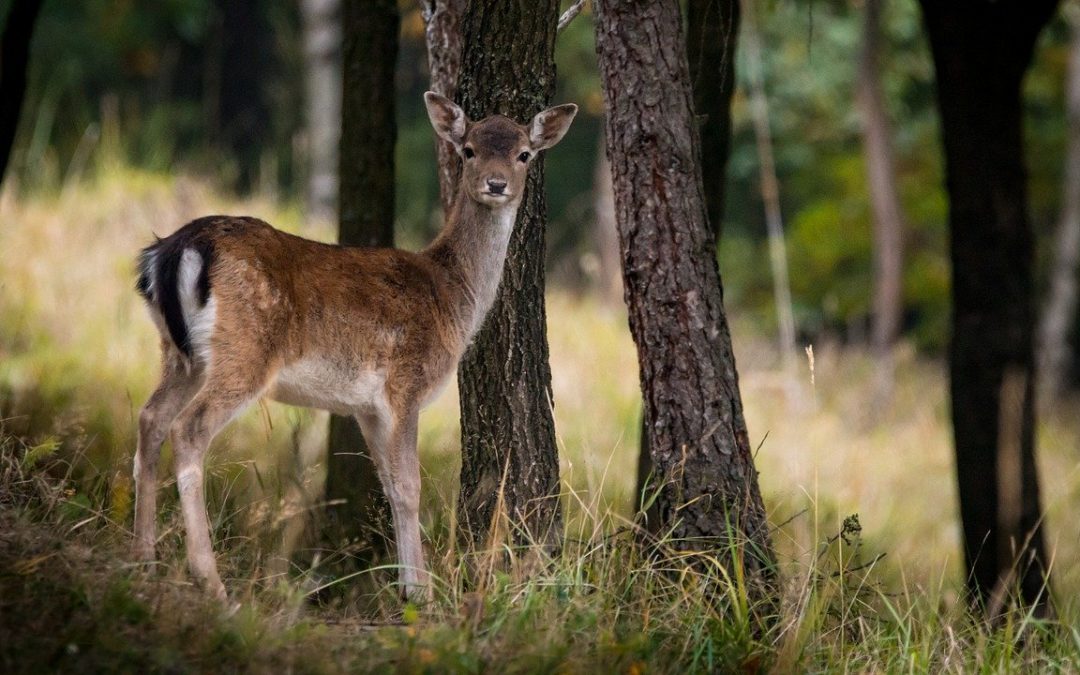 New Moon Solar Eclipse June 2020
This week's New Moon coincides with an annular solar eclipse, the second in a set of three eclipses we are experiencing this summer, as well as the summer solstice. Tensions have been running hot under the pressure of the nodes, the eclipses, and the position of the planets. The exact New Moon time will be at 11:40 pm PDT on Saturday, June 20th, with the maximum eclipse occurring one minute later. This new Moon and eclipse align with sidereal Gemini, in the nakshatra called Mrigashira, and are accompanied by four retrograde planets.
Mrigashira
Mrigashira is translated as "the dear's head" or "benevolent," and brings forward the gentle energy of the deer. Generally this could bring some relief, during turbulent times, but the fact that the Sun will be eclipsed here could cause us to feel cut off from our inner power and knowing. Mrigashira has been depicted as a deer at the edge of a burning forest (in The Book of Nakshatras, Trivedi), and if startled or confused may accidentally run towards the fire. This is something to be aware of during the eclipse period, which often causes anxiety and confusion. When I refer to the eclipse period I am counting the couple of weeks leading up to the first eclipse of the cycle (June 5th) through the final eclipse of the cycle on July 4th.
The deer and Mrigashira are known for searching and wandering, so if we are using the intelligence of this nakshatra and eclipse, it is possible to distill some answers and discern the proper direction to choose if we have been wandering. Gemini's ruler, Mercury, is sva in his own sign and joining the Sun, Moon and Rahu during this eclipse, as well as retrograde, adding great intellectual strength and ability to sort out details during this time (if we are not overcome by Rahu's shadow energy). Spiritual practice and meditation are the remedies we must utilize during this time, to find clarity and groundedness amidst the overwhelming shadows and turbulence that can be brought by the nodes.
Gemini Cycle
This New Moon will initiate a new lunar cycle in sidereal Gemini, compelling us to examine both sides of a situation, be come more flexible and light, and discern whether we need to stay still or change directions. Gemini is a bipedal (two-footed) air sign, offering a lot of mobility to us during this cycle. It is a masculine sign (directing energy outwards) ruled by Mercury, offering us the chance to speak out and let our words go forth into the world. With Mercury retrograde at the same time, we can slow down and deeply consider the way we speak. This is a supportive alignment for us to continue conversations on race and justice, reframing our language with consideration and self-reflection to aide in progress.
Four Retrograde Planets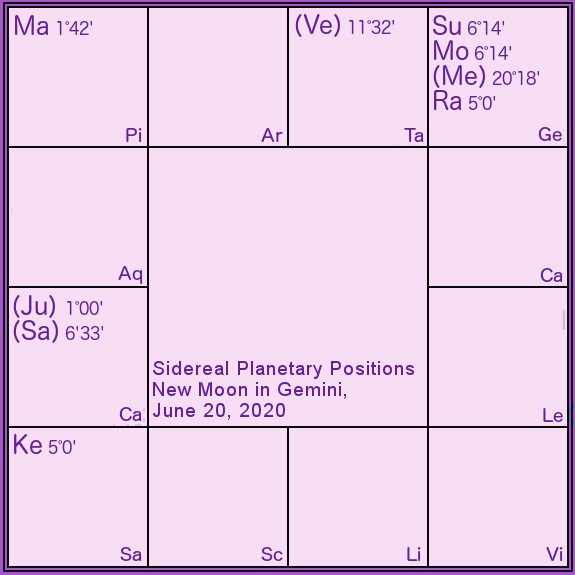 Four planets — Saturn, Jupiter, Venus, and Mercury — continue to travel in retrograde motion during this time, with Saturn, Venus and Mercury gaining double strengths by being in their own signs (sidereal Capricorn, Taurus, and Gemini respectively). This offers us the chance to harness intelligence from these planets as we do the inner work around their themes: responsibility and commitment, as well as society's structures (Saturn), relationships, nature, boundaries, and compromise (Venus), and discrimination, equality and communication (Mercury).
Jupiter
As Jupiter is traveling in retrograde motion he will soon leave his debilitation in Capricorn and re-enter his own sign of Sagittarius, on June 29th. Joining Ketu, this will again offer us the opportunity to dive deeply into our ideas and philosophies, especially around justice, politics, and how we act on our beliefs. Dismantling these themes and their faulty paths through history will continue to be a theme, further uplifting a movement for change in support of #BlackLivesMatter and social justice in general.
Solstice
The summer solstice is Saturday, June 20th as well, and marks the turning point in the Sun's solar cycle this year. The Sun will be at his northernmost course, offering the longest days in the northern hemisphere and the shortest in the southern, and will appear to keep the same path in the sky for a few days before beginning to creep towards the southern sky again. The light is bright, and the opportunity to connect with our highest self and highest ideals is strong. The leadership and courage within is available… BUT, heed the eclipses! Make sure you are acting from a point of groundedness, clarity, and benevolence, not power-crazy arrogance, as the Sun is at this point in his cycle. The Sun's powerful rays are able to help us to burn off our own impurities and negative tendencies if we use his light to look at ourselves and what needs to change, rather than focusing on what is wrong outside of us or in others.
Personal readings are available Here to help you navigate this time.