The next lunar cycle begins with an exalted New Moon of love and abundance on June 4th. The Sun, Moon, and Venus will all join in sidereal Taurus, in Rohini nakshatra. The new lunar cycle begins at 8 p.m. PDT on Saturday, June 4th. This dark night is the time to allow yourself to go inward, reset, and let your heart enjoy the fertile ground offered by Taurus and Rohini.
Of all of the 27 lunar mansions, Rohini is the one where the Moon is considered "exalted." This means that while Moon is here, we can most easily access peace in our hearts and minds. The position of the Moon relates to our ever-changing thoughts and emotions. He is the planet of the inner heart center, where we find and radiate compassion and selfless love (as long as the heart is at peace). The Moon finds a place to rest in Taurus, the fixed-earth sign ruled by Venus. It is here that the flowing emotions are able to feel grounded and stable and let us enjoy life.
As the Moon transits the zodiac each month, he visits each of the twenty-seven lunar mansions for one night. Our emotions ebb and flow by the mood of each star along the journey. In Vedic lore, these nakshatras were considered the wives of the Moon.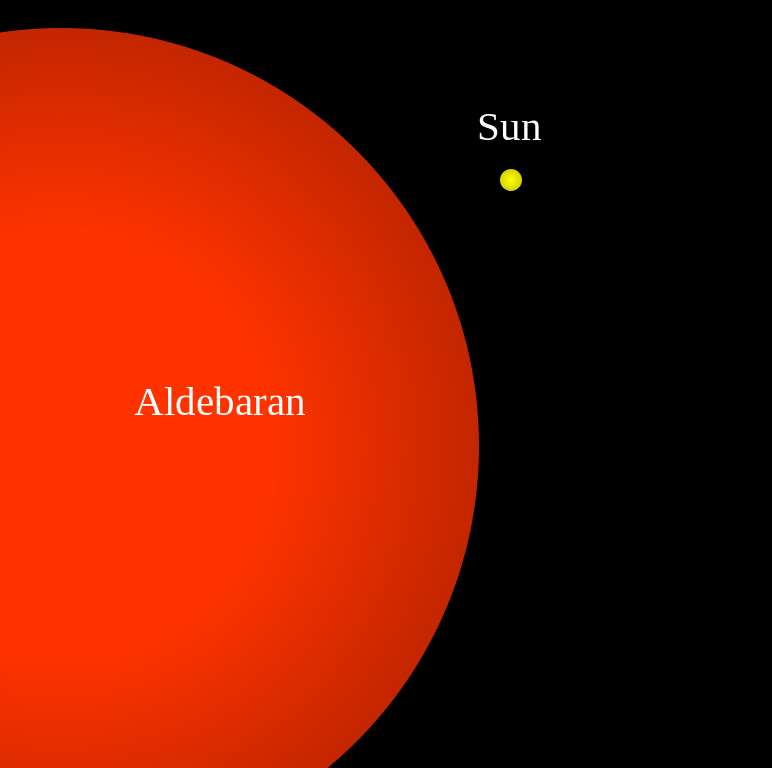 Of all the twenty-seven, Rohini was said to be his favorite. Rohini is known as "the reddish one," due to the warm glow of this red giant star (called Aldebaran by astronomers), which is over forty-four times as wide as the Sun. The heart enjoys peace here because of the abundantly nourishing and fertile quality of this star.
Rohini is associated with fertility, commerce, productivity and abundance. Its deity is Brahma, the Lord of Creation, indicating the inspired productive potential of this nakshatra. Its symbols are an ox-cart or a chariot, which both relate to the Taurean ideas of comfort and material stability. This could be a very productive month, materially. The planet who works with Rohini is the Moon, and Venus' rulership over Taurus doubles this star's feminine planetary influence, indicating ample love and nourishment coming from this part of the sky. Calling forth your feminine qualities, such as sensitivity and receptivity, will help you to achieve your goals this month.
With Sun and Moon aligned here as we begin this lunar cycle, we embark upon it with a full heart and a sensation of love, compassion, and abundance. Our focus will be on material stability, values, and family. Venus closely joins Sun and Moon (within ½ a degree!) and is highly combust at the time of the New Moon. This instills us with an overflowing, but perhaps frustrated, desire for pleasure, beauty and harmony. We'll feel more sensually focused this month, and will tend to lean towards the luxurious and hedonistic. It's a time to watch out for overindulging (in food, sex, or other desires), especially if this is a known tendency.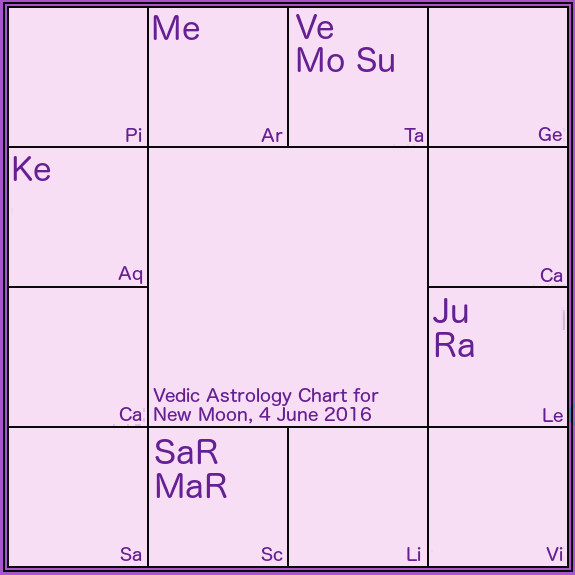 On the opposite side of the sky, Mars and Saturn remain retrograde and conjunct in sidereal Scorpio. This casts a double aspect of intensity onto the loving lineup of Sun, Moon and Venus in Taurus. Saturn may curb our Venusian indulgence, by reminding us of the bigger picture and adding some pressure and restraint. Mars, on the other hand, may intensify our desires. He also offers the positive potential of giving us the courage to embrace transformation (being situated in Scorpio), instead of clinging too tightly to the material stability being emphasized by the Sun and Moon in Taurus.
In sidereal Leo, the 4th house from this new Moon alignment, Rahu and Jupiter are still conjunct. This inspires more emphasis on heart and home this lunar cycle. Opposing these two, Ketu is in the 10th house from Taurus, so we may shy away from being in the spotlight this month. You will feel your inward-dwelling nature calling to you even more than usual. Don't worry if you feel the need to take a break from work and care for your inner world and home. This is totally natural given the planetary lineup.
With all planets (except Mercury) aligned on this square axis of fixed signs, this lunar cycle will cause you to really focus on whatever house axis this is in your chart.* Enjoy the exalted new Moon of love and abundance on June 4th.
*You can receive personal coaching on how to understand and work with the planets affecting you through a personal vedic astrology reading.
Please leave a comment below and Like my Page if you enjoyed this article. Thanks!

Have you read the free Saturn Retrograde Forecast for your sign? If not be sure to sign up here to download!