Full Moon October 1st 2020
The Moon waxes into fullness tonight during this purnima (full Moon) moon phase, reaching exact opposition to the Sun on October 1st at 2:05 pm PDT. The Full Moon is in sidereal Pisces, opposite a Sun who is traveling through sidereal Virgo. It will be in the Vedic nakshatra of Uttara Bhadrapada, a sign that forces us to dive deep and find inner transformation through purification (or cremation) by fire. Jupiter and Saturn have recently gone direct, and Mars moves slowly on his retrograde course.
Pisces Full Moon
Pisces is a water sign ruled by Jupiter. This is a place of deep feelings, big inspiration, and a longing for the things of our dreams and imaginations. This lunar cycle began with Sun and Moon in Virgo, setting a tone of practicality and an earthly influence, ushering us to slow down and assess whether the details of our life are in order. Under the Pisces Full Moon, the opposite side of us is illumated, wherein we allow our hearts to open wide into inspiration and higher purpose. Our biggest dreams and visions may not always be practical, but here we welcome the possibility of the impossible.
Those with a strong watery side may feel especially sensitive under the Pisces Full Moon. It is also a good time to connect with the spirit realm, while psychic forces are strong. Abstract art and work on the subconscious will be especially supported now… while those with escapist tendencies may find themselves really wanting to check out. Since the full Moon is a balancing point in the cycle, allow the earthy Virgoan energy in, and connect with something solid (like the earth itself) to make sure you remain embodied while you dive into the dreamscape.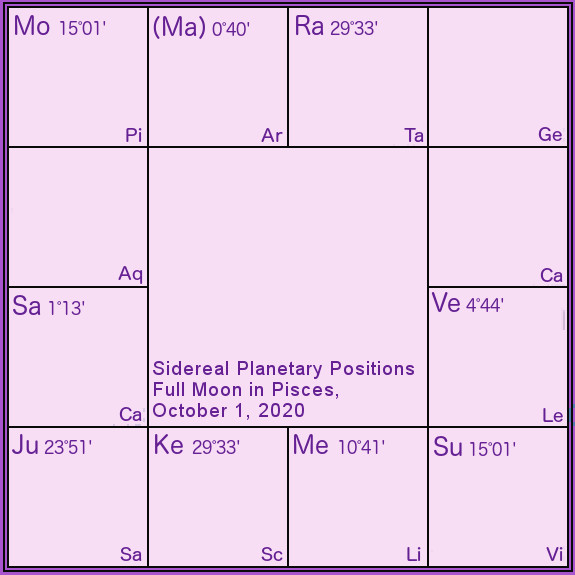 Uttara Bhadrapada
Uttara Bhadrapada is the nakshatra (Vedic star-sign) that indicates fire and transformation, such as that of a funeral pyre. It is a place where we must learn to let go of mundane attachments and relates with the mystical energy of kundalini. We must be careful not to get lost in the rabbit hole here, but to forge determinedly into the depths instead.
Jupiter and Saturn Direct, Mars and Mercury Retrograde
Uttara Bhadrapada is ruled by Jupiter, who stationed and began his direct motion on September 12th. With Jupiter moving forward again, you may find things in your life indicated by Sagittarius and Pisces in your natal chart are also beginning to progress after some delays. Jupiter is now on the tail end of his journey through his home sign of Sagittarius. Having traveled somewhat into Capricorn in the spring before beginning his retrograde motion, Jupiter will return to Capricorn once again on November 18th.
Saturn has also stationed and just barely begun direct motion, on September 28th. His gaze is still strong and pointed at the moment, as he barely appears to move, and this brings more pressure and restraint to us as a society, and especially in governmental affairs. We will feel his weight pressing down on us more soon … with a likely resurgence of Covid-19 cases and stricter measures on society. There was some lessening of the sensation of pressure during his retrograde journey, which began in mid-May.
Mars continues his retrograde transit and will soon leave Aries heading back into Pisces on October 3rd. This may lessen the intensity of the fire energy sweeping the American West at the moment… though he will gain power again when he comes to a station and turns direct on November 11th. Mercury will run his retrograde course from October 13th through November 3rd.
Nodes Change Signs
The lunar nodes, Rahu and Ketu, transited from Gemini and Sagittarius into Taurus and Scorpio, respectively, on September 23rd (mean node calculation; under true node calculation they progressed on the 19th). This is an important planetary movement as they will hold their new position for the next year-and-a-half, and will stir the pot along this axis particularly during eclipse periods which come twice per year. The next eclipse period is from mid-November to mid-December, with eclipses on November 29th/30th and December 14th.
With Rahu in Taurus and Ketu in Scorpio, we will feel stuck in a struggle between trying to find earthly pleasure, and a sense of "grounding," while continually facing constant change and a call to transform and let go of material attachments. This is a very broad sentiment, of course, and the nodes will take more specific effect on each individual depending on the rising sign and the planetary positions of one's natal chart.
To see how these transits affect and interplay with your chart and karma, you can request a personal reading here.