New Moon April 2021
The Moon and Sun join to make a New Moon at the very end of sidereal Pisces at 10:31 pm ET on the dark night of Sunday, April 11th. This will begin a lunar cycle in which the Sun spends most of his time in Aries, his sign of exaltation. Jupiter, one of the outer, slower-moving planets, has transited into sidereal Aquarius, breaking rank with Saturn who remains in Capricorn.
Pisces-Aries Cycle
We enter another lunar cycle during which the Sun begins in one sign just two days before entering another, where he will spend most of the lunar cycle. Pisces is the last sign of the natural zodiac, the end, a place where we connect with the unseen world including the underworld itself. Aries, on the other hand, is a place of beginnings, the true springtime energy where the literal sunlight gives life to the world once again and things begin to grow outwardly. This cycle will connect these two worlds for us, bringing much of the subconscious into light as we begin to take on more activity during this season.
The Sun and Moon begin joined with a debilitated Mercury, which can make us pass up practicality in favor of hopes and dreams. Jupiter rules this femenine (inward-looking) water sign.
Revati Nakshatra
The Sun, Moon and Mercury are all in Revati nakshatra as we begin this Moon cycle. The final of the 27 Vedic nakshatras, this sign has to do with journeys, and is ruled by the deity Pushan, the protector of journeys, flocks and herds. We can imagine in particular the journey from life to death as this is the final journey that we all make. Revati means "the wealthy" and is also related to Mercury, Vishnu and Lakshmi. There is a strong association with animals and this nakshatra, and many people with planets here have a strong love of pets or animals.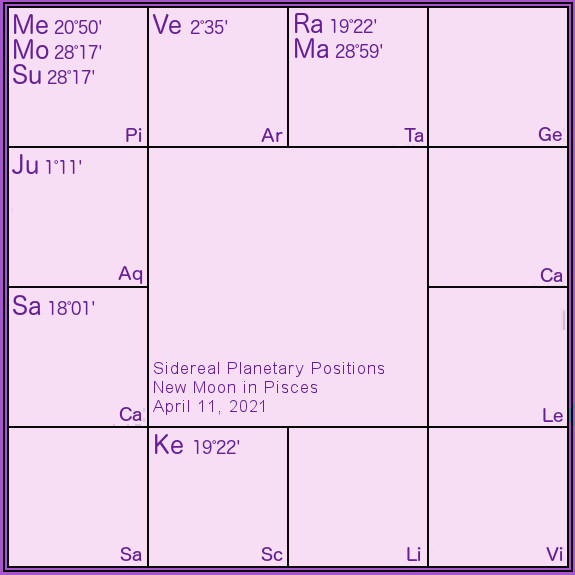 Jupiter Transit
Jupiter has moved from sidereal Capricorn into Aquarius, lightening his load as he is no longer in his sign of debilitation and joining the heavy presence of Saturn. Jupiter in Aquarius could stimulate some expansion in social programs, scientific innovations, and forward-thinking across society. This new position could stimulate some movement in your life depending on natal planetary positions and the current dasha (planetary period) and bhukti (sub-period) you are running according to your chart.
Mars Transit
Mars will leave Taurus just hours after the New Moon, finally parting ways with Rahu, lessening some of the intensity that has built up around their conjunction the past couple of months. His movement will also break the Kala Sarpa cycles, although with only one outlier the nodal alignment can still bring some intensity to current events or those born with these placements in the birth chart.
Chaitra Navaratri
This New Moon is followed by nine nights that are the springtime celebration of the goddess known as Chaitra Navaratri. These nights are celebrated in homage to the divine mother in her many forms, particularly Durga. This is not as largely celebrated as the fall-time Navaratri (Sharad or Maha Navaratri), but is also significant. This leads us up to Hanuman Jayanti which will be celebrated around the time of the next full Moon.