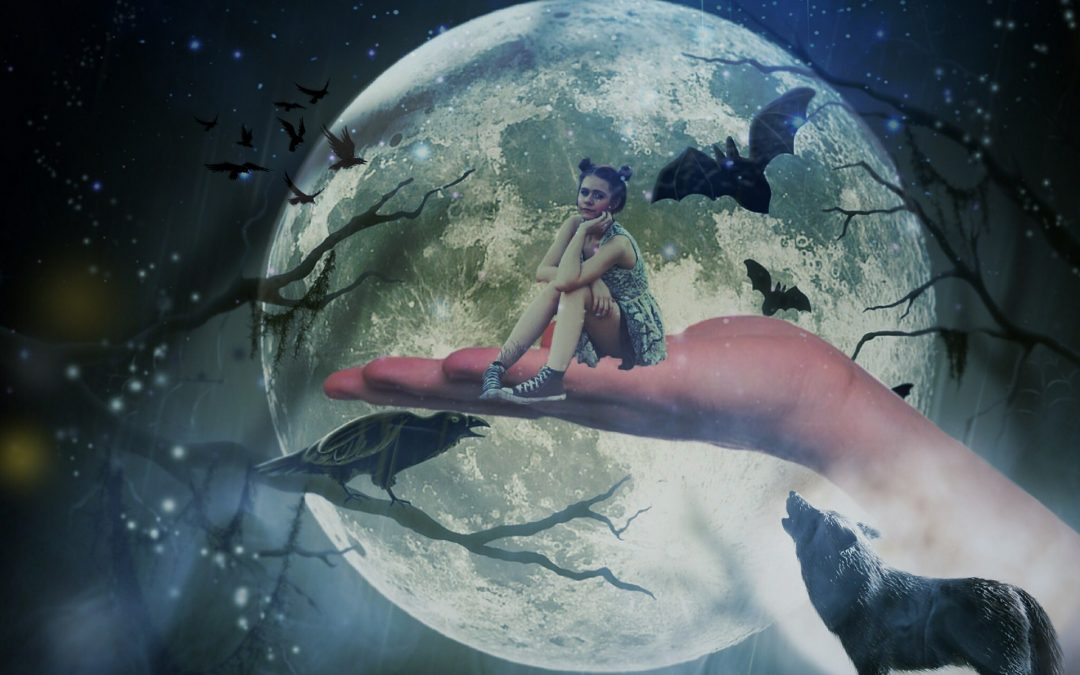 Full Moon March 2021
The full Moon is in sidereal Virgo this Saturday night, coming in full opposition to the Sun at 2:48 pm ET on Sunday, March 28th. This full Moon is in the Vedic nakshatra of Hasta, "the hand," signaling our opportunity to be more hands-on in crafting our own reality. The Sun joins an exalted Venus in Pisces, who is currently combust due to the close proximity of the two. Mars and Rahu are also in close conjunction, raising volatility in the world during this full Moon. Jupiter will soon transit into Aquarius, leaving his debilitated transit with Saturn.
Virgo Full Moon
The Sun is currently transiting Pisces, Jupiter's water-sign that drives us to connect with our inner strength through deep emotional exploration, seeking a purpose greater than ourselves to which we can fully surrender. With Venus also in Pisces (exalted here), our hearts are yearning for this purpose and higher power. For some people, this alignment could stimulate a desire to escape the mundane world. There is the option to do this through intelligent means like spiritual practice and inward-looking journeys, or the potential to choose over-indulgence in escapist drugs, alcohol, or bed-pleasures. Some structured journey-work that integrates the two might be an opportunity this lunar cycle.
During the Virgo full-Moon, the Moon and our minds are illuminated with the energy of the sign that is opposite to Pisces' deep-diving other-worldliness. In Virgo, we practice managing life's details and being hands-on through our own efforts. Ruled by Mercury, the planet of the intellect, Virgo is an earth-sign where we figure out how to organize our lives sensibly, very much relying on the material plane to do so.
Hasta Nakshatra
Within Virgo, the Moon is full in the Vedic nakshatra of Hasta, "the hand." Under this star we find our inner artisan, our craftiness, our skills at manipulating the world around us, both literally and figuratively. As we approach the coming Moon cycle, during which Sun will enter exaltation in Aries, and our impetus towards action and initiative will come alive brightly, we can try our hands at creating something we wish to manifest under the light of the Hasta full Moon. Hasta is ruled by the solar deity Savitri, and is also one of the Moon's nakshatras, whose animal symbol is the powerful female buffalo.
Venus, Exalted and Combust
Venus is exalted in the sign of Pisces because Pisces gives us the opportunity to align our desires, relationships, and pleasure-seeking (Venus) with something that aligns with our values and principles (Jupiter, Pisces' ruler) and is bigger than or beyond our normal, waking, mundane lives (Pisces). Through this month of Venus's Pisces transit, try to take the opportunity to re-align your romantic and pleasurable pursuits with that which gives you the most meaning, be it your spiritual or philosophical values or a sense of higher power in general.
During Venus' combustion, however, the Sun is so close to Venus that we cannot see its light at all, and some of the pleasure of life may feel like it is being "burnt up" before it reaches us. Unfortunately, Venus is spending his entire time in Pisces combust this year. Venus has been highly combust (within 3 degrees of the Sun) since March 14th. He remains highly combust during his whole exalted stint in Pisces (March 16th – April 9th), save for the last few hours when he is still quite combust within 4 degrees of the Sun. This is good time to dig deep for the more austere pleasures of life… connecting with the divine energy that is still present even when worldly pleasure may not be.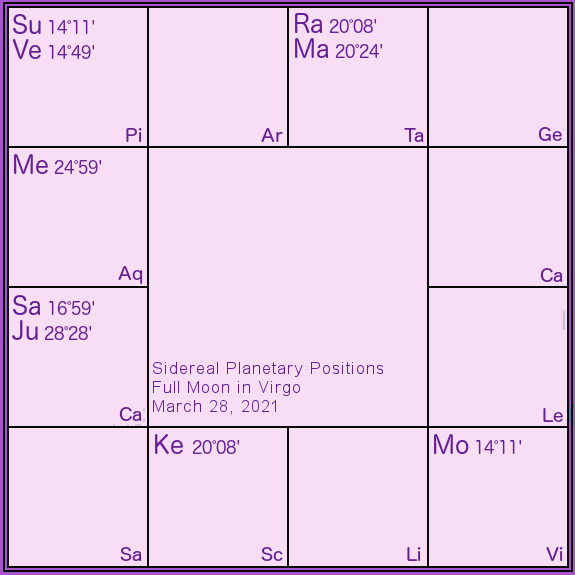 Mars and Rahu
There has been an uptick in violence the past week as Mars and Rahu came closer and closer together. Their exact conjunction will be on the early morning of March 28th, the night of the full Moon, which could bring even more acts of terror or chaos. In Rohini nakshatra, a sign of commerce, this could have an impact on the stock market and might trigger some extreme volatility there, as well.
Jupiter Transit
Jupiter will transit from sidereal Capricorn into Pisces on April 5th, finally parting ways with Saturn after spending most of the year conjunct and under his debilitating rule in Capricorn. This transit could allow for more opportunity and inspiration in your life, especially in the areas ruled by Jupiter in your personal natal chart. It signals a progressive time for philosophies across society in general, and we can expect to see more progressive and less restrictive movements gaining traction across the world.
Jupiter will enter retrogression in June, putting him back in Capricorn in September for a while before he finally re-enters Aquarius again in November.