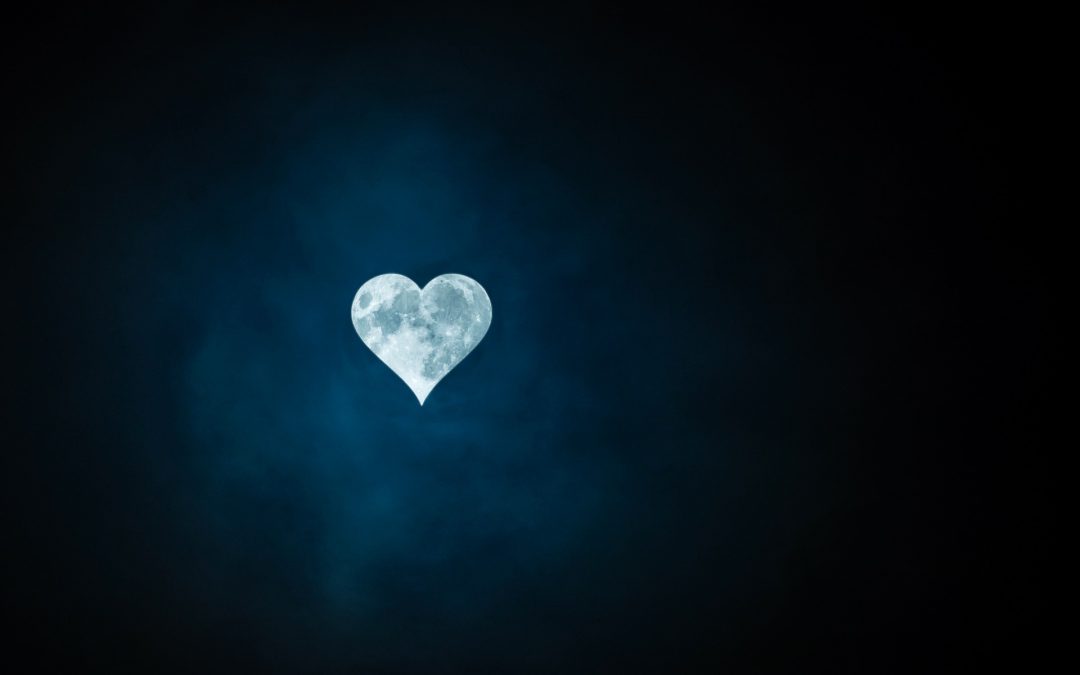 Full Moon January 2021
The full Moon peaks in sidereal Cancer at 2:16 pm EST on January 28th, opposite the Sun, Saturn, Jupiter, and Venus, all in sidereal Capricorn. This bright Moon illuminates the sign of the heart and the mother, while standing alone in the sky and receiving the aspects of three malefics (Sun, Saturn and Mars), as well as Jupiter and Venus. This alignment challenges us to let the heart shine with pure, unconditional love, while under the influences of stern authoritarianism, the fires of purification and courage, the conditional love of Venus, and the weakened inspiration of Jupiter. This quest is emphasized by Moon's position in the Vedic nakshatra of Pushya, the nourisher. Read on for more explanation!
Full Moon in Cancer
The Sun traverses Capricorn this cycle, an earth sign ruled by Saturn that brings us into our power by instilling a sense of responsibility, hard work, and structure. It can feel like a lot of pressure sometimes, especially with Saturn transiting there as well, adding a strong, somber tone of maturity to our mental dialogue while he is here (all of last year and this). The opposite, Cancer, is where we find comfort, ease and an open heart, as if nuzzling into the arms of the mother. It is this sensation that is illuminated with the full Moon in Cancer, but, there is a lot of pressure coming from the other influencing planets that may make it feel difficult to stretch open those arms and receive the purity of heart that Cancer has to offer, at least without dismantling some of the entanglements that surround.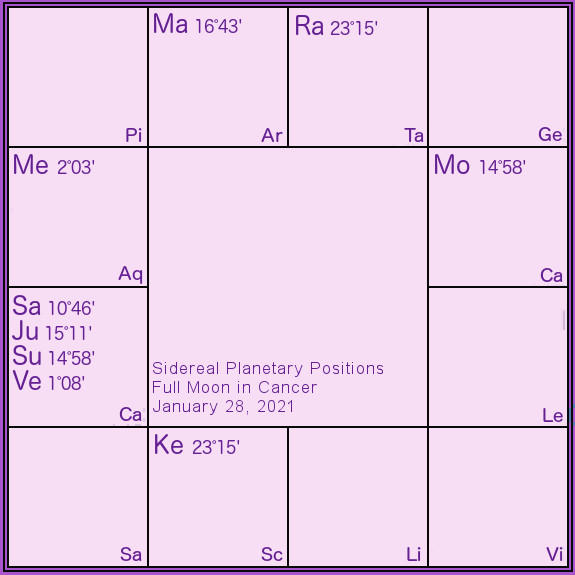 Compounding Influences
In Cancer, this full Moon stands alone, without any planets nearby. Though it is in its own home sign here and gains strength from that, there is a certain loneliness when Moon does not have any planets nearby. Furthermore, the Moon receives direct aspects from Jupiter (combust and debilitated, though neecha bangha), Saturn (sva, in his own sign), Sun, Venus, and Mars (also sva in his own sign of Aries).
The aspect from Mars in Aries can add fire, courage, and a sense of fight to our minds and hearts, that would prefer to be gentle with Moon in watery Cancer. The influence of Sun in direct aspect is what makes the Moon full, in fact, but is still a malefic that challenges us to purify ourselves, often through fire and heat, in order to reveal our pure essence and inner strength. Saturn's direct aspect is strong because he is in his own sign… a position which has been wreaking havoc on the world through restriction and contraction over the last year. Saturn's influence on the Moon limits the heart from expanding to its fullest, adding a weight of heaviness, a even a looming sense of doom, keeping us tethered to outward pressures and responsibilities when we wish to go inward, expanding into our inner sanctuary instead.
Jupiter's presence and aspect does give some inspiration and hope, but even this is dampened by his debilitated position in Capricorn (though somewhat modified and elevated by the presence of Saturn… keeping us grounded to a healthy degree in our inspiration), and by his highly combust position only a fraction of a degree from the Sun (behind the Sun, from our perspective here on earth). That increases the Sun's power of purification and asks us to burn away what does not serve in helping the heart achieve full openness and connection with the inner sanctity.
Venus's aspect onto the Moon also influences the heart and mind slightly away from Cancer's optimal goal of unconditional love, and brings in preferences, pleasures, and the sense of "deserving" something from those we love. Since the outside world often falters in fulfilling our sense of entitlement, Venus aspecting the Moon in Cancer can cloud that unconditional heart with a set of expectations that will create some guarding.
Pushya Nakshatra
The Moon's position in Pushya nakshatra continues this theme, asking us to examine unconditional parental love and seeking to find it despite difficult circumstances. Pushya literally means "the nourisher," and is represented by the nourishing udder of a cow that offers so much sustenance.
It is ruled by the deity Brihaspati (Jupiter), and relates with the story of him adopting Budha (Mercury), the love-child born of Jupiter's wife Tara and Chandra (the Moon). Despite circumstances, the sattvic Brihaspati loved the child as his own, setting an example of divine parentage without conditions. We must remember, however, that the human relationships of our limited selves, opening the heart without conditions can often result in feelings of disparate give and take—feeling one has been taken advantage of, had boundaries violated, or abuses of kindness and openness.
Our work on this full Moon is to dive as deeply into the heart as we can, and opening it within a safe place. We must strive to connect with the energy of the Divine Mother while examining all aspects of complication that surround our relationship with her (or with our own personal mothers, or fathers).