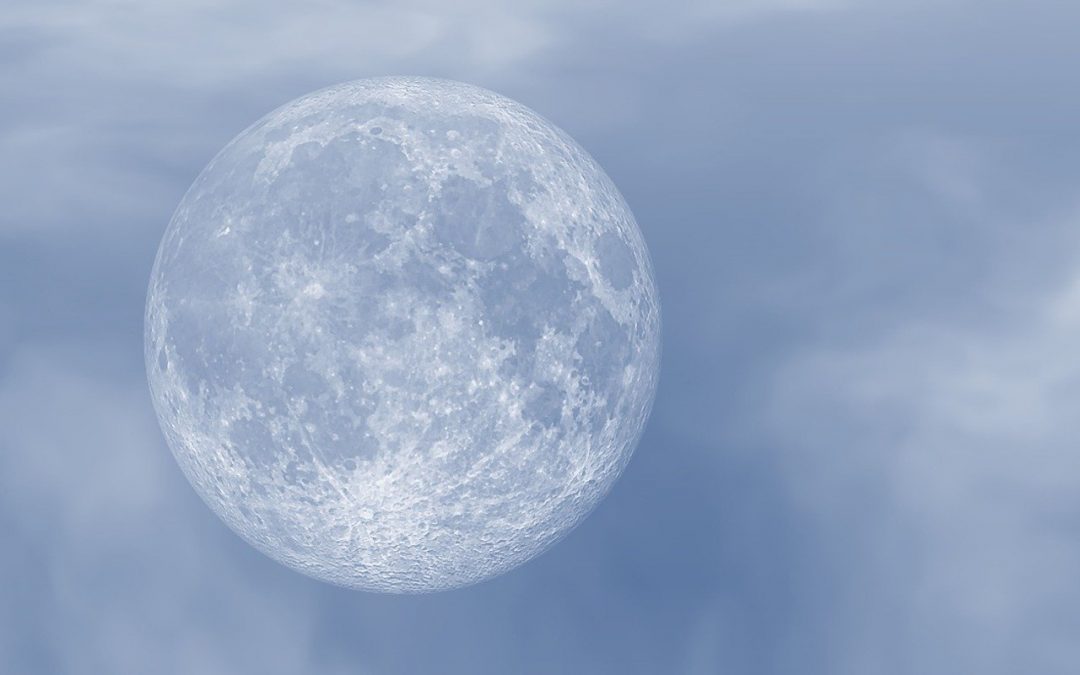 Full Moon and Election Astrology
This week's full Moon reaches maximum opposition to the Sun at 10:49 am EDT on Saturday, October 31st, in sidereal Aries. The Moon will be full in Bharani nakshatra, "the bearer," a Vedic star-sign that relates to both birth and death. The energy of the full Moon here creates a powerful portal between the realms of the living and non-living, a potent setup for both Halloween and the Mexican Day of the Dead celebrations.
Bharani Nakshatra
Bharani spans the middle of sidereal Aries, with the Full Moon at 14° this month. It is known as "the bearer" and is represented by the womb, but its deity is Yama, the Lord of death. People with planets here, especially the Moon, often work in fields relating to either birth or death. It is a creative nakshatra that allows us to birth visions into being, and also a powerful spiritual sign that allows us to let go and compost the old in order to rebirth it into something new.
Aries Full Moon
The full Moon in Aries is opposite the debilitated Sun in sidereal Libra. Sun has been traveling through its sign of debilitation this month, which usually coincides with the onset of cold and flu season in the northern hemisphere, where 90% of humanity lives. The Sun relates with our vitality and strength, and when it is in Libra, a sign of balance and compromise, we may find that we become depleted as we attempt to create more harmony in the world around us and pay less attention to our personal strength. Self-care routines are most important during the Libra Sun cycle, which is running this year from October 16th through November 14th.
At the full Moon point of this cycle, the Moon becomes illuminated in Aries, the opposite of Libra. Ruled by Mars, Aries is a sign of personal strength, empowerment and action. It reminds us of our inner strength and gives us the opportunity to bring forth the light of individualism during the Sun cycle of Libra, a sign of partnership and compromising with others. The Aries full Moon time is a point of balance, where we learn to harmonize the desire to compromise with the ability to retain autonomy in a healthy way.
Mars and Mercury Retrograde
Both Mars and Mercury are still traveling in retrograde motion, through Pisces and Libra, respectively. Mercury will come to a station before beginning direct motion on November 3rd, election day. As the planet of the intellect, he will give us a sharp, discerning ability to make rational choices that are balancing. This bodes well for the U.S. election in terms of bringing more balance and practicality into the minds of voters in this polarized and radicalized democracy… though in the short-term, it could indicate an abundance of "balance" in terms of a close race in terms of numbers.
Astrological Presidential Potential
Joe Biden has at least as good a chance of Trump at being president, according to his astrology. A Scorpio rising with Sun in the first house, his tenth house is Leo, the house of career landing in the sign of government and kingship. His Rahu is also in the sign of Leo, indicating strong ambition in those arenas (and his career as a politician aligns with this natural tendency). Four of the last five presidents had either Leo rising (Trump, Obama, G.H.W. Bush), Rahu in Leo (Obama, G.H.W. Bush, as does Biden), Rahu in 10th (Trump, as does Biden) Sun in Leo (Clinton) or Sun in the 10th (G.H.W. Bush, Trump; Biden's Sun rules the 10th). An association between Sun and Rahu with either the 10th, Leo, or the 1st are the common threads that we see in this group relating to the ability to take on the large governmental leadership role of President.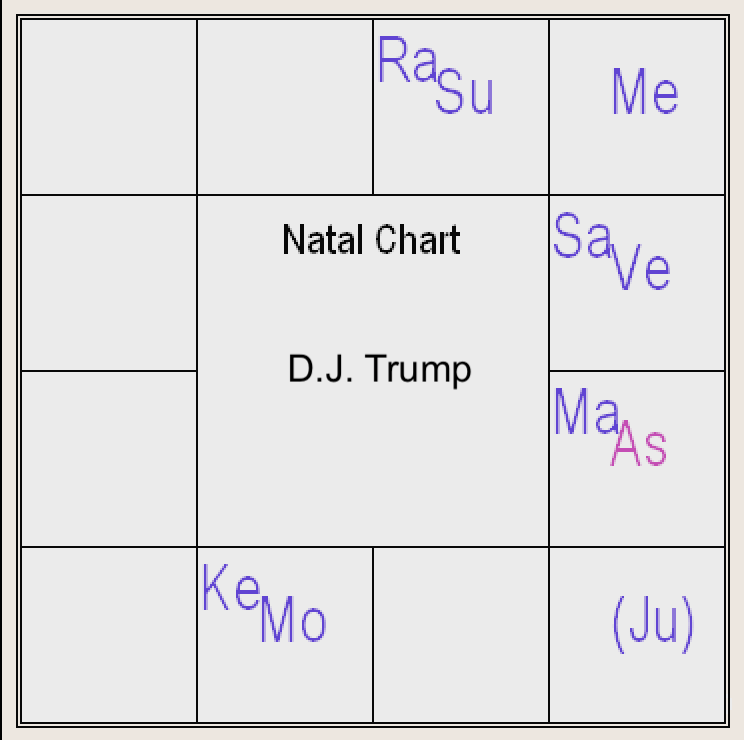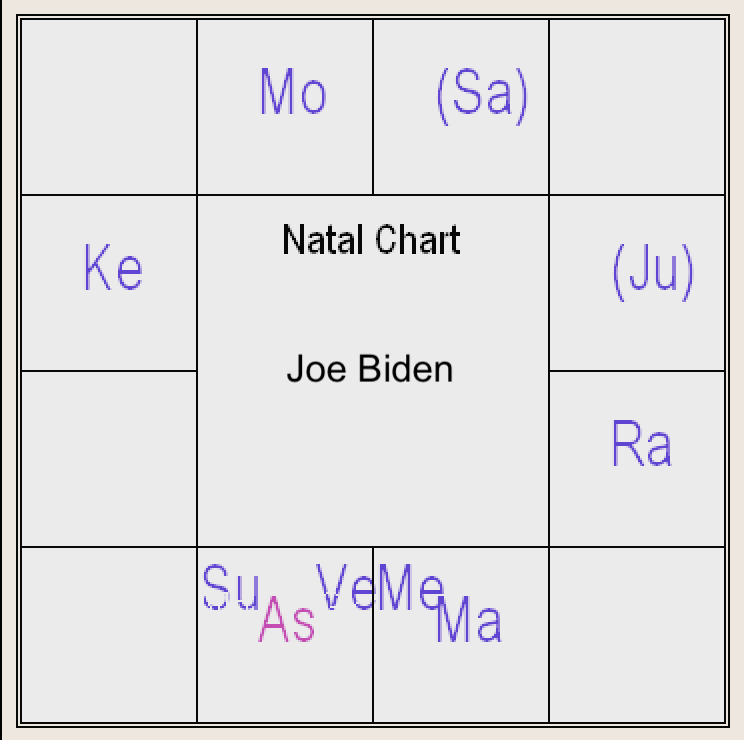 Of these men, only Trump has Rahu joining the Sun, which is also his lagna lord (ruling planet), bringing him fame while creating a kind of extremely intense personality that plays out in his professional life. Trump was elected just at the beginning of his Jupiter mahadasha (planetary period), a planet that indicates wealth in his chart and also activates some status elevation simultaneously. Trump also has a debilitated Moon afflicted by Ketu, and though full, creates many internal challenges to the mind.
Biden is in his Jupiter>Rahu bhukti, the last phase of his Jupiter mahadasha. In his chart Jupiter is also a strong planet (stronger than Trump's, with its dual exaltation and retrograde status), also positioned to indicate wealth and success. Rahu is in his 10th house, Leo, indicating a strong desire and ability to come into a position of leadership. As the last bhukti of one mahadasha, this phase a lead-up to his Saturn mahadasha that begins in 2022. Saturn is also a strong planet for Biden, with double natural strengths (positional and retrograde), opposite both its ruler Venus and the Sun.
To see how the current transits affect and interplay with your chart and karma, you can request a personal reading here.