Sun and Moon join in sidereal Aries and bring a dark Moon night this Friday before their exact conjunction on May 4th at 3:46 pm PDT. At 20° of Aries, this New Moon begins a lunar cycle under Bharani nakshatra, the sign of birth, death, and rebirth. Aries ruler Mars is now joining Rahu, which adds volatility to this cycle. The Sun and Moon are nearly opposite the bright and retrograde Jupiter and Saturn, the latter of whom is having a close conjunction with Ketu now, and for the next several months.
Aries – Bharani Cycle
Aries is the sign where the Sun is exalted, meaning our collective health, energy, and sense of strength and power is well-supported at this time. That's why the springtime in the north often brings us out of our shells, finding inspiration and ready to begin new projects. Aries has a birthing energy within itself, as it is the "let's go" first sign of the twelve rashis.
Within sidereal Aries, Bharani nakshatra spans the middle section, associated with three bright hot stars in this constellation. This asterism brings a powerful fire energy, an element capable of creation and transformation. Bharani is symbolised by the yoni, the female reproductive organ, and translates as "the bearer." There is a strong energy for birthing and creating that comes with a lunar cycle under Bharani.
Its Vedic deity, however, is Lord Yama, the god of death. This reminds us that all that begins must eventually end, and in Vedic thought, is then reborn again in a new form. Bharani is known as the star of restraint, yet perhaps that is a lesson that we must strive to learn here, as it can be a very sexual and passionate star-sign. Saturn is debilitated here, showing that discipline and patience do not necessarily come easily.
Mars & Rahu
Mars will transit into sidereal Gemini two days after the New Moon, on May 6th, and join him for about six weeks. These two planets together can create a lot of power, and perhaps violence. Mars has a strong warrior energy, which can be very disciplined with a healthy Mars, while Rahu has the aggressive and forceful energy of an army but without the discipline, or even self-awareness. If you are challenged by Mars in general, are hot-headed, or impulsive, be very aware that these qualities can be heightened during this conjunction.
Mars and Rahu will be joining from now through June 22nd. The volatility may be mitigated, however, after June 1st, when Mercury also joins them in Gemini. Being joined by a dispositor or ruler-of-the-sign can help to stabilize planets and assuage some of the malefic affects.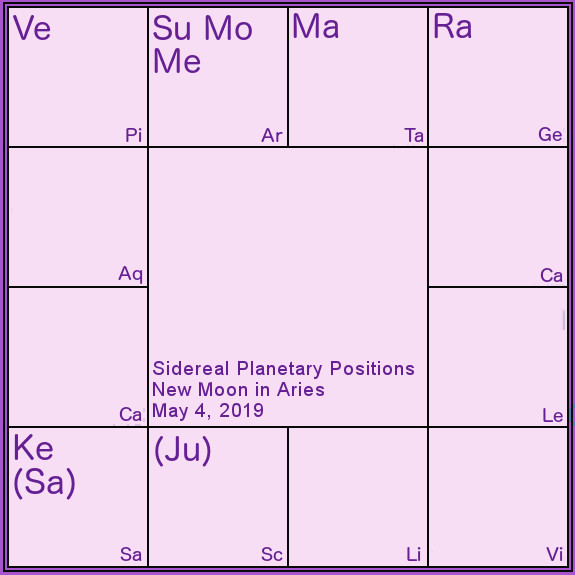 Retrograde Jupiter
Jupiter is now in apparent retrograde motion and has transited back into Scorpio from his short jaunt in Sagittarius. On May 6th, he'll move just past 29°12' of Scorpio, leaving the heart of the gandanta area (the karmic knot), which may have had us feeling stuck in the Jupiter-ruled areas of your life. Jupiter retrograde is actually an incredibly bright and strong force. Now nearly opposite the Sun (and coming closer to exact opposition each day), he is getting brighter every night, and that auspicious glow can offer luck and prosperity.
Akshaya Tritiya
There is one particular day of the year that is revered as a day of abundance, auspicious for making investments and starting new ventures. This day is Akshaya Tritiya, is the "third" day of the lunar cycle begun in Aries (it will span from May 6th-7th this year, PDT). It is known as the day of "never diminishing," hence auspicious for beginning or cultivating that which you would like to grow. People often buy gold or silver, even homes or vehicles, or launch new ventures at this time.
Akshaya Tritiya is auspicious because it is the one lunar phase all year where both the Moon and the Sun are exalted. The Sun is exalted in Aries, while the Moon is exalted in Taurus, Venus' fertile earth sign. While the body and the active energy principle within can shine with creative strength, the Moon and the feminine principle can rest and be fulfilled.
Retrograde Saturn & Ketu
Saturn stationed and began his retrograde journey on April 29th, just after coming within one degree of the always-retrograde Ketu. The two are now moving together at a snail's pace, and will remain joined from now through October 1st. They will have exact conjunctions on May 20th, and then again on June 23rd. This conjunction may be taking a toll on the area of your life indicated by sidereal Sagittarius, or at least causing a lot of stress and worry there. Saturn pressures us to think about the big picture, especially our responsibilities, while Ketu compels us to let go of a lot we have held close. Melding these two impetuses will require a determined, and discerning, spiritual focus.
Exalted Venus
Venus remains exalted in Pisces for a few more days, until he transits into Aries on May 10th. As Bharani's planetary ruler, this enhances the feminine creative energy we find as we begin this new Moon cycle.
To see how these transits affect your chart specifically, join me for a personal chart analysis based on your birth time and place.