We are blessed with the opportunity for deep surrender on the Pisces Full Moon, October 15th at 9:23 pm PDT.
This full Moon falls in the last degree of sidereal Pisces in the nakshatra called Revati. As our hearts and minds align with this powerful part of the zodiac, we will feel empowered to let go and trust in the divine flow. This is a potent time for ending or completing projects and ventures, as well as initiating new ones. It's a time for cutting ties with attachments that may be holding us back from freely evolving. This full Moon has the power to help us to surrender, keeping faith on our path while letting go of the desire to control every detail along the way.
This lunar cycle began with the Sun and Moon joined in Virgo. This inspired us to spend this month organizing the details in our lives, clearing out the clutter, and harmonizing our beliefs with practical routines. It's been a time for arranging things in our material world and intellectualizing things sensibly. The cycle began with Sun and Moon Hasta nakshatra ("the hand"), compelling us to put our hands to work in skillfully weaving the tapestries of our lives.
With the Moon now in Pisces, opposite Virgo, we reflect on the parts of our lives that cannot be maneuvered through our physical efforts, nor organized in our intellectual minds. Some things will never fit into earthly boxes or material understanding. Pisces' energy ushers us to go beyond the earthly plane and dive into the ethereal waters to ride the waves of spirit. Though we do not cease our Virgoan effort towards becoming more organized, the reflective juncture of the Pisces full Moon teaches us to surrender the fruits of our effort and leave the final outcome in the divine hands.
The Revati Full Moon offers a good opportunity for completing projects and moving forward into new ones. If there is anything you have been working on that you can't quite seem to put the finishing touches on, now is a good time to consider wrapping it up. As the Moon is on the threshold of the doorway into Aries, it is also a good time to get ready to begin a new venture. Finishing one journey or project creates space for the next. Jupiter and Mercury are also opposite this full Moon (joining the Sun in Virgo), shining the grace of both Pisces' and Revati's rulers onto us, in addition to the Sun's full-power illumination.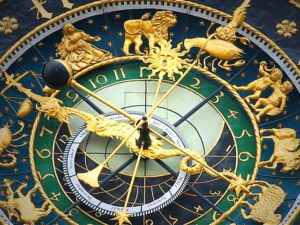 The Full Moon falls at 29°09′ of Pisces, a place of endings in the "last" degree of the zodiac before it ticks back into zero degrees of Aries, a place of beginnings. Revati translates as "the wealthy," indicating material abundance as well as the spiritual wealth gained through lifetimes of evolution before we reach the final stage of liberation. The deity for Revati is Pushan, the nurturer, and a shepherd of flocks who protects us on long journeys. As we complete one chapter and embark on a new one, we are blessed by Pushan, along with Jupiter and Vishnu (associated with Mercury). They offer protection and grace on the road ahead. The drum, a symbol for this nakshatra, provides a steady beat to help to keep us on the path and remember that there is a rhythm in the divine flow.
We may feel especially dreamy, imaginative, and optimistic around this full Moon, as is the nature of Revati. Pushan helps to light our path with streetlights and other signaling lamps, so you may find some light shed in areas that have felt dark. The Full Moon in general brightens our emotional awareness, as the Sun illuminates the mind and heart by shining fully onto the Moon. Mars also casts his aspect onto this Full Moon, from  Sagittarius, which adds courage as we deep dive into surrender. His placement also encourages us to take inspired actions in alignment with our beliefs.
We are definitely working hard for our desires right now, with Saturn and Venus joined in Scorpio. This placement, which will last about a month, puts some pressure on our relationships and on how we go about fulfilling our sensual desires. We are really thinking about the long-term around these areas right now, due to Saturn's influence on Venus. This makes us consider what kind of work it will take to support our relationships and happiness for the long run. Saturn can help us to make a commitment and also teach our Venusian side to find a compromise that won't cause us to burn out.
With these two together in Scorpio, we have the opportunity to transform our commitments and relationships and take them to a deeper level that supports our soul's evolution. This alignment can help us to transform ourselves, if we face our fears, and give us a new perspective on where happiness really lies.
On October 16th, the Sun will go into Libra, where he is considered debilitated.  With this placement we can tend to exhaust ourselves by attempting too many balancing acts. Sun and Saturn will both be putting the pressure on relationships now. Though we have the desire to purify them and make them stronger, it is also really important to remember to step back and take care of ourselves as well. Self-care is very important during Sun in Libra (for the next month), as our immunity can be lowered and we are more susceptible to physical and emotional depletion. Be sure to have warm and nourishing food and drink, keep your head and neck protected from the cold and wind, and take some time for grounding meditation.
This Saturday night, take a step back from your efforts to organize everything and reflect on deep surrender on the Pisces Full Moon.
*Did you like Deep Surrender on the Pisces Full Moon? Please Like, Comment, and Share, and join my free newsletter to stay up-to-date!
Save