New Moon in Swati
Be careful not to become scattered this New Moon in Swati, on the dark night of Saturday, October 29th (*Times given for North America).
The Sun and Moon will coincide in this Vedic star-sign ruled by Vayu, the Lord of Wind, to kick off the next lunar cycle. The exact conjunction will be Sunday morning (at 10:38 a.m. PDT), with the darkest Moon phase on Saturday night. It will also coincide with a Venus-Saturn planetary war (exact conjunction), so we may feel a conflict between temporary pleasures and long-term goals (October 28-30). Thankfully, this dark Moon night also marks the time for celebrating Diwali (or Deepawali), the festival of light, wherein we celebrate prosperity and light prevailing over darkness! So it's a great time to shine some light and turn our minds and hearts toward devotional practice.
Potential Depletion
There are a few factors creating the potential to feel scattered at this time, but there's also a great opportunity to ground ourselves and steady our minds through focus and worship. In addition to Vayu's influence, we in the Northern Hemisphere have been experiencing the cold winds increasing in the external atmosphere. As we go deeper into autumn, the vata dosha (comprised of air and ether elements) is increasing all around us. With the leaves falling and the weather changing, the process of decrease and sparsity in nature becomes evident. This results in an increase of vata energy, which can cause us to feel restless, anxious, spacey, dry, or depleted. It is extra important to do grounding and nourishing practices during this season, and to eat warm, moist, and heavier foods.***
What's more, this lunar cycle begins with the Sun and Moon in Libra, where Sun is considered debilitated (not able to express strongly). Sun represents our vitality, energy, physical strength, and also our feeling of spiritual strength and connection with universal source. Not surprisingly, the time of year when he becomes "debilitated," passing through Libra, is the same time we experience increased vata in the atmosphere and lessened immunity in our systems. It's the time when we are most likely to catch a cold and begin to feel "spread thin" or "dried out." While the Sun is in Libra, self-care is extra important. Take some time on this New Moon night to set intentions for how you will care for yourself during the coming cycle.
Another reason Sun is considered debilitated in Libra is because Libra is a sign that is very much about relationships. Sun represents our individual strength, so with Sun in Libra, we are more likely to put more of our attention on others, and on relationships, than towards our own physical health. We may be relating to our own personal power through our relationships during this time, rather than approaching it as individuals. While you are offering your love and compassion to others, don't forget to nourish the divine within yourself as well, or you may end up feeling depleted. It is also easy to become drained when we try too hard to balance everything, another temptation of Sun in Libra.
Swati Symbolism
Thankfully, the divine universe always seems to offer just the right opportunities for solving the same challenges it presents. We just need to be willing to do the work on ourselves. This new Moon is in the part of Libra known as Swati, "the independent one," which reminds us of our independent nature, despite the strong emphasis we may be putting on relationships at the moment. This star-sign helps remind us to look for our own inherent power, shining forth like the inner Sun.
Vayu, the wind god, is the ruler of Swati, and can bring in a restless and scattered energy to this star. He is also the father of Lord Hanuman, who is known as the greatest devotee. One lesson we learn from Hanuman is that through loving devotion, even a restless monkey mind can be tamed. He had endless devotion for Lord Rama, which gave him invincible powers to accomplish seemingly impossible tasks. Though we all have restless monkey minds at times, if we direct our attention toward love, light, or our chosen deity, we will be able to steady the mind and find immense strength within.
Practice Ideas
Some ways to still your mind through one-pointed focus include:
Mantra recitation
Asana practice
Scriptural study
Meditation on candlelight, a statue, or an image
Though a young sprout blowing in the wind (a symbol of Swati) may seem perilous, it is actually growing stronger so as to withstand the intense force of the outer circumstances. Eventually, it could grow into a tall redwood, cutting through the wind like a sword (another symbol of Swati). Swati is also related to the symbolism of a priest, which shows us the possibility for reclaiming both power and balance through devotional or spiritual practice.
Kala Saarpa Yoga
We may feel extra intensity seemingly out of nowhere, for the next two weeks during which the planets align in a Kala Saarpa yoga. This means that the seven major planets are all in between Rahu and Ketu, the two lunar nodes. This heavy alignment can bring up a lot of shadow work, so it is a good time to engage your toolbox for self-development. With Ketu in Shatabisha, the sign of the "hundred medicines," alternative medicines and healing modalities can be useful towards this end.
Diwali
With all this energy in the atmosphere, enjoy the opportunity for worship offered by the advent of Diwali! This Hindu festival of light is celebrated for 6 or 7 days, with the main Diwali festival on the night of October 29th. Diwali, or Deepawali, comes from Deepa + avali, "a row of lights."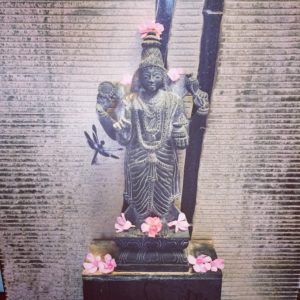 Thursday (North America) is both Dhanvantari Tryodashi (or Dhanvantari Jayanti, the birth of Lord Dhanvantari), and Dhanteras (a part of the Diwali festival). It is the thirteenth day of the waning Moon in the Vedic month of Ashwayuja. Lord Dhanvantari is known as the "father of Ayurveda" and the "physician of the Gods." (Ayurveda is the system of natural medicine from India that is a sister science to yoga and Jyotish.) If you practice any healing tradition, especially Ayurveda, this is a good day to give thanks and call in auspicious blessings to your healing path or practice.
Thursday also marks Dhanteras, the first day of the Diwali festival (the Hindu festival of light). It commemorates the day that Lakshmi emerged from the milk ocean. In India, it is customary to purchase metals on this day — anything from jewelry to new statues to kitchenware (excluding iron), as a part of celebrating Lakshmi and calling in more prosperity. The metals can then be offered to your altar and will absorb and amplify the benefits of worship performed over the few days of Diwali.
It is customary to perform a puja to Lakshmi on the third night of Diwali (this Saturday in North America). Goddess Lakshmi represents wealth and prosperity (spiritual and material), as well as devotion, love, beauty, and happiness. Celebrating her on Diwali is a way to call these qualities into our lives.

It is also traditional to light candles throughout Diwali, to remind us of the divine light within. Diwali is also related to the story from the Ramayana about Lord Rama's return from exile after fourteen years. It thus symbolizes light and goodness emerging from times of darkness. Lord Rama represents dharma, or doing our duty, as well as devotion, compassion, courage, and righteous leadership. Diwali celebrations often commemorate his and Sita's return to the kingdom of Ayodhya after their exile.
On Saturday night as we prepare to enter the next lunar cycle, light a candle! Turn your mind toward the divine so as to focus and ground, through the practices that work best for you. Set some intentions as to how you will practice self-care during this cycle (and be sure to find me on Facebook for a live chat with tips for how to do this!).
Ram Ram, Namaste
***Be sure to Follow me on Facebook so you can tune in for my upcoming Facebook Live talks about the New Moon AND Ayurvedic tips for how to stay balanced during the high vata season!
**Limited requests for personal Vedic Astrology readings before the New Year are now available Here.
Save
Save
Save
Save