Guru Purnima – Full Moon in Sagittarius
Each year, the full Moon in the Hindu month of Ashadha is dedicated to celebrating our gurus. This year's Guru Purnima falls on the night of July 8th in North America and India, with the Moon reaching peak fullness at 9:07 pm PDT on Saturday. This year, Guru Purnima's full Moon falls in Purvashada nakshatra (Vedic constellation), in the middle of sidereal Sagittarius, close to the galactic center. The Moon will be opposite the Sun in sidereal Gemini, where we began this lunar cycle.
Guru
The Sanskrit word guru is most commonly translated as "teacher." It refers not only to the mighty spiritual teachers that are often associated with this word, but can indicate teachers in many fields of study or practice. One might have a spiritual guru, a yoga guru, an astrology guru, or even a knitting, cooking, or physics guru. "Gu" is often translated as darkness or ignorance while "ru" implies dispelling, disseminating, or removing. Guru as an adjective often implies grandeur or weight, frequently translated as "heavy," which is a way that one might describe our most influential teachers. Students of jyotish will also recognize Guru as the name for Jupiter, who even the ancients knew as a large and profoundly influential planet. His influence in our lives is often in the realms of higher teachings and philosophy, and his position in someone's natal chart can tell us about their path of learning and relationships with teachers. (For more rumination on the concept of guru in general, check out previous years' articles.)
Purnima
Each month, as the Moon waxes and wanes his way through the ecliptic, he undergoes 30 phases known as tithis in Vedic astrology. Although the transition is smooth, the tithis are delineated distinctly, and each one carries a certain supportive energy. The purnima phase, roughly a day long, is the fullest phase of the Moon, with the peak of fullness happening at the last moment of the phase (given as Full Moon time), before the light on the Moon begins to recede again as we enter the waning phase.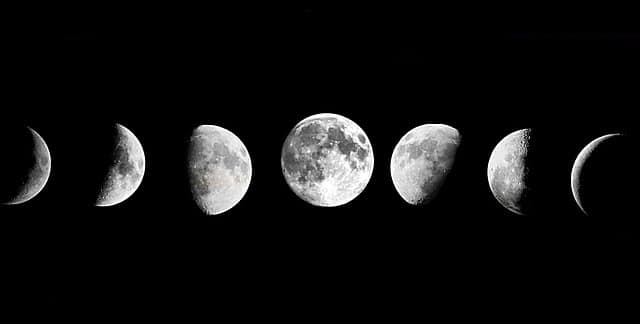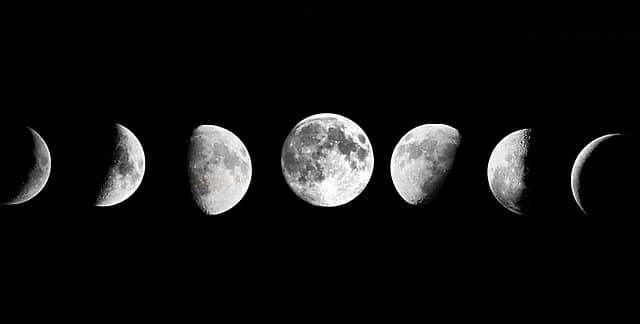 Purnima is generally thought of as the most auspicious phase of the month, and is positive for most activities, especially spiritual activities. There is a harmony of lunar and solar energy at this time. The Moon influences the ebb and flow of our watery emotions and our state of mind. We are most able to perceive this subtle body within when the outer Moon is fully illuminated. It is also a time where opposite poles within us (and in the external solar system), are both illuminated at the same time. Wherever the Full Moon occurs, it is on the exact opposite side of the zodiac from the Sun. On this Full Moon, the Sun is illuminating the Gemini part of the sky while the Moon's light brightens Sagittarius for us. We are better able to integrate the two opposite poles within us when this occurs.
Sagittarius Full Moon
The Sagittarius section of the sky carries an energy of optimism and idealism, under Jupiter's idealistic rulership. With the Moon here we are inspired to act on our beliefs, and share our purpose with the world. There is a great charitable nature here. Sagittarius is opposite from Gemini, where Sun and Moon began this lunar cycle, which is a place of much more practicality and impartiality, ruled by Mercury. On this full Moon we are able to see a better path towards balancing our flexible, curious, intellectual side (airy Gemini) with our passionate and idealistic side (firey Sagittarius).
Purva Ashadha
The Vedic sky is divided into 27 sections or nakshatras, along the same band of the ecliptic as we see the twelve major zodiac signs. These smaller sections give us much more information about the energy coming from that part of the cosmos, and the mood that the planets will take on as they pass there. This Full Moon falls in Purva Ashadha nakshatra, known as "the invincible one." There is a great deal of optimism and power here, so this could be a great time to face some fears and challenges that require confrontation. The water deity Apas presides here, strengthening our connection to the water element and our inner sensitivity.
As you tune into your own heart under the Guru Purnima full Moon, acknowledge the teachers and gurus who have and continued to support you along your journey. This is a particularly auspicious day for honoring them, upholding tradition, and even setting intentions for new paths of learning or teaching that you plan to follow.
Jupiter, Venus & Saturn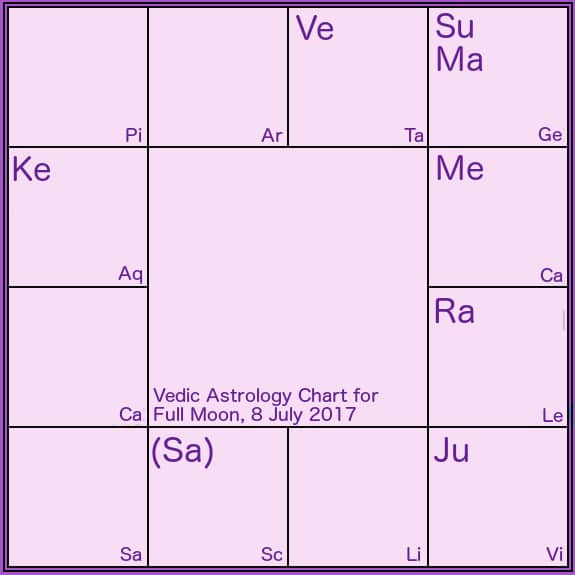 The Guru planet himself is in Hasta nakshatra at the moment, the sign of "the hand," which adds even more expansion to our opportunities for learning and strengthening our skills. He is also aspecting Venus, who is now in Taurus, his own sign. Venus in Taurus (most of this month), elevates the artistry in our life, bringing more beauty and amplifying our connection with all sensual pleasures — nature, art, music, food, and our surroundings in general.
With this aspect it could be a good month to improve your material situation … but be aware that retrograde Saturn is also aspecting Venus now, having just transited back into sidereal Scorpio. While Jupiter's aspect helps us to expand in Venusian endeavors, Saturn's disciplinarian mood may bring up feelings of restriction. Take this as a lesson to broaden your vision and look at the long-term results of your decisions. Indulging in your pleasures now may require a bit of hard-work and commitment because of Saturn's influence, but that is a reminder of the effort we will need to put forth over time to support our actions.