In this Kali Yuga, it almost always feels like we could use a little more light in the world, but especially around this time of year when the days are getting shorter and darker (northern hemisphere bias). The last few months seem to have piled on more natural disasters than usual, although sometimes it feels like this may be becoming the norm. This New Moon brings the Hindu festival of Diwali, which is a celebratory time to invite more light into our lives and into the world.
The darkest Moon time, which begins our next lunar cycle, occurs at 12:12 pm PDT this Thursday, October 19th. The new cycle begins with Sun and Moon joined in sidereal Libra, with Mercury and Jupiter there as well. Libra is a sign about creating more balance (which presents a bit of a challenge with the imbalanced appearance of the chart for this New Moon). It falls in the Vedic nakshatra of Chitra, a star-sign that enhances our opportunity to bring beauty and harmony in the world.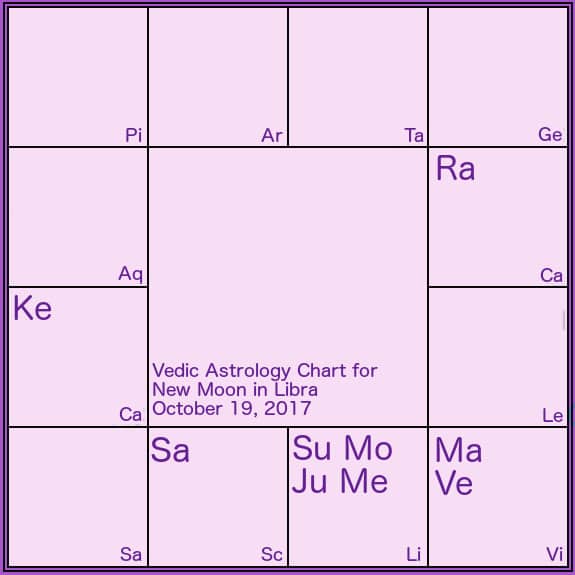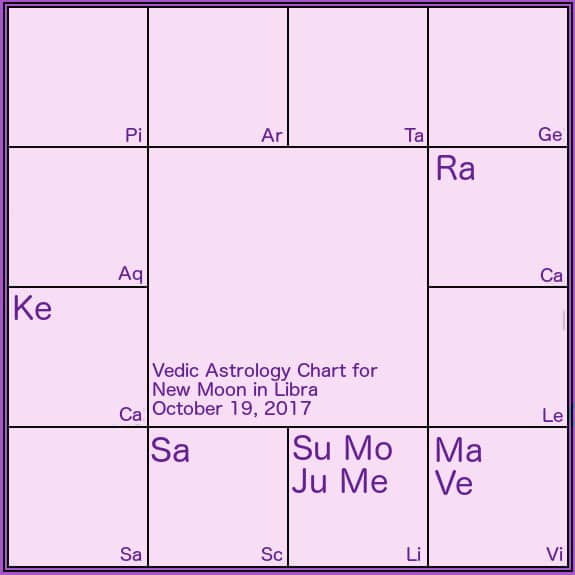 Libra
Libra is an air sign where we bring the principles of Venus into active expression. Venus is the planet of beauty, desire, nature, and human love, so the Libra cycle will encourage us to be more creative, connect with nature, and nurture our relationships. As an air sign (a bit intellectual, and inspiring movement), we will seek ways to balance or re-balance relationships throughout this cycle. Both Jupiter and Mercury are also positioned in Libra, close to the Sun and Moon at this time, which adds the influences of our higher beliefs as well as our analytical minds to our creative endeavors this month.
Debilitated Venus
Venus itself, the ruler of Libra, is currently transiting Virgo, his sign of debilitation. Debilitated Venus doesn't necessarily translate as "relationships will be bad," but it adds a highly intellectual, analytical, and practical motivation to the planet of pleasure and beauty. This is the opposite position to exalted Venus in Pisces, which we experienced for four months earlier this year (February through May), when we felt inspired to align our desires and relationships with our highest beliefs, principles, and purpose. Now, with Venus in Virgo, we are prompted to scrutinize all the little details of our relationships and pleasurable pursuits, and make sure that they are serving some practical need for us on the earth plane. We may also be scrutinizing our partners, or others around us, and getting caught up around the nuances of language or ideas. With Venus ruling this upcoming lunar cycle, and Mercury joining closely to the Sun and Moon at its start, desire for practicality will be strong this month.
Chitra
The Vedic nakshatra where this lunar cycle begins is Chitra, "the brilliant." This bright star in Virgo (Chitra bridges Virgo and Libra) is ruled by Vishvakarma, the deity known as the celestial architect. Imagine that energy of one who has the ability to place all the stars in the sky and set them in perfect motion … that type of both precise and artistic energy is what we are able to call in this month. There is a powerful creative potency here, and a great potential for improving relationships. It is also an supportive energy for organizing, repairing, or redesigning your home space.
Diwali
On the new Moon of the Hindu month of Ashwin (this month), we celebrate Diwali, the festival of lights. The festival actually began on Monday, the 16th (North America), the 13th waning Moon phase of the previous cycle. This day is known as Dhanteras, or Dhanvantari Tryodashi. Buying gold or silver (or any metals) on Dhanteras is widely practiced in Hindu culture. It is also the celebration of the appearance of Lord Dhanvantari, the father of Ayurvedic medicine. This day, and Diwali in general, is an excellent time for nurturing and calling in blessings for any type of healing or healing practice.
Diwali is a time to invite more light into our lives, our hearts, and our world. This festival celebrates the victory of light over darkness, which is something to rejoice in and have faith in, even if we can't outwardly observe it sometimes. The positive vibrations we create internally are the only place to start for growing and spreading them externally. It is a powerful time to connect to the Goddess Lakshmi, calling in her blessings for both material and spiritual prosperity.
This holiday also commemorates Lord Ram's and Sita's return from exile after fourteen years (story from the Ramayana). Lord Ram embodies the highest qualities of dharma, devotion, compassion, courage, and leadership. Diwali is also the start of a new lunar cycle, so it's a great time to go within and summon these qualities to awaken and live through you.
Diwali (also seen as Divali, Deepawali or Deepavali) comes from the sanskrit words deepa (light) and avali (row). It is traditional to light candles throughout Diwali, inviting the highest light into our homes and hearts … but in consideration of the destructive wildfires raging in California right now, I'm using electronic tea lights this year.
The candles are lit to remind us of the inner divine light in us all. Though one flame can be used to light many others, it is not diminished by sharing its power of illumination. We can pray for the peace and happiness of all beings, and each one's awareness of their inner light.
Sun in Libra
It is pertinent to remember and to celebrate and call forth our inner light during this particular Dark Moon time, because the Sun, the planet of our inner power, strength, and divine light, is also in his sign of "debilitation," in Libra.

Since Libra is the sign of balance and relationships, we often give a lot of our personal power to our relationships with others when Sun is in Libra. We may try too hard to care for others, forgetting to nourish the divine spark in ourselves, or we may simply feel depleted by trying to balance too much in life, losing touch with our personal strength and vitality.
At the beginning of this cycle, set an intention for a mindful self-care routine this month. Light some candles (or turn them on) for Diwali on the Dark Moon night, and if possible, take some time each day to offer yourself some time to nourish and honor your personal light. Self-care practices can include yoga, meditation, chanting, art, or self-abhyangha (oil massage). You can also make some herbal tea to nourish yourself during this vata (cold and dry) season.
Kala Saarpa
The imbalance of the chart that I was talking about is referring to the ongoing Kala Saarpa yoga we see, wherein all seven physical planets are on one side of the nodal Rahu-Ketu axis. With these planets to one side of the nodes, the subconscious shadow energy (similar to eclipse energy) becomes more present, and a lot of unresolved business may arise. There is more agitation of the environment in general. This chart is particularly imbalanced, with the Sun, Moon, Jupiter and Mercury halfway between the nodes, and the other planets joining them on either side. As we enter this darker time of year, it is especially important to keep up our consciousness development and self-improvement practices, so as not to be ruled by the unconscious forces within.
Diwali is a potent opportunity to set this conscious intention, and to call forth more light and love into our hearts, and then to spread it out into the world! With so much trauma and disaster occurring all over the planet, our light, love, and service are needed now more than ever. No matter how small a part we can play, let us do what we can to increase harmony on and with the planet.
Ram Ram
You can click here to discover your specific strengths and challenges through a personal Vedic astrology chart reading with me.
Save
Save
Save
Save