New Years Full Moon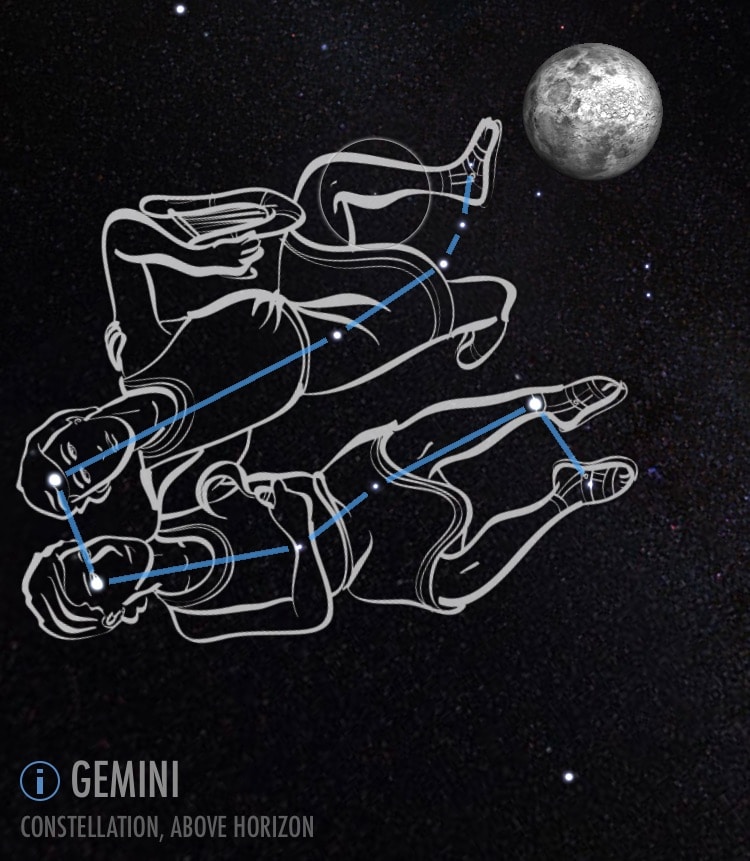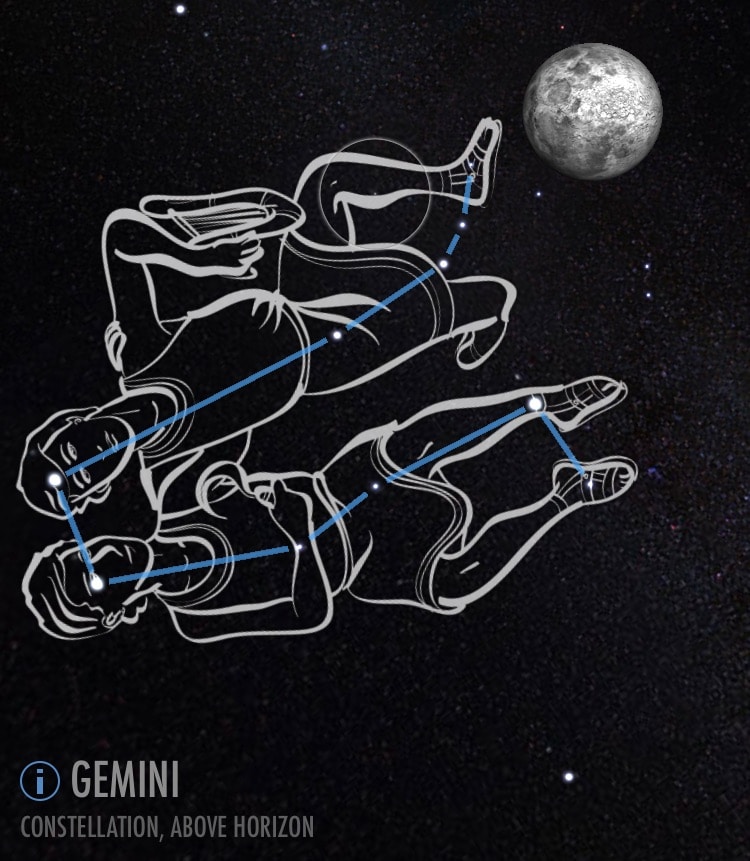 Many blessings for the new year, astrology lovers! This lunar cycle will peak with a full Moon at 17° sidereal Gemini, on January 1st at 6:24 pm PST. On both December 31st and January 1st the Moon will wax into fullness, fully reflecting the light of the Sagittarian Sun onto Earth, as we step into 2018.
New Years Challenge: Look at the Sky!
Now I know that some of you are already very familiar with Vedic astrology (jyotish, the science of light) and the sidereal zodiac, but each month I get at least one person commenting or questioning why I would say the full Moon is in Gemini (for example, now), when they've heard it is in Cancer.
Well, one can begin to understand this by engaging in the first limb of jyotish, referred to as gola (observational astronomy). The study of astrology began as a love of astronomy, when people would actually go out and look at the sky, watching the way that light bounced off of and around the stars and planets. It wasn't just about looking at a calendar or computer program to know where the planets are.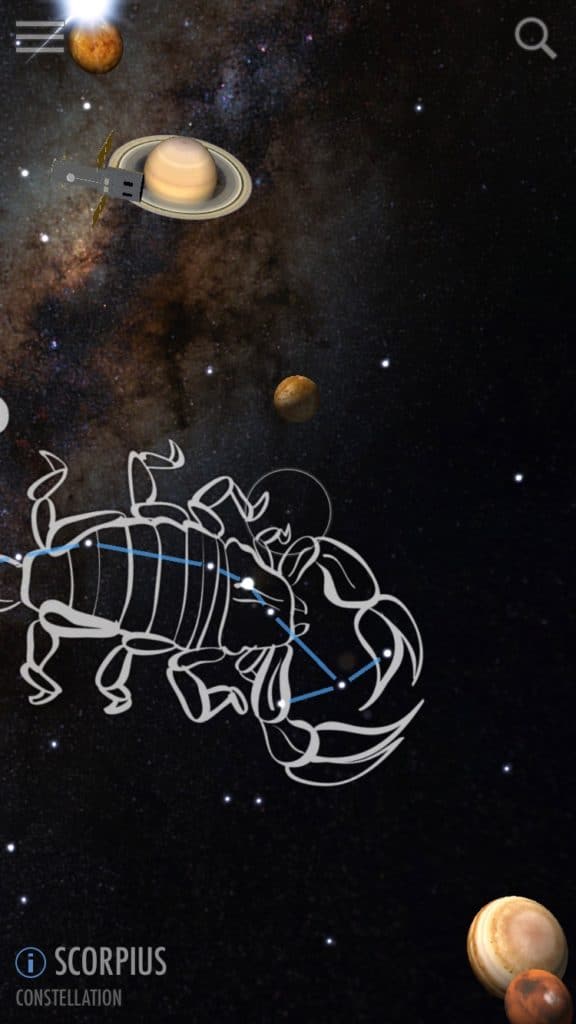 We can still engage in this practice when using the sidereal zodiac with Vedic astrology, because this "star-based" zodiac correlates with what we see in the sky.* Here are some screenshots for January 1st from the astronomy app called SkyView Lite, showing the Moon in sidereal Gemini, and Mars and Jupiter in sidereal Libra, Mercury in sidereal Scorpio, and Saturn, Venus, and the Sun closely joined in sidereal Sagittarius. Gemini is where you will be able to locate the full Moon on January 1st, and these photos show where one would see the other planets if not for the fact that they are currently "up" during the day (early birds might catch Jupiter and Mars).
Western astrology, following the tropical zodiac (which says this full Moon is in Cancer, and that Saturn is in Capricorn), is a system that is based more on the seasons, than how we see the stars and planets. It has its own applications and relevance, but my articles are written from the Vedic perspective, using the sidereal zodiac, hence… Full Moon in Gemini! Read the full article on the two zodiacs HERE.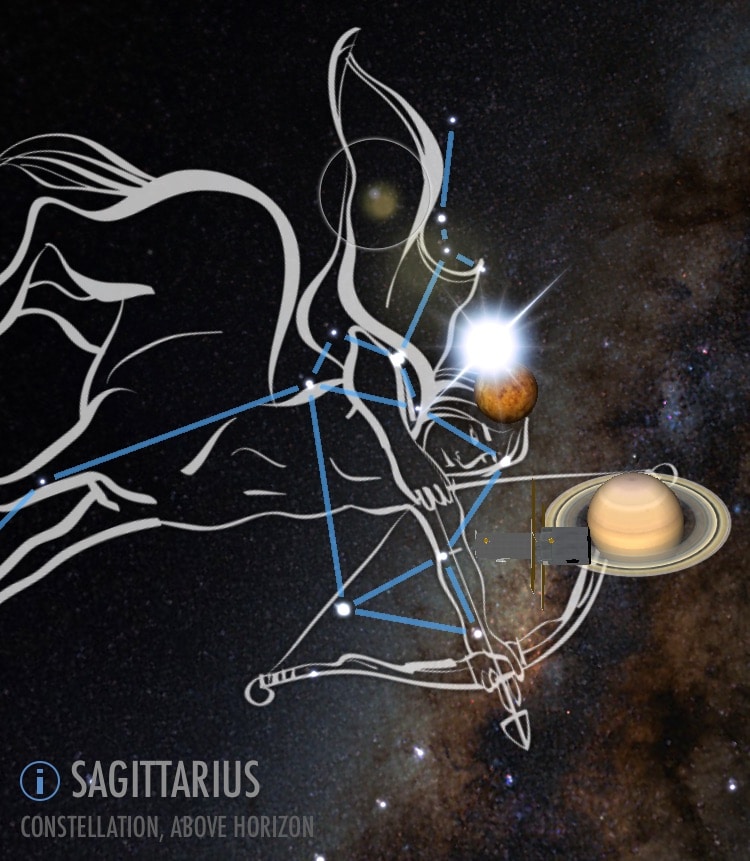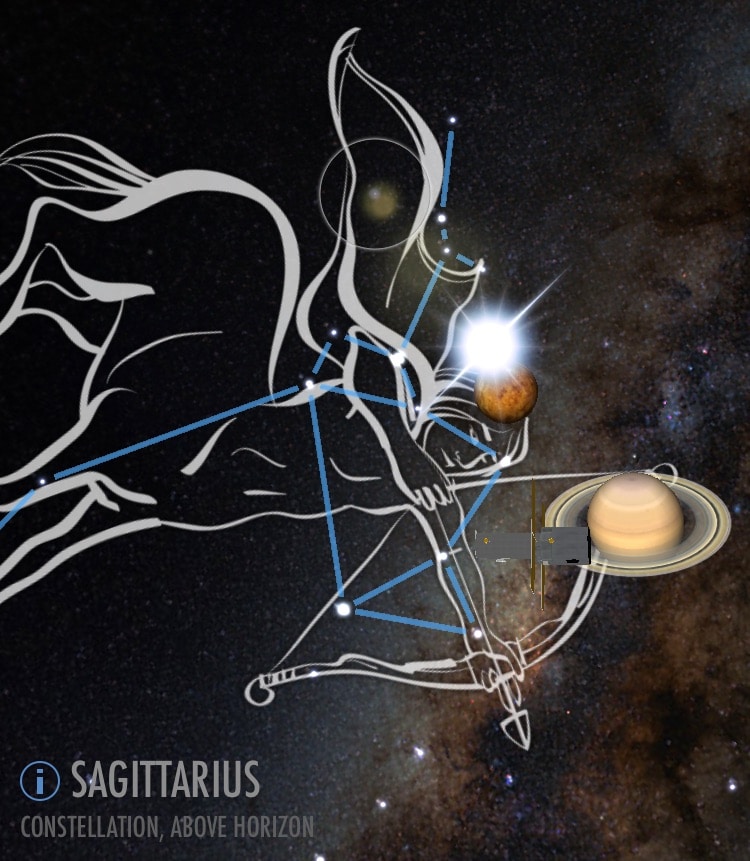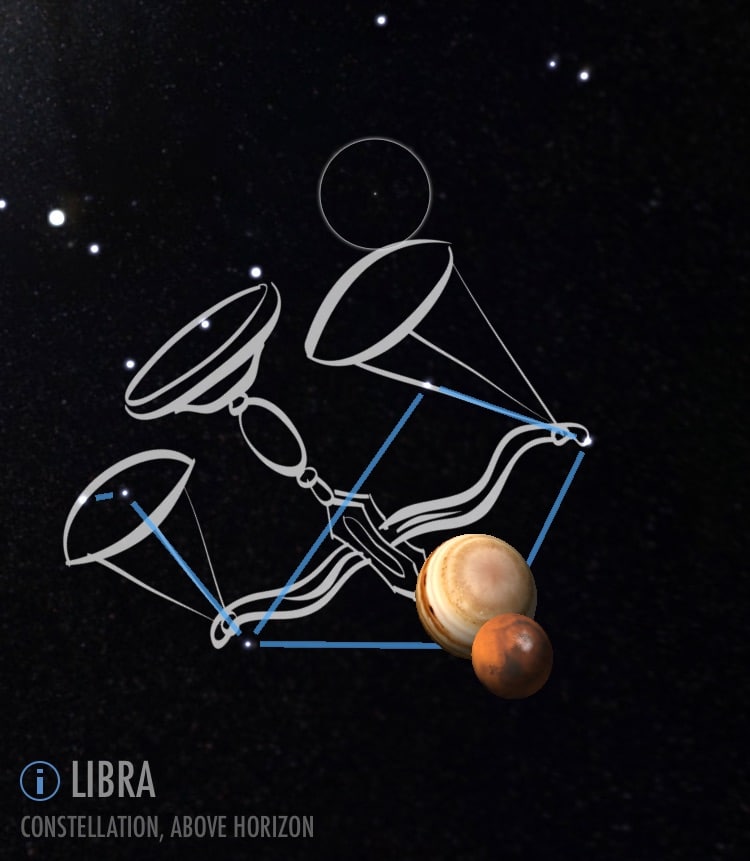 Full Moon in Gemini
So then! What does the full Moon in Gemini mean, as we hurtle through space and into the next calendar year? We began this lunar cycle with the Sun, and Saturn, in Sagittarius. That type of energy compells us to be vigilant with our beliefs and opinions, and to make sure that all of our actions are in close alignment with them. It's a very passionate and opinionated time of year, as the Sun crosses the Jupiter-ruled sign of righteous action, with stern and serious Saturn casting a strong influence. Saturn's presence here forces us to look hard at our beliefs, and sort through the dogma to get to the most authentic core.
The full Moon in Gemini, on the other hand, offers a reflection point to all this serious philosophical digging. Gemini is a sign that is much more flexible, impartial, and willing to see both sides of the situation. This doesn't mean that we cast our guiding principles aside, but it means that we take a moment to stand in the other person's shoes, play the devil's advocate, and imagine a world where there's a synthesis between what we believe is right and the opposite of that, and are willing to engage in conversation around it.
Ardra Nakshatra
Within Gemini, this full Moon falls in the Vedic nakshatra known as Ardra, "the moist one." This constellation is one of the most violent and stormy places in the zodiac. Its ruled by the deity Rudra, a fierce form of Lord Shiva, and has to do with the destruction and dissolution brought on by storms. After the deluge, however, the earth is moist and fresh and ready for new life to begin. As we reflect on the practicality of our beliefs and the ways we might engage our intellect to relate with and understand our opposites, we can look for ways to break down parts of our rigidity that don't serve the situation, and let dogma dissolve so that truer sensation may arise.
On the external level, we often see major upheaval or violent events occur in society when Ardra energy is strong. All the more reason to use this New Year celebration to pray, meditate, and envision more light, peace, and positivity spreading across the globe.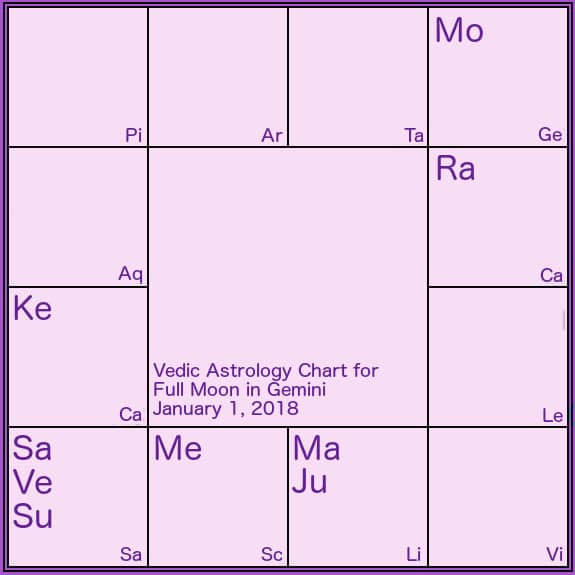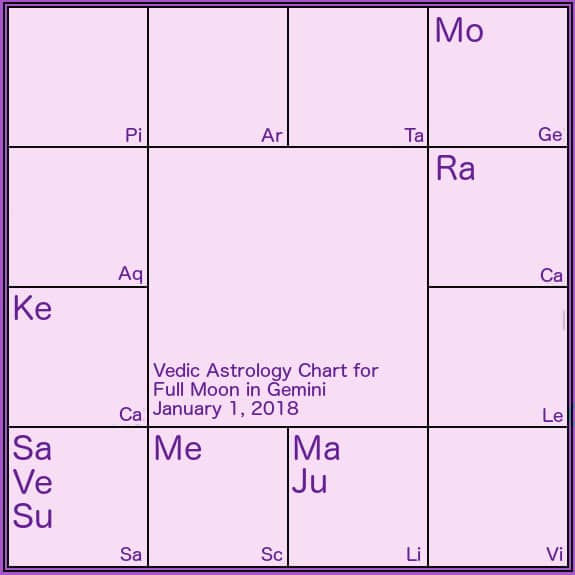 Turbulent Atmosphere
In addition to the full Moon in Ardra, we're about to enter the last major Kala Sarpa ("black snake") period for a while, as all the planets traverse one side of the Rahu-Ketu nodal axis (from January 2nd – 19th). There will be one more partial cycle after that, from January 31st through February 5th, when Venus finally passes out of Capricorn (where Ketu lies), breaking the potential for any more Kala Sarpa cycles til August. During these periods, life can feel extra intense, and whatever karma is already stimulated in your life by the transits (in relation to your natal chart), will be magnified.
On top of that, we're entering another eclipse cycle, as we approach two eclipses to occur on January 31st and February 15th. The total lunar eclipse on the 31st will be visible from Asia, Australia, India, the Pacific, and western North America. The partial solar eclipse on the 15th will only be visible from Antarctica and southern South America. Though there may be slightly less intensity in places where the eclipses aren't visible, they nevertheless tend to stir up shadow work we are doing in a particular area of life (read your forecast in the free e-book available here).
Finally, we'll be underneath a planetary war between Jupiter and Mars from the 4th through the 8th, so be aware of your animal instinct fighting with your higher beliefs. There may also be conflict between some specific areas of life, relative to your natal chart.
May you start the new year full of planetary inspiration, gazing upon the full Moon in Gemini!
Book a personal 2018 Vedic Astrology Reading with me now! Sessions done by phone or Skype.
*Save for a few cases when the observable constellation spans more or less than its 30° attributed "portion" of the ecliptic.