The Sun and Moon will coincide on Tuesday morning at 0°30' sidereal Taurus, less than an hour after the Moon leaves Aries to join the Sun here. The exact time for the New Moon is 4:48 am PDT on May 15th. This begins a lunar cycle under the energy of Taurus, in the Vedic nakshatra of Krittika, "the cutter." Following the Aries cycle of initiation, this month will help us to bring ourselves and our goals into fuller embodiment, as the Sun traverses the Venus-ruled earth sign of the bull.
Taurus cycle
Taurus, or Vrishabha in Sanskrit ("the bull" or "mighty"), is a strong and steady sign that guides our attention towards the beauty of the natural world. Taurus, a four-footed sign, is good at moving forward with strength and fortitude, but finds it more difficult to change direction quickly. The fertility of the earth is lush during this lunar cycle, and our minds and hearts are focusing on what pleasures bring us the most happiness.
Of course, happiness is not a given, but this month is a time to seriously look at our desires, and what lights up and fulfills our hearts. The flip-side of this examination will come on the full Moon in Scorpio, when we come in touch with the fragility and impermanence of all we hold dear. The overall tone for the month, however, is to really pay attention to our surroundings, and make sure that what we keep around us, both in terms of company and possessions, are truly making us happy.
Krittika Nakshatra
This new Moon also aligns with the Vedic nakshatra Krittika, located by the seven stars known as the Pleiades in the west. This nakshatra bridges the 30° portions of the sky attributed to Aries and Taurus. Though mostly within the Venusian sign of Taurus, Krittika begins in Mars-ruled Aries and is itself under the influence of the Sun.
It is ruled by the Vedic deity Agni, the lord of fire personified. Represented by an axe, flame, or razor, Krittika brings forth sharp and purifying qualities, which can be used to help us to cut or burn away what is not needed. There is also a motherly and nurturing quality to this star, from the association with Venus, as well as with Kartikeya, the warrior son of divine Mother Parvati. The satguru Amma (Amritanandamayi Devi) was born under a Moon in Krittika, and emits this sharp and penetrating yet loving light of purification.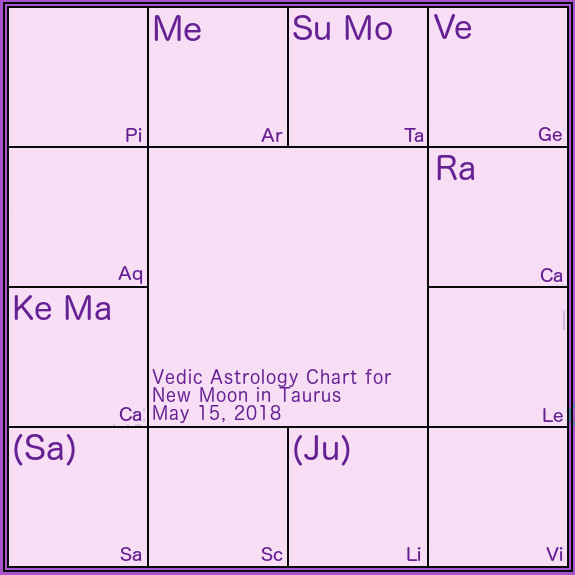 Ketu and Mars in Capricorn
This purifying potential may be especially useful this month, as there is some challenging energy emanating from sidereal Capricorn, as both Ketu (the south node) and exalted Mars are now aligning there. Ketu's presence can lead to misdirection of energy, accidents, confusion, or unexpected loss. Mars, the warrior, brings a cutting fire-power, and when placed in earth-sign Capricorn, his sign of exaltation, helps us to turn courage into discipline and structure.
The combination of Mars and Ketu, however, could lead to some unexpected acts of violence or intensity. The Kilauea volcano's violent eruption began on May 3rd, the first full day after this conjunction began. The higher potential of this combination is the possibility for strengthening our psychic powers and wisdom, so sadhana will be incredibly important during this time.
This Mars-Ketu conjunction is going to last for nearly six months, as Mars will transit Capricorn from now through November 5th, and Ketu is taking up residence there for the entire year. Mars' stint here is so long because he will be in retrograde motion for part of that time, from June 26th through August 27th. During that time, you may find Mars-ruled themes in your life slowing down, and may encounter some deep insights over these. The potential for some upheaval prior to these revelations is definitely strong, especially during the eclipse window from early July through mid-August, as we pass under two partial solar and one total lunar eclipse.