Tonight's dark Moon brings the third and final eclipse of this summer's eclipse season. The exact time of the New Moon will be at 2:58 am PDT, with the partial solar eclipse reaching its maximum at 2:46 am. This eclipse will only be visible from Scandinavia, Greenland, northern parts of Asia and northernmost Canada. Though the last eclipse, of July 27th, carried a bit more intensity, this one is still adding a good degree of stress to the atmosphere. We should feel energies settling a bit more after its passing.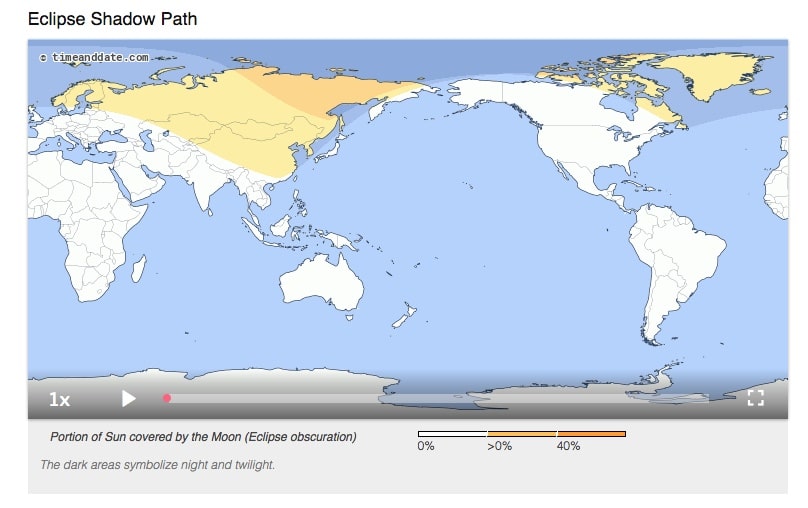 New Moon in Cancer
This eclipse occurs as the Sun and Moon come together in late sidereal Cancer, joined in this sign by Rahu, the north node, and a still-retrograde Mercury. Opposite, in sidereal Capricorn, lie Ketu and still-retrograde-and-exalted Mars. As we enter a new lunar cycle led by Cancer energy, we will go through this month with an acute awareness of our emotions, and sensitivities will be high. To be honest … it could feel like a tidal wave. Rahu's presence here in Cancer works to exaggerate that sensitivity and those emotions even more, so try to be as gentle and caring with yourself as possible.
Cancer is the sign of the divine Mother, a water sign ruled by the Moon. The divine Mother, in her infinite compassion, is open and receptive to everyone and everything. Cancer is the sign of the heart, and we come into our own hearts more deeply when so many planetary energies are gathered here. Even those who may not usually have a "sensitive" nature will be much more attuned to their feelings during this month.
The presence of Rahu, however, can be disturbing and aggravating, and can lead us forward quickly in confusion. For this reason, Rahu's presence in Cancer often causes us to open our boundaries too wide, allowing ourselves to get hurt while in this sensitive state. Working on balancing these boundaries and feelings with structure and responsibility has been one of the lessons of this Cancer-Capricorn eclipse cycle.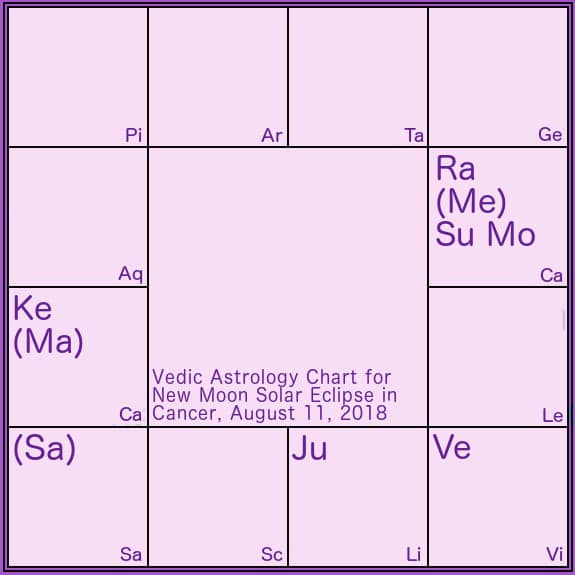 Cancer-Capricorn Lessons
Cancer is the sign of the heart and the emotions, while Capricorn, opposite in the sky, teaches us about doing the responsible thing for long-term results. Throughout this year-and-a-half transit of the nodes through these signs (August 2017 – March 2019), we've been examining where in our lives we led our feelings lead too much, neglecting responsibility, or where we are too rigid, without acknowledging the heart. The eclipses help us through a process of learning around this, and as we see our patterns (the shadows that are revealed), we are able to make positive changes in our lives.
This axis is also affecting two particular houses in your natal chart, and learning to balance those energies is a personal task that is different for each of us. (If you haven't downloaded it, be sure to get the Free E-Book with forecast for your sign, here.) This transit and series of eclipses may also be affecting any planets that you have in these signs natally, as well as the areas of life they rule for you.
Ashlesha Nakshatra
The Moon and Sun coincide in Ashlesha nakshatra during this eclipse, the sign of the water snake, called "the entwiner." This nakshatra can be located in a ring of stars within the western constellation Hydra, the water-serpent. Ashlesha is represented by a coiled snake, and is ruled by the Nagas, the serpent deities of wisdom. This nakshatra has a lot to do with discovering what is coiled deep within, so an eclipse here has the potential to churn up some deep-seated emotions that have not been felt for a while. It also has the ability to stir kundalini, so if you are doing spiritual practices, be prepared for some possible strong waves of energy.
At the same time, the snake also contains a poisonous venom. Because of the intensity of this eclipse and the surrounding alignment, it is quite possible for some of what gets stirred up to have a toxic quality. Like other detoxification processes, however, it is sometimes necessary for the toxins to filter through the body after they are dislodged, before being released back to the earth. Drink lots of water following this eclipse, but Indian tradition says that it is best not to eat, drink, or be outside during the eclipse, lest we absorb more of its negative affects. With any difficulties that arise, offer them back to the divine Mother, and call upon the cleansing power of water to help you through.
Mars
Mars has been retreating steadily towards the beginning of sidereal Capricorn since he entered retrograde motion on June 26th. Those people ruled by Mars are feeling particularly affected, as their normally driven energy seems to be going in the opposite direction, and further confusion is added due to the conjunction with Ketu. Mars is still in his sign of exaltation, which would normally help us towards putting a lot of energy into structures and goals, but there have been many delays and frustrations due to the other influences.
Mars will come to a stop near the end of the month, beginning direct motion again on August 27th and transiting over Ketu once more in September. He will remain in Capricorn through early November.
Venus Debilitated
Venus entered sidereal Virgo, his sign of debilitation, on July 31st. Virgo is a sign that is very much about practicality, ruled by Mercury, the planet of the intellect. There is a lot of precision here, and factuality, while Venus is the planet of desire, which is often not practical. The fulfillment of our desires can feel curbed by the intellect while Venus transits here, and our creative pursuits can take on a more linear dimension.
At the same time, this can help us to see more clearly when it comes to relationships and desires, and take on an analytical view that is sometimes refreshing. Due to the alignment of planets at the beginning of this lunar cycle, however, watch out for arguments in relationships, as Mars is volatile and sensitivity is high.