The Moon is waning towards total darkness and will reach exact conjunction with the Sun for the "New Moon" moment on Saturday, January 5th, 2019, at 5:28 pm PST. The Sun and Moon will join at 21° sidereal Sagittarius, aligned closely with the center of the Milky Way galaxy, in Purva Ashada nakshatra. The Sun and Moon will be in close enough proximity with Ketu (at 3° sidereal Capricorn), to bring about the first eclipse of the year. The partial solar eclipse will occur over eastern Asia and the Pacific, reaching its maximum at 5:41 pm PST, and visible from eastern China, Mongolia, and Russia, as well as Japan, the Korean peninsula, and southwestern Alaska.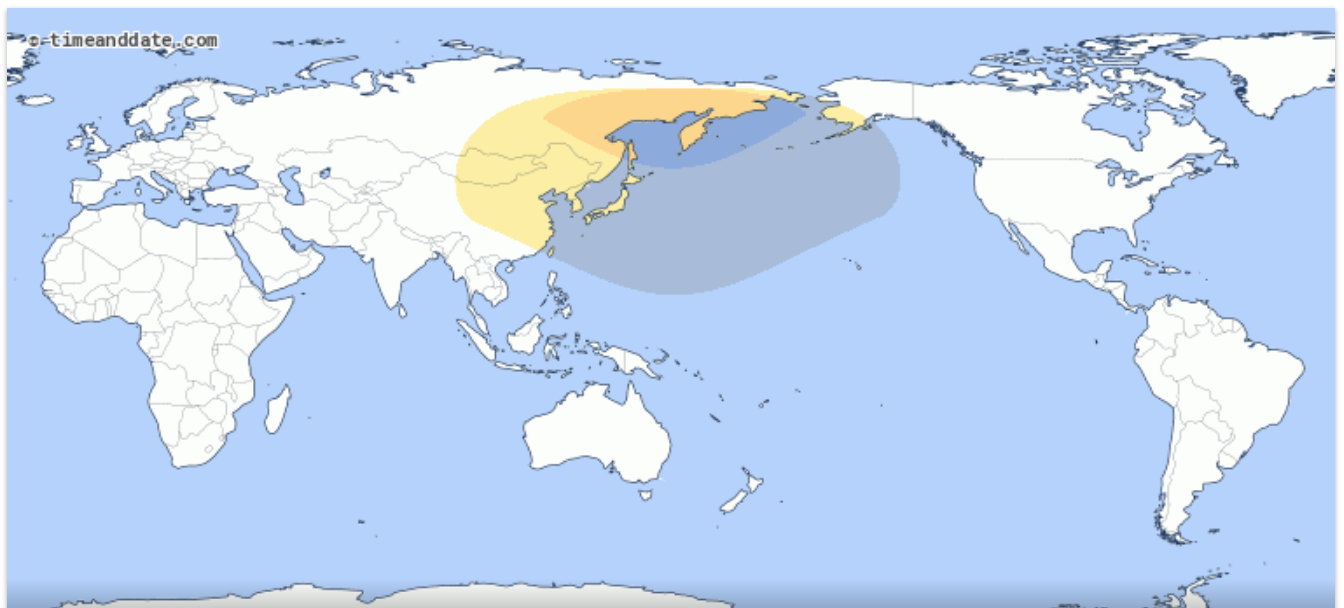 Sagittarius
This new Moon solar eclipse will occur in sidereal Sagittarius, setting the tone for the coming month with a Sagittarian mood. Sagittarius is an active fire sign ruled by Jupiter, the planet of principles and beliefs. This new Moon will bring forward a healthy dose of principles and opinions, but with the Sun partially blocked by the Moon's shadow, we may feel overly emotional about these and at the same time, lacking the power to do anything. (You can also relate that sentiment with the area of life mentioned in the Forecast section below). Within Purva Ashada nakshatra, however, we may find more courage from within than seems readily at hand.
Purva Ashada
This nakshatra spans from 13°20′ to 26°40' of sidereal Sagittarius, and means the former "invincible" or "unconquered." It is ruled by Apah (or Apas), the water goddess. Its animal symbol is the male monkey, which brings a playful energy here. Its planetary ruler is Venus and thus also has associations with goddess Lakshmi. The three stars that make up this nakshatra in the night sky take the shape of a fan, and the fan is another symbol for this asterism.
Under its invincible nature, the Purva Ashada new moon is a powerful time to find our courage, despite the feelings of limitation that can be brought on by a solar eclipse. Through the symbol of the fan, we can see one who is adorned in luxury, or one who may hide behind a fan in humility or mystery, but there is a great power that can be hiding there, especially feminine power. The fan can be used to sustain us under pressure, bringing a cooling breeze that feels like the grace of god when the world gets too hot. Though our power may feel hidden, it is there to be tapped into with focus and dedication.
Saturn and Mercury
Saturn and Mercury both join this new Moon in Sagittarius. Saturn is going to have an even stronger role in our lives than usual in 2019, as he will be joining Ketu in close conjunction, within one degree, for over five months. Saturn in Sagittarius can help us to have not only the courage to do what we believe is right, but the stamina and dedication to get it done. Though we may feel a bit muddled by the eclipse (and the current combust nature of Saturn, so close to the Sun), Saturn's determination will reveal himself more as the month goes on.
There will be a planetary war, however, between Saturn and Mercury, on the 12th and 13th of this month, when the two come within one degree of each other. When two planets are at war, contending for our attention in the same part of the sky, both will suffer, and the things they represent. With Mercury at war, our intellects will not feel as sharp, and it may be hard to pay attention to details or communicate clearly on these days. With Saturn at war, keeping our eye on  long-term goals may be hard, and we may feel temporarily deflated and struggle at work. The four areas in your chart ruled by Saturn and Mercury may also suffer, or feel at odds with each other, during this time.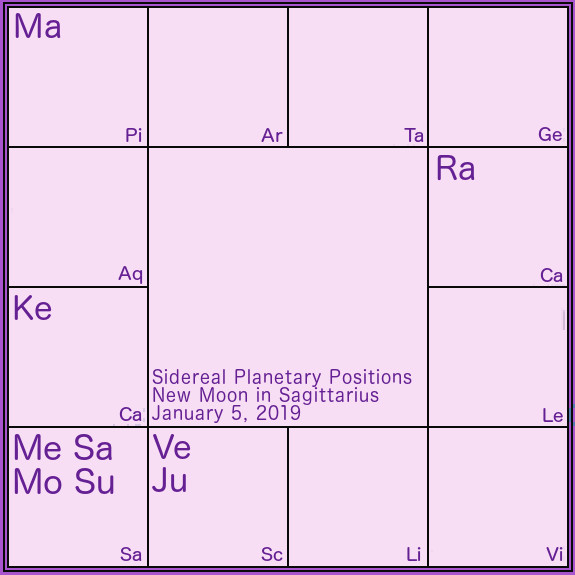 The Solar Eclipse
Though the eclipse may not be visible where you are, its effects are still tangible, and things are probably already gearing up with intensity in the area of your life indicated by Sagittarius. Though Rahu and Ketu are still in Cancer and Capricorn (since August of 2017), they are coming very close to transiting into Sagittarius and Gemini (which will happen in March), and this eclipse is giving us a taste of what is to come during the next nodal transit and the eclipses to occur in 2019 and 2020.
Forecast
Here are a few of the areas where challenges may be occurring due to this eclipse (and where you need to do the work), based on your Vedic rising sign (there can also be others, when examined specifically, or in a personal natal chart analysis):
Aries — education, faith, foreign travels
Taurus — sudden changes, upheaval, secrets coming to light
Gemini — partnerships, love, business relationships
Cancer — health issues, disputes, litigation, pets
Leo — children, wisdom, authority
Virgo — the heart, the mind, home, mother
Libra — siblings, will, skills
Scorpio — the family, wealth, the mouth
Sagittarius — self-identity, place in the world
Capricorn — loss, loneliness
Aquarius — community, friends, income
Pisces — career, social status
Please join me and my fellow astrologers on January 25th for the 2019 Jyotish Transit Summit Webinar. The webinar is free, and you can register through this link.