We'll bask under the full Moon glow on Friday night, as the Moon journeys toward total fullness at 3° sidereal Scorpio on Saturday, May 18th at 2:11 pm PDT. Just barely in Anuradha nakshatra, this full Moon is close to the degree where Moon is debilitated, but is greatly enhanced by two factors: full illumination by the Sun (exactly opposite), and conjunction with a bright and Retrograde Jupiter.
Full Moon in Scorpio
With the Sun transiting sidereal Taurus right now, there is a latent sense that our inner power is connected to the earthly realm. We're drawn towards things we can touch, getting our hands dirty in the earth, connecting with crystals, herbs, and other Venusian physicalities. As the Moon waxes into fullness in Scorpio, however, the emotional mind feels strongly connected to the watery element. Scorpio in particular, is place where we often find turbulent waters, as it is ruled by fiery and passionate Mars, and can bring a lot of uncertainty and change by its own nature.
It is for these reasons that the Moon is considered "debilitated" in early Scorpio. The mind needs a steady place to rest, and it can be difficult to find that amidst the emotional passion of this sign. This Moon is gaining a huge amount of support, however, that can allow us to find a lot of advantage despite this tenuous location in the zodiac. When the Moon is full, the emotional mind and heart are bright and strong, catching those rays of the Sun directly and being most illuminated.
Additionally, being joined by Jupiter is a great boon for the Moon, as Jupiter can add inspiration, grace, luck, and optimism to the mind and the situation. This Jupiter in particular is incredibly bright (you can see them together over the next several nights), being in retrograde motion and coming closer and closer to being fully opposite the Sun as well.
That means it's a great Full Moon to draw out your inner spiritual warrior. This is the higher potential of a Moon in Scorpio, and this particular full Moon sets us up nicely to access this. Instead of feeling overwhelmed by all the emotions and vulnerability that are coming up, call upon those teachings (Jupiter) and support systems that you have found in this life, because they are close at hand to guide you through and out of any mucky stuff that's coming up. The fullness of the Moon will allow your heart and mind to shine brightly through any shadowy spots.
Anuradha
This Moon is in the early degrees of Anuradha nakshatra, which can be translated as "after Radha" (implying devotion), or "later success." Ruled by Mitra, a god of friendship, the energy of this star fosters cooperation and kindness. There is a good chance for later success, after effort, and often in far-away places from where one started. The full Moon here will take on a more jovial quality, so we can hopefully lighten our hearts in the midst of some of the intense energy being raised by the nodes.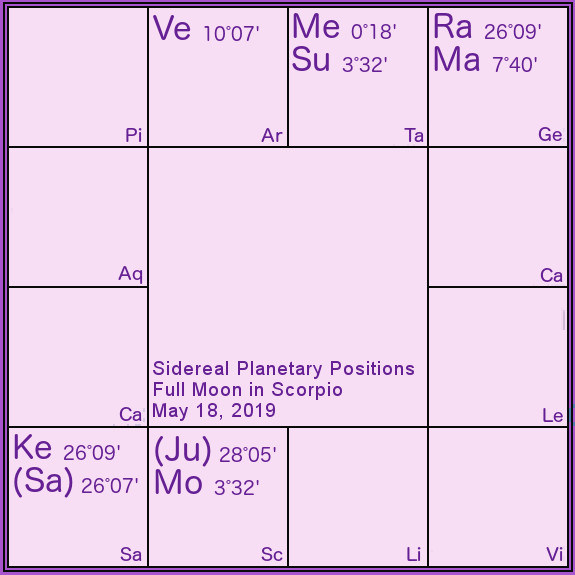 Mars & Rahu
Shadows are definitely at hand, as we are facing some pretty intense alignments on both sides of the nodal axis right now. Mars and Rahu are joining in sidereal Gemini (since May 6th, and until June 22nd). Mars can be aggressive, activating our natural instincts for self-protection and survival, while Rahu can be explosive and aggressive because he is just so agitated and overwhelmed, as well as confused. These two together can stimulate a lot of arguments, heated debates, misunderstandings, and just plain harsh language (I've noticed these things in people around me a lot this month so far).
If you're naturally fiery, be aware of this alignment, and especially of how Mars and Rahu could seep into your communication, being in the sign of Gemini right now. The danger of this conjunction may be somewhat mitigated on June 1st, when Mercury joins them in Gemini. Joining as their impartial ruler, Mercury may be able to hone the volatility into a more practical and level-headed argument. If you're clear and directed, this could be a time to speak up for things that you really believe in, as a lot is being churned up on the opposite side of this axis, by Saturn and Ketu in Sagittarius.
Ketu & Saturn
Ketu and Saturn are now traveling so closely together that they are really opening a doorway into latent unconscious energies. Ketu brings up a lot of things from the past, while Saturn helps us to look at the future, and tells us what we must do in the present that is difficult in order to get where we want to go. In the sign of Sagittarius, a lot of big ideas (philosophical, spiritual, political) may be under scrutiny right now.
Ketu can show us where things went wrong in the past, and Saturn can help us to take a stand to correct things for the future. Of course, ideologies differ, and under what can be visibly seen as a very polarized chart, the ideas under scrutiny may be coming from two vastly opposing sides. Expect the intensity of this feeling of polarization to have one peak around May 20th (when Saturn and Ketu come into exact alignment at 1:05 am, mean node calculation), remain high through October, and last through the end of the year, while they remain in the same sign.
Personal Effects
The polarization of Mars-Rahu and Saturn-Ketu is probably having a transformative affect on your personal life in the areas of life shown by sidereal Sagittarius and Gemini, as well as those areas ruled by any planets that you have in either of these signs. You can book a personal reading to better understand your personal chart, and this will include a look at the effects of the current transits and what they mean for your life this year.