Today begins the Taurus Moon cycle for this year, with Sun and Moon aligning exactly in sidereal Taurus early this morning (June 3rd) at 3:02 am PDT. In the fertile earth sign of Taurus, ruled by Venus, this dark Moon is inspired and uplifted in his sign of exaltation, while opposite a bright and graceful Jupiter.
Taurus Cycle
Taurus is the feminine earth sign ruled by the planet Venus. During the Taurus cycle, we may be more inspired to connect with the earth and the earthly elements around us. This is a good time for meditation with crystals and herbs, and utilizing gemstones and sweet juicy fruits as part of your offerings or remedies.
The dark Moon time is a good opportunity to hit the reset button each month. There may have been a lot of tensions building up throughout May due to Rahu and Mars together in Gemini, and the few days around the New Moon are a good time to cleanse and start a new cycle afresh. Sadhana will be important this month as well, as we are approaching an eclipse cycle in July.
Rohini
This Taurus cycle begins with Sun and Moon in Rohini nakshatra, "the reddish one." The Moon's nakshatra of exaltation, Rohini was said to be the favorite of the 27 "wives" he visited each month. There is a warm, nourishing, fertile energy here, ripe for beginnings of all sorts. The animal symbol of the male serpent also elicits sexual energy, while the symbol of the ox-cart relates to abundance through commerce.
Rahu and Mars
The two most aggressive planets are currently approaching each other in sidereal Gemini, as Mars makes his way forward and Rahu steadily creeps back through the degrees of this rashi. The last month may have brought up a lot of tense and aggressive communication, with a lot of harsh language in particular. This may be tempered now by Gemini's ruler, Mercury, having joined the two malefics on June 2nd… But keep awareness of this conjunction over the next three weeks, especially on June 14th when Mars and Rahu come into exact alignment.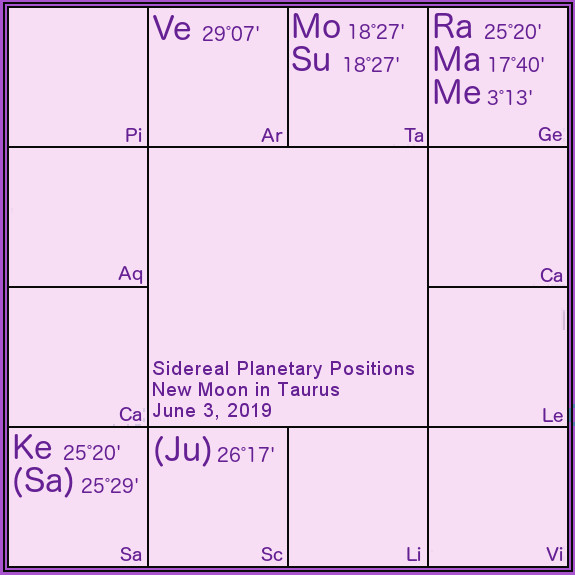 Eclipse Energy Building
We are now one month, one Moon cycle away from this summer's eclipses. The first will be a Total Solar eclipse on July second, on the new Moon, with a partial lunar eclipse to follow on the full Moon of July 16th. Eclipse energy can usually be felt starting 2-4 weeks before the first eclipse of a set, so we may be experience the disruption already.
Eclipses are the times when the shadow grahas, Rahu and Ketu, become visible, and likewise our internal shadows begin to show themselves as well. Whatever areas of your life are located in Gemini and Sagittarius, this is where you are experiencing the nodal transit for a year-and-a-half. This is where you may feel disturbance over the next several weeks, as the eclipse energy stirs the pot and brings things to the surface that need your attention.
Time to offer that attention to what is arising! Challenges are what help us to grow, like when we break down muscle tissue exercising in order to rebuild it stronger. The imbalances in your life along the Sagittarius-Gemini axis are likely becoming harder and harder to ignore, as Rahu and Ketu shake the dust out of the corners. If we meet what is arising with mindfulness and a desire to grow, we can make new strides during eclipse season. But if we fight against the challenges and attempt to remain the same, eclipses can turn things in our lives upside down and bring more stress than necessary. Sadhana and prayer are especially helpful now.
Five Malefics Joining
The energy of this eclipse season is augmented by the conjunctions of Mars and Saturn with Rahu and Ketu, respectively. Four malefics are joining forces on the same axis—and when Sun moves into Gemini on the 15th, all five malefics will be together! The so-called "malefics" are the planets that offer us growth and blessings through challenge. They teach us the lessons of perseverence, discipline, self-awareness, and purification. As we embrace these we are able to gain the benefits of their light—longevity, strength, power, and mystic knowledge, to name a few.
Venus and Jupiter
Venus and Jupiter, along with Moon, are three so-called "benefic" planets, on the other hand, those that bring us their blessings usually through more pleasant intervention. Venus will be transiting into his own sign of Taurus later on June 3rd, bringing strength to the alignments at hand. During the polarized chart of the malefics all in alignment, the strong sva Venus will be opposite an incredibly bright and retrograde Jupiter.
Jupiter is getting brighter and brighter each day as he approaches "fullness," or being directly opposite the Sun. A nearly full Moon will join him there on the nights of June 14th and 15th, bringing a lot of grace to balance the strong malefic alignments happening.
Personal readings are available and will help to explain how all of these alignments affect your chart in particular. Many interesting affects may be happening with such a concentration of energy in the sky.