It feels like just yesterday that I was writing last year's article on the Harvest Moon, reflecting on the contracting sensation beginning to feel tangible in nature, as we slowly move from summer into fall and towards winter. For the last week or so, I've been pleasantly aware of the slight briskness in the air and the energetic shifts taking place as we move from the multi-directional activity of summer to the more focused and quiet happenings of autumn and winter. (As a natural introvert, I am actually loving the change and excited to feel the atmosphere settling down around me!) I'm definitely feeling ready for the Harvest Moon and lunar eclipse of September 16th.
Harvest Moon
The Harvest Moon is the Full Moon that occurs closest to the autumn equinox (September 22nd), and brings with it a few nights of very bright moonlight under which farmers are able to harvest their crops. (The Moon normally rises about one hour later each night, but for this week he will rise only half-an-hour later per day, giving much brighter evenings.) This is also a time where we energetically begin to harvest that which has come from our efforts put forth throughout the year, as we move into a more inward period for the darker months (in the northern hemisphere). It is also a potent moment to offer our prayers and to harvest the bounty of growth that comes with our own self-effort in shadow work.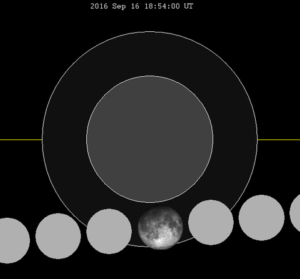 What is particularly unique is that this Harvest Moon, like last year's, is also accompanied by a lunar eclipse. The Moon reaches its peak fullness at 12:05pm PDT on Friday, September 16th, and the penumbral lunar eclipse will also occur around this time (at 18:54 UT), but will only be visible from the other side of the world. This eclipse won't be as spectacular as last year's Blood Moon, but folks in that area of the world will get to see a slight shadow as the Moon passes through the outer edge of the earth's shadow.
Lunar Eclipse in Pisces in Purva Bhadrapada
The Sun and the Moon will be at just 0°14′ of Virgo and Pisces, respectively. With the nodes still in Leo and Aquarius, and the Moon not fully established in either Aquarius or Pisces, this is a great time to examine the energy of the Full Moon's nakshatra, Purva Bhadrapada, as an indicator of this eclipse's energy. Purva Bhadrapada is a nakshatra (star-group) that bridges the two major constellations, from 20°00′ of Aquarius to 3°20′ of Pisces. This star-sign brings a strong energy of purification, which will help us to harness the already transformative power of the eclipse.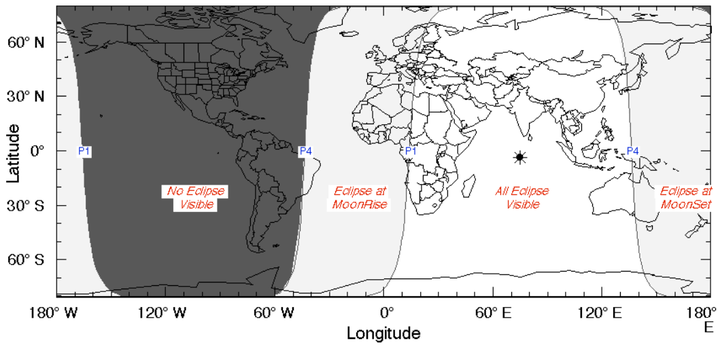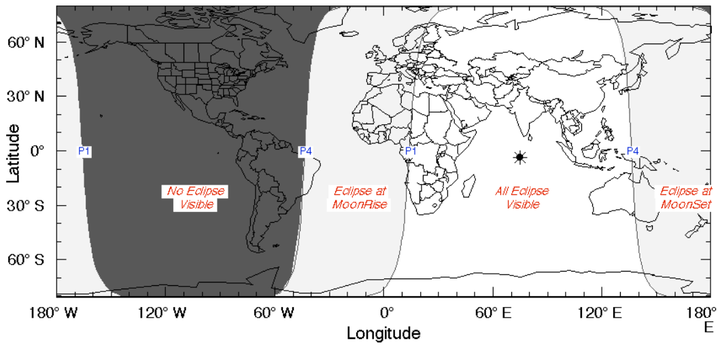 As we move with the Moon from the end of Aquarius to the beginning of Pisces in Purva Bhadrapada, we are in the place where we must let go of worldly activity, service, and socializing and into a place of solitude (meditation, sleep, and, ultimately, death and liberation). Pisces is the last stop on the train of this life, and this nakshatra represents the point in time where we must begin to face the fact that there is a last stop. It is a place where we can begin to embrace detachment, from all our worldly gains, relations, and activities, and connect with the subtler realms of being and spirit.
Accompanied by the energy of Ketu, this Full Moon Lunar Eclipse offers us a powerful chance to cut cords and free ourselves from unnecessary attachments… especially attachments to our own desires and illusions of control. This lunar cycle began with a Solar Eclipse in Leo. With the lustful Rahu in Leo since January, we have been ravenously driven to find and harness a sense of power and control in this uncontrollable world (especially in the area of life shown by Leo in your chart). The Solar Eclipse on September 1st revealed our shadows around this effort, and the illusory nature of power and control. This Full Moon helps us to reflect on and balance that energy, and offers the capacities for transformation and purification towards this process.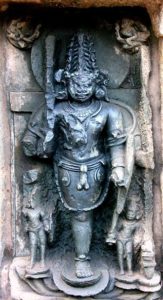 Since the Moon is technically just over the boundary into Pisces, this is an 8th-house Full Moon (8th house from where the New Moon occurred), which always adds a reshaping and mystical quality to the energy at hand. Purva Bhadrapada itself brings on energies for purification and transformation, as it leads us from the material world into the ethereal. Furthermore, the deity for this nakshatra is Aja Ekapada, "the one-footed goat," who is related to Rudra, a destructive form of Shiva. The destructive nature of Shiva is that which allows us to destroy one thing in order for that energy to transform, rise again, and grow into its new phase of evolution. He also offers us the power to destroy illusion and attachment, which is a good tool to have at hand at the time of an eclipse.
We have been doing a lot of inner work this year around the themes of Leo and Aquarius, finding and embracing personal power and self-love, and balancing that with universal service and love for all beings. This eclipse gives us a chance to step back and feel a little more detachment on both sides of that axis, diving back into the deep well of Pisces where all energy flows together back into source. This may be a much-needed perspective given the zealous fervor brought on by the Jupiter-Rahu conjunction this year (January through August), and the heated pressure brought on by the Saturn-Mars conjunction (March through next week).
If you need a break from all of the astrological intensity being handed out this year, I think this is your chance. Shadows do arise during the eclipses, but the more dedicated we are to looking at them and being willing to make and allow change in ourselves, the better off we are after they pass. As the the Full Moon heads into Pisces on this lunar eclipse, allow yourself to surrender to the flow and trust in source. This is the lesson being offered that will help free you from any feelings of chaos or confusion. Your higher power and meditation are of great support now (as always!). You can also connect with the water, study your dreams, and offer your power to your perceived divinity.
More to Come this Month
Venus moves out of debilitation (in Virgo) and into Libra on September 18th, bringing more energy for compromise rather than nit-picking in the realm of relationships. Mars parts ways with Saturn a few days later, as he moves into Sagittarius on the 21st. This should take some of the heat out of the pressure-cooker we've been feeling in Scorpio, as we reconsider our long-term goals in that area of our life. On the 22nd Mercury goes direct, but will still be joined with Rahu for two more weeks, so remain mindful of potential stress or confusion in communication lines.
The next New Moon on September 30th will lead us into the Navaratri Festival, a ten-day period for celebrating the Goddess and all her Shakti. Also coming in with the New Moon is a Kala Sarpa yoga (alignment), as all planets cross to one side of the Rahu-Ketu axis. This will affect us for two weeks of each month until January (for the other two weeks, Moon will be on the other side of the axis). This can add a level of heaviness to our general experience, but also ability to see into the psychic depths, as we continue our inner exploration around the Leo-Aquarius nodal axis until the final eclipses of this transit in February.
If you're still not sure how this Rahu-Ketu transit is affecting you, be sure to get your free gift, the Free e-Book on Rahu, Ketu, and the Eclipses, which includes a forecast for your personal sign. There are also still a few spots available for eclipse readings prior to this eclipse, and in the weeks after, in order to help you integrate the lessons of this period.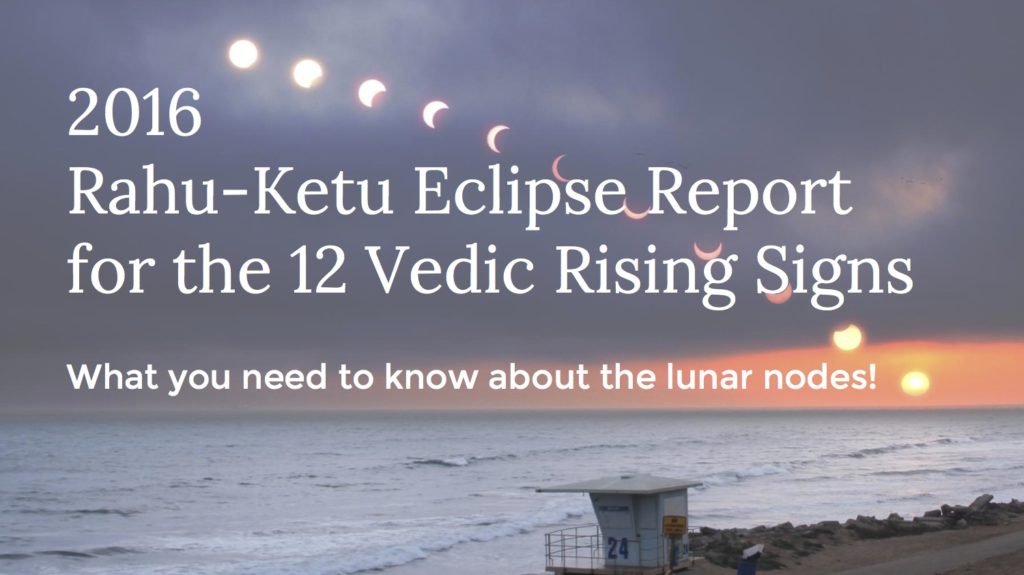 Did you like Harvest Moon and Lunar Eclipse of September 16th? Please Like, Comment, and Share!
Save