Full Moon in Leo, Holi & Retrograde Venus
Sunday's full Moon in sidereal Leo illuminates a more independent part of the sky, contrasting to the Aquarian New Moon and solar eclipse we experienced two weeks ago. The full Moon peaks at 7:53 a.m. PST on Sunday, so the brightest waxing Moon night is Saturday, the 11th. Sunday also brings the Hindu holiday Holi, the "festival of colors."
Aquarius Cycle

The energy of Aquarius that began this lunar cycle compels us to think about the bigger picture, the greater good, and how we may offer our service into society at large. Through the healing nakshatra of Shatabisha, the solar eclipse energy of February 26th helped us to realize the potential of our personal healing journey contributing to our offering of service. The full Moon in Leo this weekend reminds us of our individual strength and power. Before we are able to serve others well, we need to feel strong in our own light.
Leo
Leo is the sign that reminds us of our own strength in a sattvic way, as he is ruled by the Sun, the sattvic planet of purity and illumination. Our highest potential through Leo is to connect with our own divine strength and use it for good and generous ends (rather than selfish). Benevolent leadership is a positive manifestation of this potential. Leo gets a bad rap sometimes as being bossy and overbearing, but this happens when we try to possess the divine strength of the Sun rather than let it shine forth. When we allow the source light to pass through us, purify us, and illuminate outwardly, we find a peaceful sense of self-establishment by which we can support others into their power as well, rather than feel threatened by it.
Uttara Phalguni
The nakshatra of this full Moon is Uttara Phalguni, a radiant constellation that bridges Leo and Virgo. The energy of this star-sign signifies the relaxation and rejuvenation (found once we establish our own power in Leo), but reminds us of returning to work and the details of life, as it crosses into Virgo. The deity who rules here is Aryaman, an emblem of friendship, nobility, and generosity. The austere mood of the Shivaratri and the previous new Moon is contrasted by this full Moon of rejuvenation.
Venus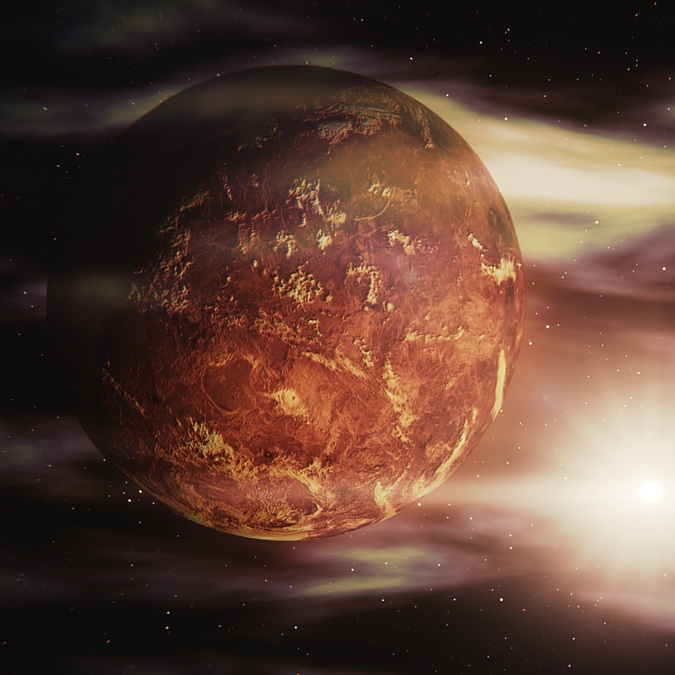 Venus is holding a strong influence in the sky right now, as he continues his journey of exaltation through the sign of Pisces. He entered Pisces at the end of January, and is receiving a powerful aspect from his ruler, Jupiter, who is directly across the sky in sidereal Virgo. This relationships gives us the opportunity to bring our desires (coming from Venus) into alignment with our principles and beliefs (influenced by Jupiter).
Since March 4th Venus has been retrograde, appearing to move backwards through Pisces from our perspective here on earth. Venus retrograde only occurs once every 18 months, so this is a rare opportunity to go inward and become more introspective about our desires, which usually follow an outward, seeking direction. We may be doing a lot of re-thinking of relationships at this time, or may find past acquaintances popping back up into our lives to complete some unfinished business.
Mars
Be especially careful of allowing arguments to go too far, as breaking relationships is also a potential during this Venus retrograde. Mars, the planet of war and fire, is currently in his own firey sign of Aries. This can add some extra heat to arguments, and makes us feel particularly headstrong and independent (especially in addition to the full Moon in Leo). With Venus retrograde in Pisces, there's opportunity to surrender our desires and allow our values to take the upper hand, but there's also the potential that we will choose to break from relationships, as Pisces carries a strong energy of releasing and letting go.
Rahu, Ketu & Saturn
Though we have passed the eclipses for this cycle, Sun and Moon are still in the same signs as Rahu and Ketu, separated by about 20 degrees, so there is still some shadow energy working through our fields. Saturn's influence on the Sun during this time continues to pressure us into aligning ourselves with a higher purpose, however, so don't pass up any opportunities for service. It will prove to be very purifying during this time.
Holi
This full Moon also commemorates the Hindu festival of "Holi," as the last full Moon coming before the Spring Equinox. This is a joyful festival of renewal, best-known for its colorful celebration in which people throw bright powders at each other. The playful combat is a way to let go of any past aggression held over the past year and start anew with forgiveness and friendship.
Did you like Full Moon in Leo, Holi & Retrograde Venus? Please Like, Comment & Share!
HSave
Save
Save
Save
Save