The new lunar cycle begins tonight at 7:31 pm PDT. This dark Moon night finds four planets in the Vedic nakshatra called Ardra, located within the Gemini section of the sky. This nakshatra is actually located at the star Betelguese (also known as Alpha Orionis), a red supergiant star within the constellation of Orion. The Sun and Moon converge here tonight at 8° of sidereal Gemini, with Mercury close by at 11° and Mars at 18°. Aligned with the outermost edges of our galaxy, there is a powerful yet stormy energy to this nakshatra, and the month ahead may bring some intense changes, followed by a sense of renewal.
Rudra is the deity for this nakshatra, and he is a fierce form of Lord Shiva associated with storms and destruction. In Vedic thought, however, we recognize that the destructive aspect of creation is actually what allows change, transformation, and rebirth (sometimes I think of it as the cosmic composting process). Ardra nakshatra is often represented by a teardrop, which symbolizes the letting go that comes before new chapters begin. It is associated with the spring rains as well, which denotes the energy of renewal. After an intense storm the grounds are always moist and rich, and it is then that they are most fertile for new life to begin.
Nevertheless, when planets are in this part of the sky we often see rather intense and disruptive events worldwide. Since this alignment occurs on a new Moon, the energy is more inwardly directed, however, which could imply more inner work and processing, rather than outward turmoil … but some purification through disruptive cleansing or turbulence is still a possibility.
As this nakshatra aligns with the middle of Gemini, there is also a strongly intellectual and research-oriented quality to this new Moon, and the coming month. Gemini is the most flexible and quick-thinking of all the signs, as a mutable air-sign ruled by Mercury. Mercury is currently in his own sign, which opens up our curiosity, intellect, and analytical nature. Since he is so close to the Sun, however, he is combust at the moment, which can add a bit too much heat to our minds, and may cause our communication efforts to fail before completion. Mars is also nearby, adding even more heat (and aggression) to Mercury, so be careful not to allow your speech to become too intense, angry, or argumentative.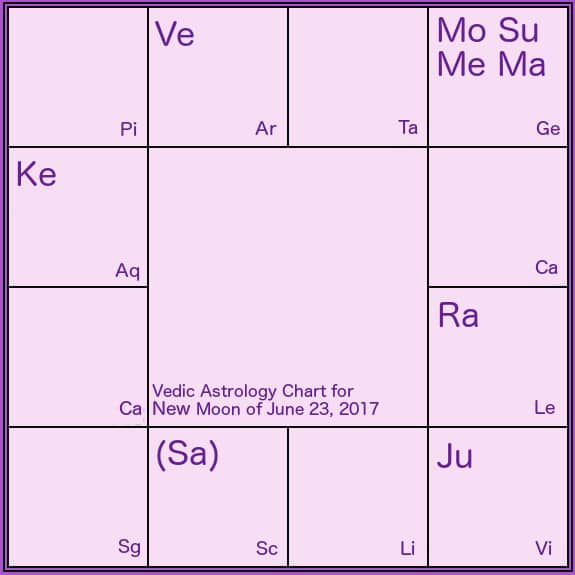 We can channel the power of this alignment by calling in discipline (from Mars), purification (from the Sun), and a heart-alignment (from the Moon), as we pursue research, communication, and learning this month. Travel is also a strong possibility, given so much mobile energy behind the planets. Gemini also gives us a strong ability to see both sides of a situation or argument. Represented by a pair of twins (or partners), Gemini represents both sides of a mirror at once, and really allows us to be more impartial and step into another's shoes while reasoning. As of yesterday, Saturn is no longer aspecting Gemini, which frees us up from the pressure that he was putting on all the planets here for the last few weeks. He is still in a tight spot known as gandanta, however, and stronger feelings of constriction may persist for a few more weeks.
Saturn is now in Scorpio, and will continue there through late October. He is still in retrograde motion until the end of August, during which time we are feeling more introspective about our work and commitments. This is the last stretch of a roughly three-year transit of Saturn through Scorpio, which has brought some deep evaluation of our commitment to facing our fears and vulnerabilities, and putting in the hard work necessary for our personal path to transformation. There was also a lot of pressure and consideration of goals in the area of life indicated by Scorpio in each individual's natal chart, and we the next for months are a time to re-affirm our insights and commitments here.*
The full Moon coming on July 8th is the one known as Guru Purnima, an auspicious day for giving thanks for all our teachers and gurus. This is a great time to acknowledge all those who have served your learning and evolution, including spiritual, theoretical, and vocational teachers. It is also a great chance to call forth the teacher within yourself, and recognize your potential to share what you have learned with others to whom your knowledge or experience may be of service. Guru is the name for Jupiter in Sanskrit, so it is also an auspicious time to connect with this planet.
*If you are already on my mailing list, you should have received the Saturn Retrograde Guide with Saturn-in-Scorpio forecast for your sign, either in April 2016 or when you joined the list, whichever is more recent. (Search your inbox for it if you're already on the list!) If you've not yet joined the list, you can get the Saturn Retrograde Guide by signing up here, for free!
Save
Save
Save
Save
Save