Cancer Moon Cycle
The New Moon cycle in Cancer begins at 2:46 am PDT on Sunday, July 23rd. The Moon, Sun, and Mars will all come together near 7 degrees of sidereal Cancer, in the Vedic nakshatra known as Pushya, "the nourisher." This month will be a time to allow yourself to both give and receive, and give thanks for divine love offered to us abundantly. We are all only children of this vast and generous universe, and the Cancer Moon cycle reminds us of that. Cancer, ruled by the Moon, is the sign of the divine Mother, and it is here that we encounter universal compassion, acceptance, and nourishment (related to the breasts and the heart).
Pushya
Just as Cancer is related to the heart and the breasts, the source of emotional and literal nourishment for humans, Pushya is represented by the udder of a cow. This symbol elicits the sensation of abundance, as we picture the cow heavy with milk, ready to be offered to her eager calves. There can be so much there that the cow will literally hurt with immense pain if not relieved by nursing or milking, just as human mothers do as well.
Pushya nakshatra governed by the deity Brihaspati, a divine priest and form of Jupiter. There is a Vedic myth that tells the tale of Brihaspati's wife, Tara, once becoming infatuated with Chandra, the Moon God. She ran away with him and even became pregnant. She eventually returned to Brihaspati and bore a child, who was Budha (Mercury). Although he had some emotions about it at first, Brihaspati eventually took the child in and raised him as his own. The generous nature of this story shows the powerfully compassionate and nurturing quality of this star, which brings both maternal and paternal love and care. This month is a good time to look at where you can open your heart and find more compassion, especially in relation to your parents or parental figures (or in your role as a parental figure).
Eclipses and What to Do
Despite the nourishing sensation that will help to guide us into this month, we should prepare for some serious intensity, as we are simultaneously entering into a powerful eclipse cycle. There will be a partial lunar eclipse on Monday, August 7th (at 11:20 am PDT), and a total solar eclipse on Monday, August 21st (maximum eclipse at 10:15 am PDT; check your local time zone for maximum eclipse where you are). The lunar eclipse will be visible from most of India, Asia, Australia, Africa, and Europe, while the solar eclipse will be most visible from North America, and slightly from South America and Western Europe.
Contrary to the popular idea of going out and partying underneath the rays of the eclipse, Vedic tradition advises against looking at the eclipse or even being outside at all during it. (The full window of the August 21st eclipse is from 9:01 to 11:37 am PDT.) Why? Well, you have probably noticed from reading my blog or free eclipse book… eclipses are inauspicious!
Astrologically, eclipses occur when the lunar nodes, known as the demonic Rahu and Ketu, actually swallow the Sun and the Moon (our soul and heart) temporarily. (Astronomically, they are the times when Sun, Moon, and earth align with the measurable ascending and descending nodes, which are explicit points in the sky.) Although we have A LOT to learn from the "shadow planets," Rahu and Ketu, their influence is usually disruptive in our lives.
Think about it … do you want all of your dark shadows to become visible within a number of hours? If they did, what would be the ideal circumstance for observing them? Astute self-awareness, reflection, and conscious actions or practice will help you to navigate murky waters. This is what my satguru recommends for the eclipse times … She says it is best not to eat or drink during these windows, because the energy of the atmosphere is contaminated, and the best thing we can do is to be indoors and doing some kind of spiritual practice (chanting, meditation, connecting with what inspires you most).
Of course, many people will be outside, checking out the eclipse, celebrating in festival style (here on the West coast). But it's definitely a time to maintain consciousness and be equipped with your spiritual warriorress weapons, so you are ready to combat the demons that might arise from within.
Entering a New 1.5-Year Nodal Transit
Since January of 2016, the nodes Rahu and Ketu have been transiting the parts of the sky known as Leo and Aquarius, respectively. For the last year-and-a-half, we have each been doing personal shadow work that involves re-calibrating a balance between how we perceive, pursue, and attain personal power and leadership ability, with how we engage in universal service to society and the earth. The shadows of the nodal cycle arise most acutely during the two "eclipse cycles" that occur each year.
The eclipse cycles of this last nodal transit occurred in March and September of 2016, and February of this year. Not only were we working on balancing the universal themes of Leo and Aquarius, but for each of us individually, we were working on balancing the two sides of life indicated by the houses that fall on Leo and Aquarius in our natal charts. If you never downloaded your Free Rahu/Ketu in Leo/Aquarius Forecast for Your Sign, get it for free now and see how it helps illuminate the last year-and-a-half of your life! I'll be sending out the next free forecast for your sign very soon (Rahu/Ketu in Cancer/Capricorn Forecast), so be sure to stay on the free mailing list! The lunar eclipse on August 7th will be the last with the nodes on the Leo-Aquarius axis, and may really finalize for us some of the lessons we have been learning through this time.
The nodes are getting ready to transit from Leo/Aquarius into Cancer/Capricorn on August 17th. This means that the second eclipse of this cycle, the massive solar eclipse on August 21st, will actually be launching us head-first into a new 1.5 year cycle brought on by the nodes' position here. With Rahu and Ketu now in Cancer and Capricorn, we will begin to unravel the dynamics within us that contrast our heart space and most sensitive side with our outer resourcefulness and most practical side. Are you all open heart, or all practicality? Too much of either one can cause problems to arise. The eclipse of August 21st may highlight for you in a big way some ways in which you need to look at this inner dichotomy. Utilize your most powerful tools and teachings to engage with what is coming up in a positive way!
The new cycle will also have profound affects on your life in the "house" axis that is Cancer-Capricorn in your Vedic natal chart. Again, be sure to sign up for my free mailing list to get the forecast for your sign, and check out offerings on the Readings page that can help you navigate through the upcoming cycle.
Venus and Saturn
Also remember that Venus is in his own sign of Taurus right now, and is being aspected by the expansive Jupiter. Desires and sensuality could be very high right now! With that wide open heart of the Cancer cycle, be aware of where your boundaries are, lest they get washed away in the watery shadows of the Cancer cycle eclipses. Saturn is making his final transit through Scorpio, which for this eclipse cycle may actually add some much-needed discipline and long-term vision towards what will aid in our transformation the most.
May you have a powerful eclipse cycle, and embrace the potential for positive change as we see and begin to clear the shadows that arise!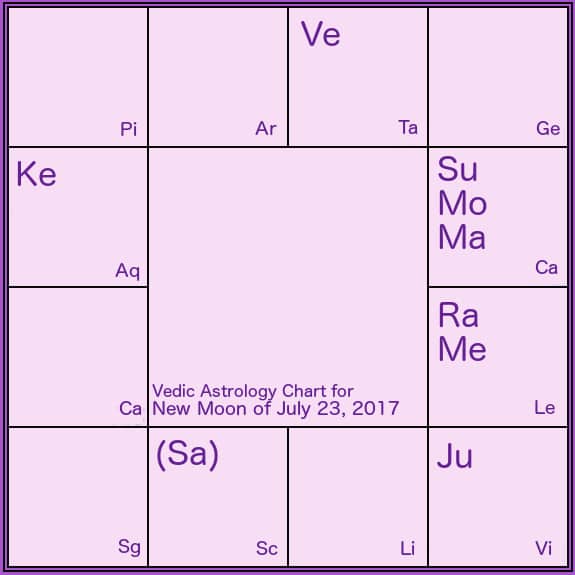 Save
Save