Full Moon in Taurus December 2017 Rohini
The Moon reaches peak fullness this Sunday, December 3rd, at 1:13 pm PST. This full Moon falls in Rohini nakshatra, in the middle of sidereal Taurus, opposite the Sun and Venus in sidereal Scorpio. The full Moon in Taurus illuminates our potential for being grounded at heart and full of peace of mind.
Taurus vs. Scorpio
We began this lunar cycle on November 18th, with the Sun and Moon joined in Scorpio, bracing us for a month of exploring the depths of our most vulnerable and intense emotions. Under Scorpio's influence, we face what we know is inevitable — change. This can take a toll on the heart, when we allow ourselves to let go of preconceived notions and attachments, permitting what we hold most dear to evolve and transform, even if that means letting go.
Scorpio is the natural point of "debilitation" for the Moon, the place where our emotions feel most aggravated, unstable, and uncertain. Scorpio is a water sign ruled by fiery Mars, adding passion and a sense of struggle to our emotive nature here. We often go through both inner and outer transformations when Scorpio energy is high. Sensing this potential during the Scorpio lunar cycle, we tend to be more self-protective, knowing that the boat of our hearts may be rocked intensely.
Taurus, where the full Moon is illuminated this weekend, helps us to contact the opposite sensations of those brought on by Scorpio. Taurus is where the Moon is considered "exalted," where the mind and the heart are elevated, and at peace. Taurus is an earth sign ruled by Venus, helping us to ground the heart and find a sense of stability, while taking a loving approach towards life and allowing pleasure and beauty to permeate our fields of vision. This weekend, tap into the side of yourself that can remain calm and cool, bowing to Mother Earth even in times of intense change.
Rohini Nakshatra
Within Taurus, Rohini is the specific Vedic nakshatra where the Moon is considered exalted, and where the Moon is full this Sunday. Rohini, "the reddish one" or "the growing one," was said to be the favorite wife of the Moon. In Vedic mythology, the 27 nakshatras are considered the wives of the Moon, and he was often seen to linger here the longest. The Moon is also the planetary lord for this nakshatra.
Rohini correlates with the star Aldebaran, one of the brightest stars in the night sky. The warm and glowing nature of this star elicits a sense of abundance and feminine fertility, and it is no surprise that there is a strong association with agriculture here. The common symbol for Rohini is the ox-cart, representing an abundant harvest, commerce, and in general, a fulfilling material existence. There are strong associations of Rohini with Lakshmi, the goddess of prosperity, and with Lord Brahma, the creative force in existence, adding a sensation of infinite possibilities here.
Jupiter-Mars Conjunction
Jupiter and Mars are now joining in sidereal Libra, creating what is known as a Guru-Mangala yoga (alignment) in the sky. This brings together our powers of purpose (Jupiter) with our power to take action (Mars). Under this alignment, we have more ability to direct our energy towards righteous causes, and actions that support our highest beliefs. Though this alignment will last until mid-January, watch out for a planetary war between the two from January 4th-8th, when Mars passes Jupiter and they are within one degree of each other. The energies can be less harmonic when they are so close and "competing" for dominance.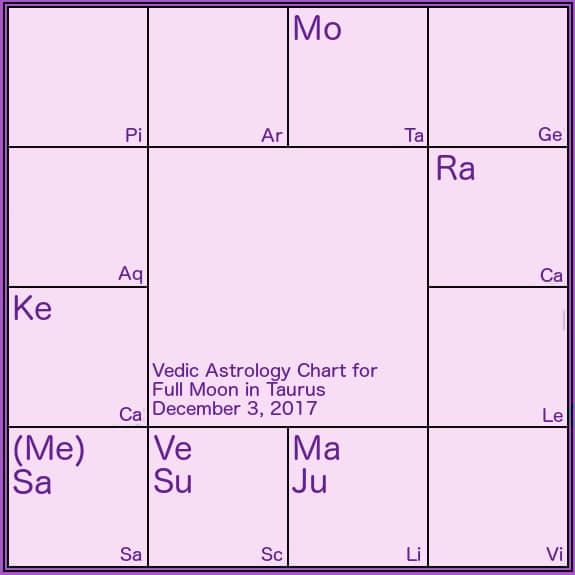 Mars-Venus Exchange
The planet of war and the planet of beauty are now exchanging signs, with Venus in Mars' sign of Scorpio, and Mars in Venus' sign of Libra, creating a parivartana yoga. This can help us to harmonize the energies of the two planets, and specifically the areas of life that these two rule in your personal natal chart. This alignment will last through December 20th.
Mercury: Retrograde and Planetary Wars
Mercury begins his retrogression on December 2nd, beginning to creep back towards Saturn, both in early sidereal Sagittarius. This could be positive for some endeavors, as Mercurial and Saturnian energies within us are able to work together towards a common goal (specifically around what these two rule in your natal chart). Less harmony is present from December 4th-7th, when Mercury passes Saturn, creating a planetary war (an internal conflict between our intellectual side and our long-term goals). He'll continue in retrograde motion all the way back into Scorpio, where he'll have a planetary war with Venus as he passes the planet of pleasure on December 14th-15th, creating conflict between our sensual and intellectual sides.