Jupiter Retrograde Begins:
Hold-Ups in Education and Movements for Equality
For the last several weeks, Jupiter has been slowing down as he approached the last degrees of sidereal Libra. He is now at a near-full stop, around 29° Libra, and will begin the slow back-up into retrograde motion tomorrow, March 8th. The change technically happens at 8:04 pm, PST, but from our perspective here on Earth, Jupiter will appear pretty much at a stand-still all week. As the planet of teaching and philosophy is stationary in the sign of balance and harmony, we are seeing movements across the world where people are stopping their work in protest for more equality — from students and teachers' unions to women at large, as March 8th also coincides with International Women's Day.
Jupiter in Libra
First of all, if you're saying "Libra, I thought Jupiter was in Scorpio?," I'm referring to sidereal Libra, meaning that Jupiter appears to be aligned with Libra constellation as we see it from Earth. You can see Jupiter rising in the west between 11 – 11:30 pm PST this week, and tonight you can see both Jupiter and the Moon close together around the Libra-Scorpio juncture. Here is a screen-shot from a new astronomy app that I've been using called Cosmic Watch, showing a map of the sky at around 11:30 pm on March 8th. Vedic astrologers typically use the sidereal zodiac, which is true to the astronomical zodiac that we see from Earth.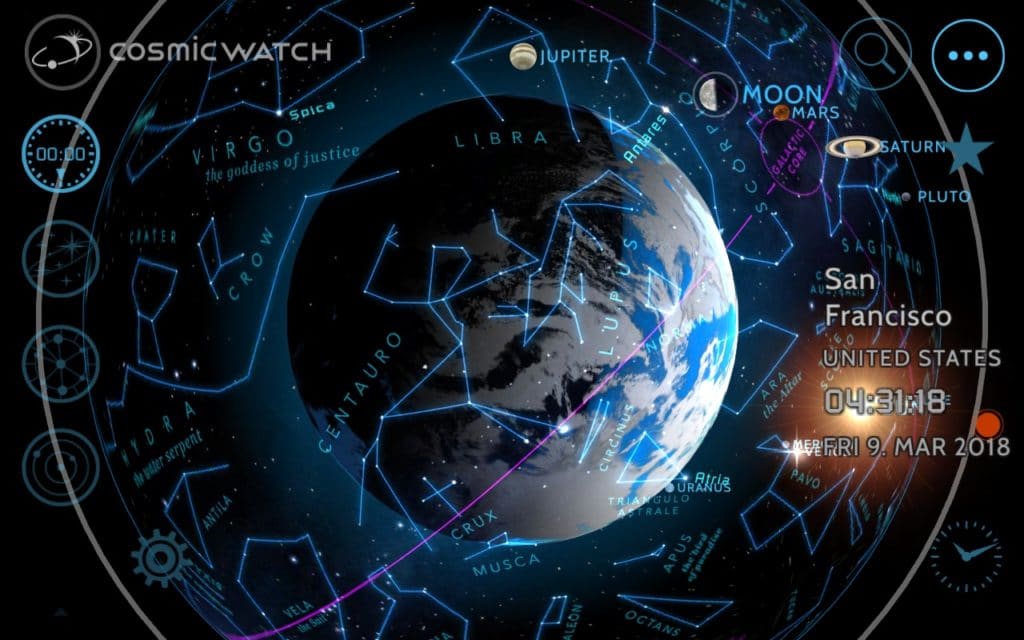 Libra is called "Tula" in Sanskrit, which literally means balance, or scale. In both the east and west this constellation was seen as such, and perceived as a place with the energy potential to measure and harmonize. Before finding balance in a situation, however, we often come face-to-face with some major imbalances in Libra. With Jupiter, the planet of philosophy, belief, and inspiration, transiting here since last September, we have seen increasing movements for equality across the globe, even more so than in recent years.
Balance for the Sexes
Ruled by Venus, and naturally the 7th sign, Libra's energy has a lot to do with relationships and sexuality, and finding balance therein especially. In October, shortly after Jupiter's transit here began, the Harvey Weinstein sexual harassment news broke, propelling an onslaught of further allegations of sexual harassment and discrimination across Hollywood and other industries.
The revelations became a movement, inspiring and empowering women to bring light to the inequality, sparking a worldwide crusade to abolish decades (and centuries) of imbalance between the sexes. Jyotish is all about light, and when the light of the Sun shines on Jupiter, in Libra, philosophy at large becomes oriented towards the concept of balance.
Balance for Teachers
Jupiter is also the planet of teaching, learning and education, being called "guru" in Sanskrit. As Jupiter has been slowing to a stop in recent weeks, we have seen those in the very profession of teaching literally stopping their work, in a movement for more balance and inequality in their salaries and benefits. Guinea, Argentina, Great Britain, and West Virginia teachers have held strikes that received worldwide attention, and in some cases have already resulted in a positive balancing of equity.
Jupiter Stationary
As Jupiter grinds to a stop this week, a lot of attention in the news has been focused on the imbalances in the education profession, and the teachers themselves have been stopping work in protest. Though some movements are over, Oklahoma and Kentucky may soon follow suit, and Britain's university professors' strike will continue through next week, during this stationary-retrograde movement of Jupiter.
On March 8th itself, the very day that Jupiter is completely stopped, and shifts from direct to retrograde motion, it will also be International Women's Day. Across the world, protests and marches of women are planned, including many walk-outs from the workforce, to show the world what it would be like without women. This halt is in hopes of balancing the gender gap (the lower pay that women receive systemically) and the treatment of women in the workplace.
Following the mass shooting in Florida last month, students across the country have also been stopping their work in protest for more rights and equality, and perhaps even more simply for the right to feel safe and happy (as Venus is also the planet of happiness). A large school walk-out took place yesterday in Baltimore, and a nationwide march is being planned for March 14th, when students will "March for Our Lives" in a movement to evolve gun legislation to make schools safer.
Jupiter Retrograde
Jupiter will continue his retrograde motion through July 10th of this year, and during this time we may see a lot of re-balancing happening in the world of education and philosophy. The women's equality movement has been growing steadily over the last few years, and now is a time where we could see a major paradigm shift in the widespread mentality take hold with firmer grip.
In education, President Trump has suggested arming teachers, attempting a strange kind of re-balancing that has received little support so far. I think that the recent movements by teachers will continue strongly this summer as the education system attempts to balance itself in a changing world.
On a personal level, we may all be experiencing some backtracking and re-thinking of personal philosophies during this Jupiter Retrograde period, including personal, political, and even spiritual viewpoints. With Jupiter appearing to move backward there is a chance to scrutinize our beliefs, seeing where there is room for re-balancing ideas within ourselves, and perhaps moving forward in slightly new directions when Jupiter begins his direct motion again in the fall. Re-thinking one's direction in the learning arena is also possible during this time, with many new ventures in education possible this year.
Forecast for Your Vedic Rising Sign
Even more specifically, Jupiter's stationary and retrograde motion may cause a current slow-down (or halt) and some heavy reconsideration and change of direction between now through October, in the two specific areas of life ruled by Jupiter in your personal Vedic natal chart. These are the areas to watch for changes during Jupiter Retrograde, based on your personal Vedic rising sign
Aries — education, higher philosophy, relationships with teachers; your habits around isolation, escapism, foreign travel, meditation
Taurus — how you deal with loss & change, secrets, and the mystic side of life; friends, community, income, social standing
Gemini — relationships, especially romantic partners, sexuality, and your general tendencies with compromise; work and career
Cancer — how you deal with hard work, daily duties, pets, and people who challenge you; higher education & philosophy, relationships with teachers
Leo — your creative expression, passions, and children; ways you deal with loss & change, secrets, and the mystic side of life
Virgo — your home, sanctuary, vehicles, real estate, or mother; your relationships, partners, and how you work with others
Libra — your hobbies, interests, siblings, and gut instinct; issues of hard work, daily duties, pets, and people who challenge you
Scorpio — your money, possessions, immediate family; children, creativity, and passions
Sagittarius — your health, sense of self/identity, and individuality; your home, vehicles, mother, or real estate
Capricorn — your tendencies around solitude, isolation, escapism, meditation, or foreign travel; your hobbies, interests, siblings, and gut instinct
Aquarius — your friends, community groups, income, social standing
Pisces — your work & career, and your individuality, health, or sense of self/identity
You may find yourself stuck, or backtracking, but then hopefully evolving, in these areas of life during Jupiter's retrograde transit of Libra, now through October. Because Jupiter is in Libra, there is a particular opportunity for you to bring more balance into your life in these areas this year.
Personal Jupiter Readings are available to help you see deeper into your chart and life at this time.