New Moon in Taurus
Tonight is the Dark Moon Night, with no Moon visible since he is rising and setting in alignment with the Sun today. The Sun and Moon come into exact conjunction to begin a new lunar cycle on Wednesday, June 13th, at 12:43 pm PDT. They coincide in sidereal Taurus, and the Vedic nakshatra of Mrigashira, and bring on a month of intense Venusian energy.
Taurus
The new Moon happens with Sun and Moon at 28°39' of sidereal Taurus, bringing the second Taurus cycle in a row, as last month's new Moon was at 0°30' of this sign. Taurus is a four-footed earth sign ruled by Venus. Known as Vrisha, the bull, Taurus energy is strong and committed. Due to the four-footed nature, things we begin this month may not easily change directions later, but will carry a rather forward-moving momentum. Also a fixed rashi (sign), we may be feeling a little more stubborn about things this month, and not as flexible as at other times.
With earth-sign energy prominent, this is a great time to connect with mother nature, and all things of the material world. Crystals, jewels, clothing, plants, herbs, and home accoutrements may be catching our attention more than usual right now. Food and drink and other sensory pleasures are also more appealing (so be mindful if you have indulgent tendencies). Under the rule of Venus, the planet of pleasure and worldly love, the Taurus new Moon sets a fertile ground for new ventures in these arenas.
As we begin this cycle, Venus is traversing sidereal Cancer, the sign of motherly love, and a place where selfless devotion can be found. This gives us the opportunity to elevate our human relationships and harmonize them with our devotional nature. Venus in Cancer can also lead to boundaries that are too wide open, however, so keep a discerning awareness there too. Rahu is also joining Venus in Cancer, which can exaggerate our desire nature and make us a little obsessive towards sensory pleasures or relationships. As Venus transits here, our shadow side in relationships becomes more visible for examination.
Mrigashira
In the Vedic nakshatra system, three nakshatras or star-signs bridge the 30° portion of the sky designated as "Taurus": Krittika, Rohini, and Mrigashira. Mrigashira's "territory" lies half in Taurus and half in Gemini, while the actual stars of this nakshatra are located in the constellation Orion, on his right shoulder. Known as the "deer's head," this star-sign emits a gentle and graceful energy, which we will feel as we enter this lunar cycle. Like a deer, however, the energy here can verge on being timid, and skittish, giving us the potential to startle easily. Also like the deer, there is a wandering nature to this nakshatra.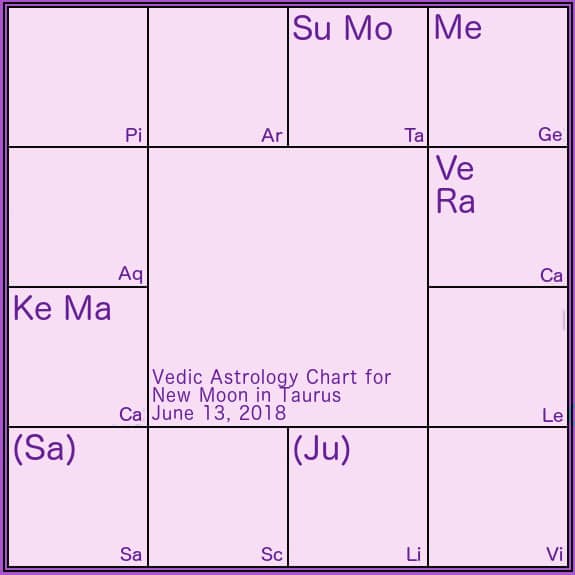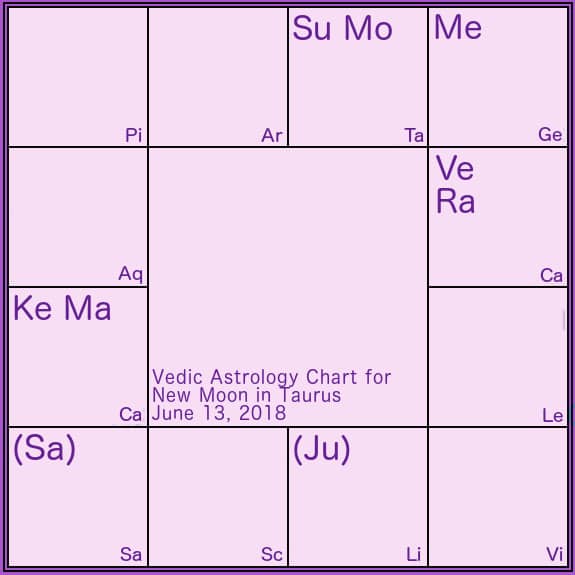 Mars and Ketu
Just hours after the new Moon, Mars and Ketu will reach exact alignment or conjunction, at 4:25pm PDT on June 13th. Despite the gentle and loving position of the Moon and Sun at this time, this moment has some intense explosive potential. Some surprises could come to light today, or in the days surrounding, especially relating to those things indicated by Mars in your individual natal chart.
While Mars is transiting Capricorn, his sign of exaltation, we, on the one hand, have opportunities to really hone in our discipline, courage, and skill, anchoring these things towards our earthly goals and responsibilities. On the other hand, Ketu's confusing, critical, and resistant nature can run amok on these attempts. As the node of the subconscious past, we could find latent resistances coming to the surface. For spiritual seekers, there is potential here for overcoming these internal blockages. Overall, however, surprises and distress may arise during this conjunction.
Because Mars will be entering apparent retrograde motion on June 26th, he will actually pass over Ketu twice more and have two more exact conjunctions with him this year: on July 18th, and then again on September 22nd. His retrograde journey may cause us to feel some slow-down or back-tracking in the areas of life he rules in our individual chart.
Eclipses
We can begin gearing up for some stronger nodal influences this summer, as the next new Moon, on July 13th, will bring the first of a set of three eclipses. There will be a partial solar eclipse on July 13th, a total lunar eclipse on July 27th, and another partial solar eclipse on August 11th. What's more, starting July 16th we will enter a roughly two-week Kala Saarpa period (with all planets to one side of the nodal axis), which will recur four times more before the end of the year. The eclipses and Kala Saarpa cycles will influence you specifically in the areas of life indicated by sidereal Capricorn and Cancer in your natal chart, and also strongly depending on any planets that are found within those signs.