Full Moon of the Healing Waters
The full Moon phase in Aquarius will be this Saturday night, as the Moon waxes into full brightness at 4:56 am PDT on Sunday, August 26th. This full Moon will be in the Vedic nakshatra of Shatabisha, the star of 100 medicines, ruled by Varuna, the lord of rain and cosmic waters. After a nearly two-month-long transformational eclipse cycle, we are ready for some nourishing water and medicine to heal the soul.
Full Moon in Aquarius
This Moon reaches fullness in sidereal Aquarius, directly opposite the Sun in sidereal Leo. Sun is strong right now in his own sign, illuminating our inherent power and connection to source, as the Sun is the literal source of life within our solar system. His bright light inspires us to burn away our own impurities, many of which may have been revealed by the shadows arising during the eclipse cycle. Under the power of the Leo Sun, we feel our own strength and power increasing and it is an opportunity to step into a role of greater independence and leadership in roles that require responsibility.
As the Moon reaches fullness in Aquarius, opposite the Leo Sun, we reflect upon how to remain of service to others even as our autonomy increases. With greater power comes greater responsibility, and a better ability to share our light with others. The Moon in Aquarius reminds us of our duty to be of service to others and helps us to find humility while in the light of personal power. It helps us to evolve as we use our strength for the good of the whole, standing committed to actions that support society, nature, and the family.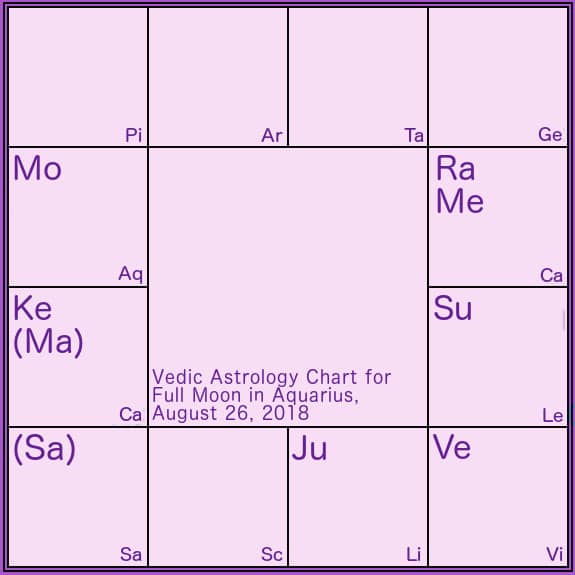 Saturn & Jupiter
Both Saturn and Jupiter make special aspects in Jyotish, and will both be aspecting this full Moon in Aquarius on Sunday.
Saturn is the ruler of Aquarius, and is reflecting his light back into his own sign and onto the Moon from his retrograde position in sidereal Sagittarius. He is slowing down and will come to a full stationary stop, turning stationary-direct on September 6th. His position here intensifies the pressure on us to strengthen our convictions and commitments, as the planet of long-term goals, wisdom, and broad visions.
In Sagittarius he is influenced by Jupiter's rulership, which is inspiring us to connecct our values with these goals and commitments. Jupiter is also shining his light onto this full Moon from his position in Libra, adding an inspired and optimistic mood to our emotional bodies this weekend.
Shatabisha Nakshatra
The Moon will be aligned with the Vedic nakshatra of Shatabisha starting around midnight PDT early on Sunday. This star-sign is known as "the hundred medicines" or "the hundred physicians," and is associated with profound healing, especially through alternative modalities. Ruled by Varuna, the lord of the rain and cosmic waters, with the Moon here our hearts will be washed with a rain of healing energy.
Mars and the Nodes
This can help to balance the exaggerated intensity of fiery Mars' affects on our emotions. Mars has been in Capricorn, his sign of exaltation since early May, joining Ketu there then, and has been in retrograde motion for the past couple of months. In the physical world, his transit into this sign coincided with the onset of destructive volcanic activity on the Big Island of Hawaii.
Mars is now slowing towards a stop, which could cause some frustrations until he begins moving forward again. His conjunction with Ketu makes him much more unpredictable, adding the potential for explosive venting or deep insights and a harnessing of discipline throughout this time. Those ruled by Mars will feel a lot of internal pressures throughout this transit, which will complete itself in early November. At that time I would also expect the volcanic activity to subside.
Venus & Mercury
Venus remains in Virgo, his sign of debilitation, until September 1st. Venus is considered debilitated here because our desire-body is under the rulership of practical Mercury. This can cause us to become more scrutinizing in our relationships, looking at all the details under a microscope. As we analyze our pleasures and partners, we may also tend to express ourselves with passion and intensity this week, as Mercury is still joining the harrowing Rahu in Cancer.
Throughout this transit, try to be happy and calm and don't sweat the small stuff. Connect with the water element as much as possible and call forth the healing energy of the full Moon, drawing strength from Jupiter and Saturn. This full Moon will have particularly interesting affects depending upon how those planets' energies are at play in your natal chart, and what part of the world you are in during the full Moon itself, which determines the rising sign and the exact chart for this moment.