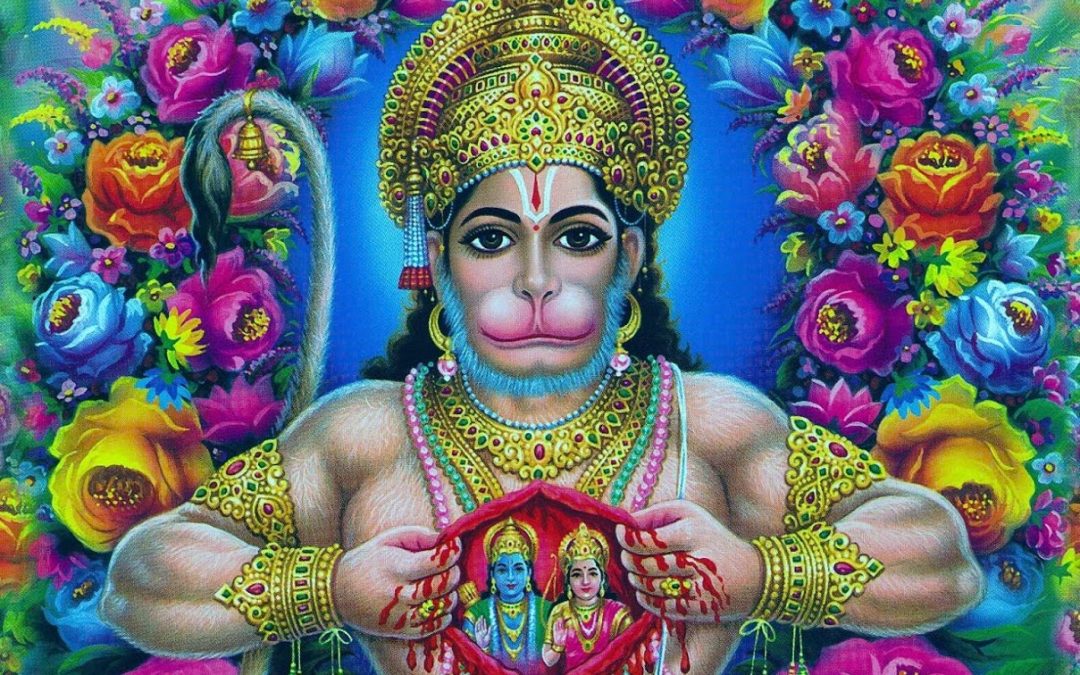 This month the Full Moon falls in sidereal Libra, opposite an exalted Sun in Aries, on April 19th at 4:19 am PDT. This means the bright waxing full Moon night will be April 18th in most places, and this will also indicate the night to celebrate Hanuman Jayanti, the birth of Lord Hanuman, Lord Ram's greatest devotee. In addition to this full Moon and holiday, April is bringing some serious alignments, with Saturn, Ketu & Jupiter all piling up in sidereal Sagittarius, and all soon-to-be retrograde.
Chitra/Libra Full Moon
The full Moon will become fully illuminated at 5° sidereal Libra, opposite an exalted Sun at 5° sidereal Aries. With the Sun transiting Aries this month (April 14th- May 14th), our sense of individual power is strengthened by virile Mars' rulership here. As the Moon waxes into Venus-ruled Libra, opposite this Sun, we are reminded that our individual happiness is nothing if we cannot harmonize with others, specifically those who are most important to us. A Libra full Moon helps teach us to compromise and value the other, while maintaining our center and not allowing our sense of strength to depend on those outside of ourselves.
The Moon will also be aligned with the Vedic nakshatra Chitra, "the brilliant." Bridging Virgo and Libra, this star-sign helps us to bring physical manifestations into this world with an heir of grace, beauty, and harmony. It is ruled by Vishvakarma, the divine architect, who created the heavens in all their sparkling perfection. This nakshatra is symbolized by a shining jewel, and its animal symbol is the female Tiger, the mount of Durga. There can be great creative potential under this Full Moon, as well as a heightened sexual passion.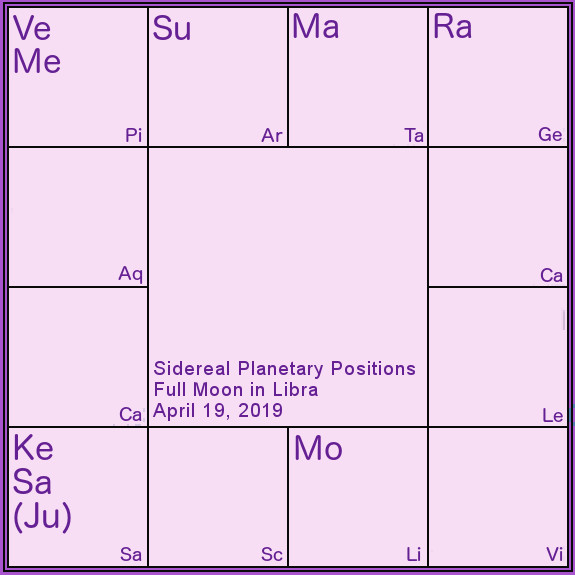 Venus Exalted & Mercury Neecha Bhangha
Venus, Libra's ruler, is currently transiting Pisces, his sign of exaltation. With Venus in Pisces, we have the potential to let our desires come into alignment with the highest good, as Pisces is a place of surrender, ruled by Jupiter. Pisces is also the place of the dream world, fantasy, and escapism, so as the planet of pleasure transits here, there is also the potential to get caught-up in these things. With healthy planetary connections, however, we can utilize this energy to tap into some potent dream-seeds, bringing them into reality as we work with the celestial architect.
Mercury is also transiting Pisces right now, which for him is the place of debilitation. Due to exalted Venus' conjunction here, however, Mercury's "neecha" or fallen status becomes neecha bhanga, meaning the debilitation is modified. That means that strong Venus will give some strength to the normally weak Mercury-in-Pisces. Be aware, however, that the nature of Mercury in Pisces is still there. Mercury is our analytical, rational, intellectualizing side, so he's going to behave rather unpredictably while he's in the sign of dreams, hopes and fantasy (and your "rational" mind may lead you in a different direction than usual).
Saturn, Ketu & Jupiter: All in Sagittarius & Retrograde
Thus has begun one of the most major transits to look out for during 2019. The conjunction of these three planets is a rare occurrence on its own. Now, granted, Jupiter has only recently transited into Sagittarius, then turned retrograde on April 10th, and will retreat back into Scorpio in a few days, on April 22nd.
The increasing proximity between Saturn and Ketu, however, is highly unusual, in the amount of time that this proximity will last, due to Saturn's upcoming retrograde cycle. Ketu always moves in "retrograde" motion, going backward through the zodiac as we calculate him. Right now (at the time of the full Moon) Ketu is at 27°43' Sagittarius (Mean Node calculation), and decreasing those degrees each day, while Saturn is at 26°19' Sagittarius, and slowly increasing his position.
Saturn is slowing towards a stop, however, before beginning his retrograde journey on April 29th. A few days before this happens, Saturn and Ketu will come within one degree of each other, on April 25th. After the 29th both will be slowly moving in the same direction, "backwards" through Sagittarius, and will remain within one degree of each other for six whole months, until October 1st.
This is going to cause a lot of tension, particularly in the area of your life indicated by Sagittarius in your natal chart. Saturn compels us to slow down, persevere, commit to our goals, and do the hard grinding work that is necessary to reach them. Ketu can also make us slow down, but he often inspires us to retreat from the mundane aspects of life, often renouncing whatever area of life he touches, by natal position or by transit. He brings confusion, and often forces us to let go of things previously held dear.
As these two transit across the sky together, there will be an internal dance between committing to the struggle and wanting to let go completely. To no surprise, sadhana is going to be one of your most helpful tools for elevating the potential of how both of these planets are affecting your life.
Hanuman Jayanti
This weekend brings a potent festival for upping your devotional practice and attitude, with Hanuman Jayanti on the purnima Full Moon phase this month. Hanuman is the greatest embodiment of devotion, and shows us the incredible strength we possess that emerges from within when we practice great faith, humility, and service. In addition to traditional pujas (prayer ceremony), you can chant, sing, meditate, and especially, find some way to be of service, in order to honor Hanuman on this full Moon. The most fitting mantra/song is the Hanuman Chaleesa.
Marked by the first full Moon after the spring Equinox, this full moon marks the weekend for Easter and Passover as well, which are also determined by the lunar calendar.
Jai Jai Jai Hanuman!