The Sun and Moon are coming together again for a dark Moon (the amavasya lunar phase) tonight, February 3rd. They will come into complete alignment for a "New Moon" at 21° sidereal Capricorn tomorrow, February 4th at 1:04 pm PST to begin a new lunar cycle. Now is a good time to go inward, taking a break from too much activity, and let go of some of the past month's energy as we prepare for the new. The Sun and Moon meet in the Vedic nakshatra of Sravana, the star of hearing.
Capricorn
This new lunar cycle will begin under the energy of Capricorn, with Sun and Moon joining both Mercury and Ketu there. Capricorn is the feminine earth sign ruled by Saturn, the disciplinarian. Under Capricorn energy we look at ourselves and see where we need to be more responsible and committed, where our lives are calling for more structure and hard work. Saturn can give perseverance, so wherever you set your sights and goals now will have support in the coming month.
Yet at the same time, we may see that the benefit comes from reducing activities and keeping order and routine. We may find ourselves putting more things in order in our physical worlds, and also paying attention to our general level of groundedness. Near the end of winter, and after the usual business of the holidays, it is a really good time to allow for more stillness in your life, before the energy of spring comes on and calls us outward again.
Because of Ketu's conjunction here, we may feel some residual "eclipse energy," which helps to show us blind spots and blockages. We have experienced this energy along the Cancer-Capricorn axis for nearly a year-and-a-half now, as Rahu and Ketu have transited there, and this month may be a final phase of integrating those lessons in our lives before the nodes move into Gemini and Sagittarius.
Sravana
Within the Vedic zodiac, this New Moon aligns with Sravana nakshatra, the star-sign of hearing, listening, and learning. This promotes a great energy for acquiring knowledge, both inner and outer. As we turn inward and listen with the inner ear (through meditation and other mindful practices), great wisdom can be revealed. This nakshatra is also associated with learning from oral traditions, and supports communication in general. As Mercury joins Ketu during this New Moon, we have a chance to release some blockages around communication, or reveal some ancient or inner wisdom, but be very alert with this as the nodes can also be quite unpredictable.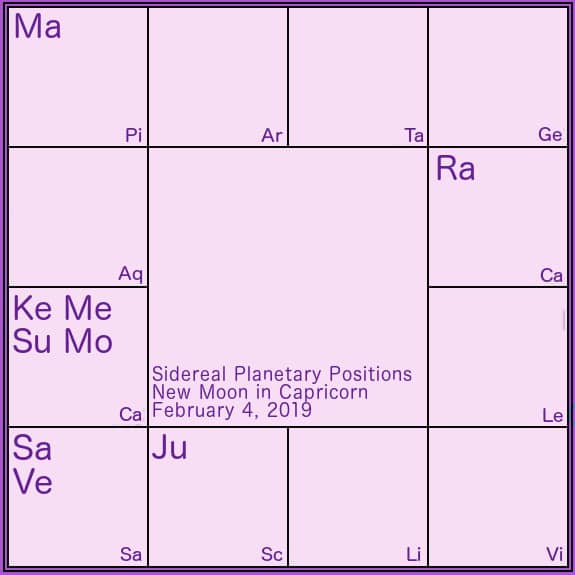 Venus & Saturn
Venus and Saturn are now joining in Sagittarius for a few weeks, until the 21st. Their energies can complement each other as Venus reminds the disciplined Saturn that we need to enjoy life as humans, while Saturn reminds Venus to use some discernment and not over-indulge in sensory pleasures. They will come within one degree of each other, as Venus passes Saturn, from February 17th-18th, causing a graha yuddha or planetary war. During this time, the things ruled by both planets can suffer (per your individual chart), and in general we may feel a great inner struggle, as our natural inclinations for pleasure seem in great conflict with our long-term goals and commitments. Commitment in relationships in particular could feel stressed during these days.
Mars
Mars and Jupiter have been exchanging signs, with Mars in Pisces and Jupiter in Scorpio, creating a certain harmony between the two for several weeks. Mars will move into Aries on the 5th of February, coming into full strength in his own sign and Moolatrikona position as he transits 0° to 12° Aries. This time could be beneficial for Mars-ruled people especially. Everyone has Mars ruling something in their charts as well, and these areas may have gone through a great deal of difficultly last year during the 6-month Mars-Ketu conjunction in Capricorn. The coming transit will be a time to harness strength again in these areas.
If you missed it, be sure to check out the 2019 Jyotish Transit Summit from last month! Myself and four other astrologers go over all the major planetary movements and what to expect for the coming year!