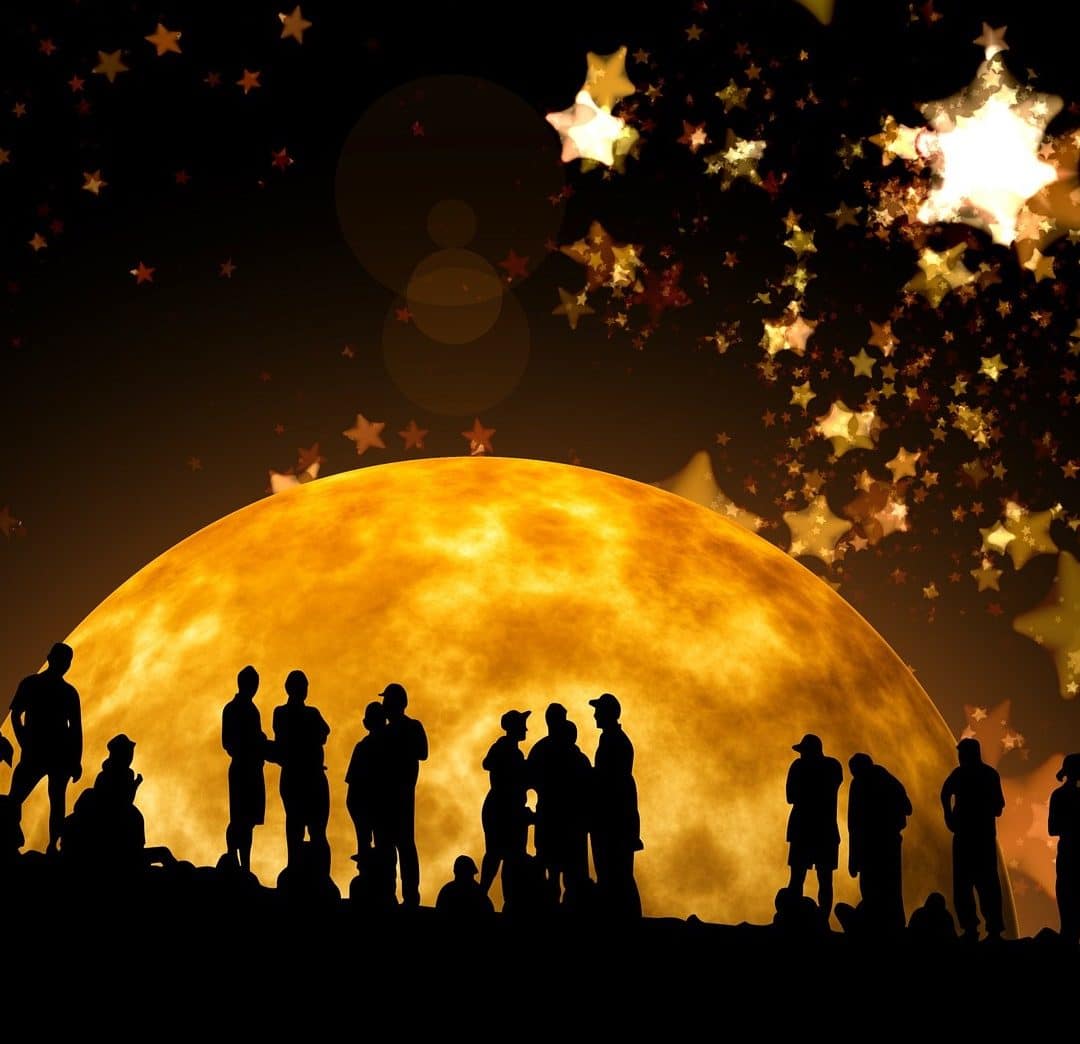 The full Moon in Sagittarius will be fully opposite the Sun in Gemini at 9:53 pm PDT on Wednesday, June 27th. This Moon waxes into fullness in Mula nakshatra, the sign of "the root," but will be closely joining a bright retrograde Saturn, only half a degree away longitudinally. Mars, Venus, and Mercury are all joining the Rahu-Ketu axis, bringing on a strong nodal energy as we approach a set of THREE eclipses to occur over the next two months.
Sagittarius Full Moon
Though we began this lunar cycle with Sun and Moon joined at the very end of sidereal Taurus, the Sun is spending most of this cycle passing through Gemini. Sun-in-Gemini energy inspires a playful and curious mood, as we connect to our inner power through communication, learning, movement, and travel. It brings forth our flexible and adaptable nature, and stimulates us to rely on the intellect and reason.
On the full Moon, our emotional body becomes full with the mood of Sagittarius. In this bhava (mood) we rely on our faith, principles, and ideals more than on skills and reason. As the Sun's light reflects upon the Moon from Gemini, we find a harmony between our faith and our intellects.
Under the Sagittarius full Moon, we feel the passion of our convictions. With the Moon illuminated in this fire sign, we may be stimulated to take actions that uphold our strongest beliefs. We have the potency to turn our principles into meaningful acts around this full Moon. This is a powerful time to dance around the fires of our inspiration, and let that light shine through us and into embodiment.

Moon Joined Saturn
This Full Moon is very closely joining the planet Saturn, within one half of a degree. Saturn is in retrograde motion at the moment, and, also opposite the Sun, is incredibly bright and about as close to the earth as he gets. With the Moon in such direct alignment with Saturn, there is a tangible feeling of pressure, even amidst the exalted and expanding emotional state that a full Moon brings.
As we sense our principles and beliefs filling us up right now and guiding our actions, we have an acute awareness of the depth and gravity that our choices hold for the future. Saturn is the planet of the long-term, and as such we are very aware of the consequences that will come over time.
Mula
In the Vedic nakshatra system, three nakshatras or star-signs bridge sidereal Sagittarius: Mula, Purva Ashada, and Uttara Ashada. Mula is attributed the first 13°20' of this sign. Aligned with the black hole at the center of our galaxy, Mula translates as "the root," and has to do with the deepest origins of all things. As we bask in the excitement of the Sagittarius full Moon, and feel the added seriousness from Saturn's proximity, we are simultaneously aware of our deep roots. The past and the future coincide and we are aware of what is most important right now. The goddess Nirriti presides here, and reminds us of our penultimate death and destruction.
Approaching Eclipses
In addition to the powerful influence of this full Moon, the skies are charged with the intensity of the oncoming eclipses. There will be a partial solar eclipse on July 13th, a total lunar eclipse on July 27th, and another partial solar eclipse on August 11th. On tomorrow's full Moon, Mercury and Venus are joining Rahu while Mars (now stationary-retrograde) joins with Ketu.
The strong influence of the nodes and the upcoming eclipses brings our deep shadow energy forward. The shadows are the parts of ourselves that we are not normally able to see. They are our blind spots, the parts of ourselves that are confused and unable to see the light around certain situations. When we have eclipses, these shadows become more visible, and we are better able to work on clearing them through deeper self-understanding.
Wherever the nodes are transiting in your natal chart, these are the blind spots that are coming to light for you the most right now. These areas of life may be disruptive or disrupted over the next 7 weeks as we pass through this 3-eclipse portal. If you have any planets in your natal chart in sidereal Cancer or Capricorn, specific areas of life may be influenced even more by these eclipses. If we continue to do inner work and self-reflection, we can come through this time with a much clearer understanding of the path ahead, as we re-wire ourselves to stand in more balance around this axis.